AIOps wars heat up with New Relic-SignifAI deal
An already heated struggle between DevOps monitoring vendors becomes an all-out rumble, as New Relic acquires SignifAI and ups the AIOps ante for rivals.
Another acquisition adds AI prowess to New Relic's DevOps monitoring arsenal and pours gasoline onto an already blazing AIOps inferno.
SignifAI, New Relic's second DevOps monitoring acquisition in six months, brings AI and machine learning expertise, as well as intellectual property to fortify the company's automated root cause analysis capabilities.
New Relic looks to subsume, as well as compete with, AppDynamics and Dynatrace, along with other IT monitoring tools, such as Splunk and Nagios. It's the latest spark among IT vendors in a competitive conflagration that erupted in January 2019, with tit-for-tat AIOps disclosures from major New Relic competitors, such as Cisco's AppDynamics and Dynatrace. Datadog also added log analytics to its monitoring and AIOps portfolio in 2018.
"Monitoring vendors are expanding horizontally and collecting more and more data," said Nancy Gohring, analyst at 451 Research. "This means the market for stand-alone AIOps tools may shrink over time, as monitoring tools have all the data they need to run analytics."
New Relic, Dynatrace and AppDynamics all have added AIOps features, such as alert reduction and correlation, anomaly detection and some form of automated root cause analysis, to capture enterprise IT pros' attention and wallets. But SignifAI brings differentiators to New Relic that include more than 60 integrations with other IT software vendors, along with an incident response workflow that allows IT ops to customize how the SignifAI system makes automated root cause analysis decisions and routes alerts.
"Most of our large customers have between two and 10 monitoring tools, hundreds of engineering teams and thousands of systems," said Aaron Johnson, senior vice president of product management at New Relic, based in San Francisco. "SignifAI can identify the root system that's the cause of incidents and cut through finger-pointing between teams at a level above what [individual monitoring] tools do today."
New Relic's earnings report this week contained evidence that its tools have increasingly caught the eye of such large enterprise IT shops in recent months. The company ended 2018 with 816 customer accounts worth more than $100,000, up from 629 at the end of 2017, and landed its first annual recurring $10 million account -- an expanded contract with an existing large enterprise customer.
Dynatrace vs. AppDynamics vs. New Relic: An AIOps royal rumble
Enterprises that deploy AIOps must consider a number of factors before they choose a tool among a glut of products. These range from vendors' delivery models as SaaS or through software agents to the unique characteristics of their IT infrastructure.
They must also evaluate vendors and technologies from disparate categories that increasingly overlap, from stand-alone AIOps tools such as Moogsoft and BigPanda to DevOps monitoring tools to service mesh, which offers its own approach to detailed infrastructure data collection and observability.
"Any company that gets into this space is only as good as the data they have," said Andy Domeier, director of technology operations at SPS Commerce, a communications network for supply chain and logistics businesses in Minneapolis.
Domeier, who works in a hybrid cloud environment, is content to wait for his DevOps monitoring vendor of choice, LogicMonitor, to add AIOps features. Though the vendor has not yet fulfilled its AIOps roadmap, its ability to collect deep infrastructure data -- including metrics from network switches, firewalls and load balancers -- is important enough for SPS to wait for AIOps and automated root cause analysis.
"If you have a less complex infrastructure that's based in the cloud, SaaS APM [application performance monitoring] tools [such as New Relic] work well," Domeier said. "But if you have a complex set of legacy apps or a hybrid cloud deployment that includes on-premises data centers, there are other companies that are positioned a bit better to understand that."
This is where New Relic DevOps tools now look to expand their addressable territory, however. The SignifAI acquisition adds the ability to collect and analyze metric and log data, which will give it a leg up over many existing AIOps tools that focus on events analysis, 451 Research's Gohring said.
"Analyzing metrics and logs in addition to events means SignifAI has more data to work with and potentially can do more with that data than tools that focus only on events," she said.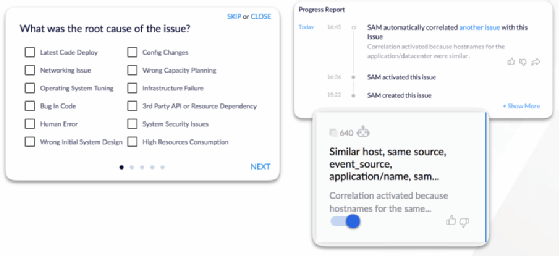 Early AIOps adopters seek root cause analysis sophistication
For some enterprise IT shops, advanced automated root cause analysis features trump infrastructure data collection depth and comprehensive data aggregation, though they'd also like a single view into the broadest possible set of infrastructure monitoring data.
With a Dynatrace update in January 2019, users who already had AIOps and automated root cause analysis features in production saw marked improvements to the company's Dynatrace Artificial Virtual Intelligence System, an AI-powered digital virtual assistant for IT operators, and PurePath request tracing mechanism.
SignifAI can identify the root system that's the cause of incidents and cut through finger-pointing between teams at a level above what [individual monitoring] tools do today.

Aaron Johnsonsenior vice president of product management, New Relic
"When we first started, [Dynatrace AI] had to learn the patterns of our seasonal business and wasn't able to be dynamic," said Mark Kaplan, director of IT at Barbri Group, which offers legal bar review courses in Dallas and tested the Dynatrace update before it became generally available. "Now, it can process information without waiting to learn it and cut down the time to identify problems from minutes to next to nothing."
A combination of PurePath, TCP/IP monitoring and integrations with other information sources such as AWS CloudWatch means the updated Dynatrace software can pinpoint a single root cause of issues, rather than a set of likely candidates, which sets it apart from AppDynamics and New Relic for now.
Dynatrace executives also said the updated tool requires less of a window to learn dependencies in IT infrastructures than tools such as AppDynamics, despite AppDynamics' addition of real-time analytics with Cognition Engine last month. This distinction makes Dynatrace's software better suited for fast-changing cloud-native infrastructures, the company said.
AppDynamics, however, disputes the claim that its machine learning approach might lag changes to ephemeral infrastructure and points to AppDynamics' deeper context for root cause analysis with its inclusion of business impact and transaction information alongside APM and infrastructure data.
Today's complex IT environments rarely experience incidents due to a single cause, so Cognition Engine looks at all possible causes in "stack ranked order," according to AppDynamics. If there truly is just one single root cause of an issue, then Cognition Engine will just list that one, the company said.
Dig Deeper on IT systems management and monitoring