alphaspirit - Fotolia
Dynatrace deepens AIOps ties with Kubernetes monitoring
Dynatrace has expanded the number of metrics it can feed into its Davis AIOps engine from Kubernetes infrastructure, thereby enhancing autoremediation features for container workloads.
Dynatrace has sharpened its Kubernetes monitoring tools and brushed up its ability to apply AIOps to the container orchestration platform, in response to further growth in cloud-native application development among enterprises.
Dynatrace's AIOps engine, Davis, now collects metric data from the Kubernetes API and Prometheus time-series monitoring tool about Kubernetes clusters, including pods, nodes and network connections. Previously, Dynatrace integrated with Docker containers and offered visibility into the performance of containerized applications, but now it can detect state changes, dependencies and critical events within the Kubernetes infrastructure. This will mean users can detect the root cause of incidents in Kubernetes environments faster and more accurately than they could before.
"We were already using Dynatrace with Kubernetes, but the type of detail about the Kubernetes cluster they're supplying hasn't been available," said Mark Kaplan, senior director of IT at Barbri, a Dallas-based firm that offers legal bar review courses online.
Kaplan's firm plans to begin testing the update next week. The firm is just getting started with Azure Kubernetes Service after switching away from Docker Swarm last year, Kaplan said.
"The [most important thing] is just to be able to see what's going on," he said. "Without that visibility, we might only find out about an issue when we get a call from a customer that's something's wrong, which means we failed."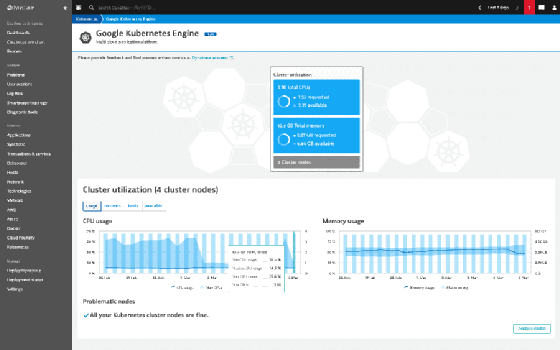 Kubernetes AIOps maturity expands
With more detailed Kubernetes monitoring data, Dynatrace has laid the groundwork for automated remediation of issues within the platform, a step that aligns with its aggressive NoOps strategy. It will take time for Dynatrace customers to fully embrace unattended automation, but the ability to automatically file service desk tickets with third-party systems or kick off scripts to restart resources within the Kubernetes infrastructure is there when users are ready, company officials said. Expanded Kubernetes monitoring data in Davis will also feed Dynatrace's Digital Business Analytics tool, which connects IT monitoring data with business performance metrics.
Containers are just packages, and now there's a common way to manage those packages with a standard API. Before, there was still too much variation at that orchestration layer, but now there's a clear preference for Kubernetes.

Mary Johnston TurnerAnalyst, IDC
Dynatrace competitors, particularly AppDynamics, have also honed their support for Kubernetes monitoring metrics in the past year, as the open source container orchestration platform cemented its status as the industry standard. Cisco's AppDynamics offered similar automated root cause analysis and visibility into the Kubernetes platform with its AppDynamics Cluster Agent, released in November. The AppDynamics Cluster Agent also feeds into the vendor's own business performance analysis tool, Business iQ.
LogicMonitor and New Relic also began to offer autodiscovery and topology maps for Kubernetes clusters last year, though both vendors are still shoring up their AIOps capabilities. Cisco and AppDynamics added autoremediation features last month via an AppDynamics integration with Cisco Intersight software and an early stage Cisco HyperFlex Kubernetes platform.
More broadly, IT ops, IT security and data backup tools have each undergone a similar shift from a focus on individual containers and hosts to more sophisticated data collection and operations at the Kubernetes platform level. This reflects increased production use of Kubernetes and microservices applications among enterprise IT pros, who now demand more sophistication from IT management tools accordingly, analysts said.
"Containers are just packages, and now there's a common way to manage those packages with a standard API," said Mary Johnston Turner, an analyst at IDC. "Before, there was still too much variation at that orchestration layer, but now there's a clear preference for Kubernetes."
An uncertain future for Kubernetes NoOps
Ephemeral container workloads and complex microservices will require IT pros to adopt data analytics and infrastructure automation to keep up as apps evolve, but it remains to be seen how pervasive and hands-off such automation will become.
"You need some level of analytics to get through this [transition to cloud-native technologies]," Turner said. "Customers value faster analysis and a set of recommended remediations, but most still want a little bit of human intervention before they hit the big red button to 'make it go.'"
Some early adopters of AIOps tools from vendors such as Moogsoft said they've avoided using APM tools for such purposes because APM licensing can be prohibitively expensive in large-scale environments. Dynatrace has some users, such as Barbri's Kaplan, who said it's worth the price, but as with log analytics tools such as Splunk and Sumo Logic, DevOps monitoring vendors will face pricing pressures, Turner predicted.
"The whole industry is still figuring out how to adjust pricing for cloud and on-demand workloads," she said. "We'll see experimentation with different licensing models. Customers need to decide how broadly it's worth paying for monitoring and observability. Historically APM was limited to high value apps but with containers its important to have a full view of the enterprise."