Latest Kubernetes monitoring, AIOps features trace DevOps trends
It won't be long before Kubernetes and AIOps support are standard features among familiar DevOps monitoring tools, which will ease the learning curve for cloud-native infrastructure.
Familiar DevOps tools will soon enhance Kubernetes monitoring and AIOps support, thereby giving users a studied path to containers and microservices.
LogicMonitor introduced Kubernetes monitoring support for its products this week, which included automatic discovery of cluster resources, along with automatic generation of monitoring dashboards for IT stakeholders. LogicMonitor executives said more advanced Kubernetes monitoring and AIOps features will follow in the next 12 months, as the company integrates intellectual property from its acquisition of ITculate last May.
And New Relic will introduce Kubernetes Cluster Explorer in public beta this quarter, a feature that automatically creates topology views of Kubernetes clusters to help IT pros grasp the location of nodes and pods, as well as the relationships between them. Later in 2019, it will integrate advanced Kubernetes monitoring features from its October 2018 acquisition of CoScale and add support for Kubernetes to the Applied Intelligence data analytics features it introduced last year in New Relic Infrastructure and APM software.
The fact that familiar tools have branched out into territory once owned by specialists is another sign of enterprise IT shops' maturity, as they embrace containers, microservices and IT automation with Kubernetes.
"The good news for enterprises is that monitoring tools they already use will continue to give them the insights they need, so they can avoid tool sprawl issues," said Nancy Gohring, analyst at 451 Research. "But it's always hard at the beginning of embracing new tools to know whether to wait for a known vendor or switch to a specialist that might get to advanced features first."
LogicMonitor adds to Kubernetes monitoring arsenal for SPS Commerce
That's exactly the dilemma for SPS Commerce, a LogicMonitor customer. The communications network for supply chain and logistics businesses in Minneapolis also plans to bring in Prometheus time-series Kubernetes monitoring as it moves more of its production infrastructure to containers.
LogicMonitor's auto-discovery and auto-dashboarding features add value to its Kubernetes integration, and the tool is already the site of collaboration between SPS' database, networking and systems engineering teams. However, LogicMonitor's application- and container-level metrics are not as detailed as those generated by Prometheus, said Andy Domeier, director of technology operations at SPS Commerce.
"My hunch is that the industry is ultimately heading down the path of Prometheus. But we're starting to see companies like SignalFx read Prometheus endpoints, as well, and we hope LogicMonitor will do something similar," Domeier said.
Container monitoring vendor Sysdig can also ingest Prometheus data, and New Relic integrates with the Kubernetes API for detailed application-level metrics.
For now, users can write their own connectors for Prometheus into the LogicMonitor Kubernetes monitoring software, but LogicMonitor prefers to offer agentless monitoring software, with broad coverage across Kubernetes and traditional IT environments, rather than drill deeper into endpoints, said Gadi Oren, vice president of products at LogicMonitor, based in Santa Barbara, Calif.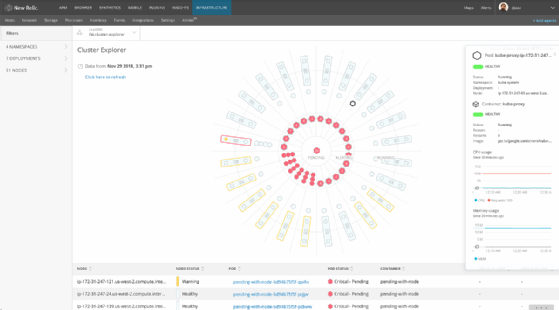 Topology views pave the way for Kubernetes AIOps
LogicMonitor is keen to expand its roadmap this year with the AIOps technology that also grew popular among enterprise IT buyers in 2018. Automated root cause analysis was part of the focus of LogicMonitor's acquisition of ITculate in May 2018.
My hunch is that the industry is ultimately heading down the path of Prometheus. But we're starting to see companies like SignalFx read Prometheus endpoints, as well, and we hope LogicMonitor will do something similar.

Andy Domeierdirector of technology operations, SPS Commerce
Full-blown AIOps will require a multiyear roadmap, Oren said.
"The common denominator is being able to do topology well," he said. "We have a topology map generator in private beta now and will make it generally available in the first half of 2019."
Similarly, New Relic's focus is on topology first, as it enhances its support for Kubernetes monitoring. The New Relic Kubernetes Cluster Explorer, created with the help of CoScale engineers, eliminates much of the manual integration work for New Relic users to support Kubernetes monitoring data. And both firms plan to add more features based on AI data analytics to automate Kubernetes monitoring tasks.
LogicMonitor will draw on intellectual property from ITculate to suppress alerts according to dependencies and generate alerts based on anomalies, which Domeier said he's eager to see.
New Relic hasn't yet dug in to most of its new subsidiary's intellectual property, which tops the company's agenda for 2019, said Patrick Lightbody, senior vice president of product management at New Relic, based in San Francisco. CoScale will add features such as the ability to automatically generate monitoring connections on the fly for applications that are sensitive to performance hits from monitoring agents that continuously run.
The growing ubiquity of Kubernetes monitoring and AIOps integration could present enterprise end users with a paralyzing level of choice among products. For example, PagerDuty also offers SPS AI-driven alert analysis, but PagerDuty's current setup only receives a limited set of data forwarded from other monitoring tools, Domeier said. He could export more data to PagerDuty, but there's an advantage to AI features included in the monitoring tool that already ingests it, which is LogicMonitor.
"I think a tool like LogicMonitor is better positioned to identify things like outliers in performance, even if [compute resources] don't hit a certain CPU threshold," he said.
However, getting the most comprehensive view of IT monitoring data would require a system that also sees logs, which SPS stores in Sumo Logic, and Prometheus metrics.
Dig Deeper on IT systems management and monitoring