AIOps tools mature as cloud infrastructure grows
DevOps monitoring tools gain refined features as IT complexity soars, but their advanced AIOps automation hasn't yet gone mainstream.
Enterprise IT interest in AIOps tools has grown in 2019, as reflected in the latest features in DevOps monitoring tools, but advanced IT automation still hasn't caught on beyond the bleeding edge.
Two AIOps vendors have reported sales strong enough to propel them to IPOs this month: first, Dynatrace re-entered the New York Stock Exchange Sept. 10 after five years of ownership by a private equity firm. DevOps monitoring competitor Datadog is expected to launch an IPO this week. A third cloud-native monitoring company, New Relic, already publicly traded, reported faltering sales numbers earlier this year and underwent C-suite upheaval as a result, but plowed ahead with fresh features for the New Relic One suite at its user conference this week.
IT industry analysts speculate that the New Relic One development process, which first began in late 2017 and integrated IP from multiple acquisitions, may have caused the business setback for the company. It remains to be seen whether those effort will pay off in an expanded customer base for New Relic.
New Relic One refreshes perspectives on IT monitoring data
For existing New Relic users, New Relic One contains important improvements that will address their needs in the future. Most importantly, New Relic One unified dashboard views that had previously been fragmented, and added the ability to search across multiple domains, whether user accounts or public clouds.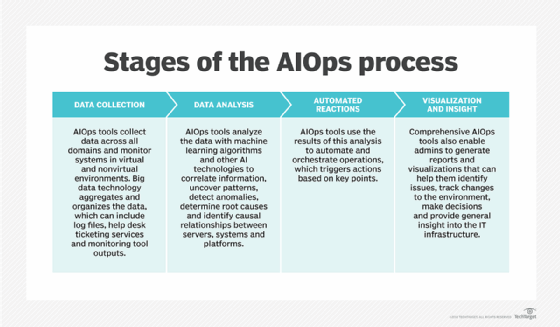 "New Relic One gave us a nice common interface, where we used to only be able to search data within user sub-accounts," said Joshua Biggley, senior enterprise monitoring engineer at Cardinal Health, a healthcare services and products company based in Dublin, Ohio. Cardinal Health has used New Relic since 2016, and rolled out New Relic One in production when it became generally available.
This week, New Relic added several feature updates, including support for third-party data sources, agentless as well as agent-based monitoring deployments, log monitoring, tools to build programmable monitoring apps on the platform and new AIOps capabilities.
For Cardinal Health, log monitoring data and information from third-party sources such as time-series databases and open source distributed tracing tools will add more dimensions of context to the centralized DevOps monitoring interface, Biggley said. He and his colleagues plan to use the programmability features to build new monitoring databases and assess a broader range of relationships between pieces of monitoring data.
"You can say, 'these servers have eight CPUs each, and your workload average is 10, but you don't know what that means if you don't know how many CPUs are actually configured," Biggley said.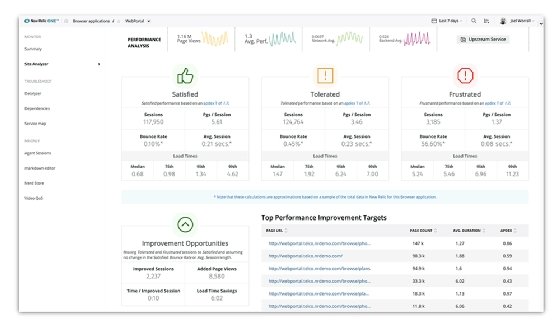 AIOps will mature alongside DevOps
New Relic has offered data analytics that it called Applied Intelligence in its products before, but this week's New Relic One updates adds AIOps features such as expanded alert reduction and automated creation of notifications and workflows in third-party tools such as PagerDuty, ServiceNow and Slack.
This type of AI-driven IT automation has been a hot topic in IT ops circles since 2017, but it has taken until this year for AIOps products to fully mature, and will still take more time before IT shops are ready to put them to widespread use.
"Event correlation and alert reduction are the unicorn everyone's chasing," Biggley said. "But people tend to be afraid of automation, and it all depends on data -- garbage in, garbage out."
Biggley said he wants clarify the specific goals he wants to achieve with AIOps automation before he dives in.
"You can apply machine learning to anything, but should you?" he said.
You can apply machine learning to anything, but should you?

Joshua BiggleySenior enterprise monitoring engineer, Cardinal Health
Industry-wide, enterprises are adopting tools with AI built in: a Q2 2019 Forrester Research survey found that 51% of global infrastructure decision makers have already adopted, or are in the process of implementing, AI- and machine learning-enabled systems, with another 21% stating that they plan to adopt those technologies in the next year.
However, the percentage of companies that have achieved AIOps automation in production using such tools is unclear at this point. AIOps early adopters have gained advantages from alert reduction through such tools, but not without having to work through data quality issues, and some remain skeptical of their ability to deliver incident auto-remediation.
The DevOps monitoring maturation process among enterprises actually tends to make things worse before they get better, said Nancy Gohring, analyst at 451 Research.
"As companies reorganize into DevOps teams that both develop and operate microservices, performance actually gets worse for a while, because there are too many tools and unclear responsibilities," Gohring said. "Eventually, organizations form a more centralized observability team, reduce the number of tools they use, and application performance improves."
Only once organizations get past the initial chaotic stage of DevOps adoption can they proceed to AIOps automation that reduces the manual intervention DevOps monitoring tools require, Gohring said. Such tools also provide the most value for complex cloud-native architectures, such as container-based microservices, and most enterprises haven't yet widely adopted such infrastructures in production.
Dynatrace predicts future of NoOps
Not everyone shares Gohring's outlook on the pace of AIOps adoption. Dynatrace, for example, resumed its status as a publicly traded company with a focus on advanced IT automation, and the prediction that many of its customers will soon get to NoOps, where systems resolve IT incidents with no human intervention.
"When customers see what we've achieved with Dynatrace and NoOps, they see that it's possible," said Dynatrace co-founder and CTO Bernd Greifeneder. "We've heard a lot about NoOps being a dumb idea that will never work, but I can invite you to our own labs to see it."
Gohring is skeptical that NoOps will ever become mainstream in enterprises. "Some future phase will look a lot closer to NoOps," she said. "But that's far down the road, hazy and ill-defined. We're taking steps toward it, but it's unclear if it's achievable."
Dig Deeper on IT systems management and monitoring