Getty Images
Lens Kubernetes developer portal expands with Shipa buy
The early stage startup, co-founded by Juniper and CloudBees vets, adds a "stupid easy" option for application auto-discovery and ongoing management, according to Mirantis.
The Lens Kubernetes developer portal gained application lifecycle management features this week with the acquisition of an early-stage startup.
Mirantis rolled out a new module for its Lens IDE this week, Lens Apps, that integrates tools from Shipa, a startup it acquired for an amount between $10 and $30 million this week. Shipa's six employees will join Mirantis, including co-founder and CEO Bruno Andrade, formerly senior director of software engineering at Juniper Networks as well as co-founder, and VP of engineering Vivek Pandey, who previously co-founded CloudBees.
Shipa's Kubernetes application auto-discovery and automated cluster management tools are generally available as Lens Apps for all users of the Mirantis Kubernetes developer portal. The addition of Shipa follows last year's acquisition of Kubernetes deployment startup Amazee.io, now also a part of Lens.
Amazee added initial Kubernetes application deployment support to Lens that abstracted the complexity of the underlying container infrastructure, according to Mirantis CEO Adrian Ionel. Shipa now adds "day two" management features for both existing and newly created Kubernetes clusters through Lens.
"Amazee is focused on the delivery and deployment of applications, not the clusters themselves," Ionel said. "Shipa addresses all the applications that are already up and running on my Kubernetes platform -- how do I make them stupid easy to run?"
Shipa's flexibility stands out among developer portal tools
There are many tools on the market that simplify Kubernetes management for developers. Among them are Kubernetes platform vendors such as VMware Tanzu and IBM Red Hat OpenShift as well as Docker Inc.'s Desktop developer portal.
Where Shipa's product design stands out is its ability to coexist with other Kubernetes management approaches. That it offers simplicity without sacrificing the extensibility that makes Kubernetes popular, said Kelsey Hightower, distinguished engineer at Google Cloud, who has served as an advisor to Shipa since 2020.
"Every organization has a different way of expressing policies and best practices," Hightower said.
Shipa lets platform engineers set up a framework of policies via Kubernetes admission controllers. Platform engineers can also choose how prescriptive to be with pre-configured Kubernetes resources developers access through Shipa's interface, Hightower said.
"You hear companies talk about the golden path," he said. "For some advanced team, [platform engineers] can give them Kubernetes, and they can do it from there. But there are going to be some teams like, 'It's not that we're not smart; it's just that we don't have time.'"
For DevOps teams that would rather not get into the minutiae of Kubernetes to manage their own apps, Shipa allows for highly abstracted cluster management within and alongside self-managed clusters, Hightower said.
"What you can do is … install something like Shipa and give it 50% of that cluster," Hightower said. "Ultimately, I can still use all the same Kubernetes tools I was using before. So [I'm] not making a one-way decision where if [I] install Shipa, it's all or nothing."
Ionel added that Shipa's automated discovery of Kubernetes clusters and their components made it an acquisition target for Mirantis. Shipa also ties auto-discovery and built-in observability to runbook automation for infrastructure management -- something platform engineers can put together using combinations of tools but which Shipa builds in to the Lens Kubernetes developer portal interface.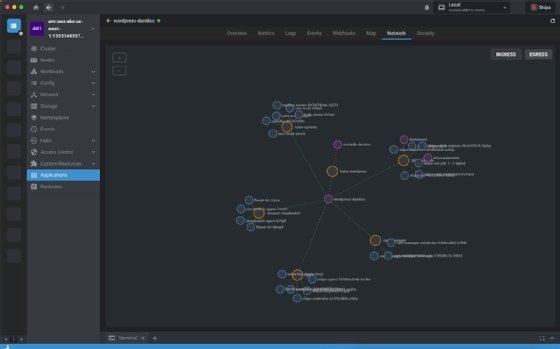 Mirantis reports Lens IDE growth
Mirantis, which acquired the Docker Enterprise Kubernetes platform business in 2019, faces stiff competition from bigger vendors such as IBM/Red Hat and VMware Tanzu. But its Lens Kubernetes developer portal has seen strong growth over the last two years, Ionel said.
Lens had between 4,000 and 5,000 end users as of May 2020, which has grown to more than 750,000 unique registered end user IDs, he said. Since the company added the paid Lens Pro product in July 2022, it has amassed more than a thousand paid corporate accounts for the tool, according to Ionel. That includes enterprises such as Baille Gifford, a U.K. financial services company with some 200 individual Lens users.
Reference customers listed on Shipa's website include Appmax, BambooHR, and Hard Rock Digital.
While Shipa IP is now only available as Lens Apps, it can be used as a standalone module without any other parts of the Lens IDE, Ionel said. It does not require a Lens Pro subscription.
"The entire userbase is going to be able to use this," Ionel said. "Within 30 seconds, they're going to be able to automatically discover applications and apply runbooks."
Beth Pariseau, senior news writer at TechTarget, is an award-winning veteran of IT journalism. She can be reached at [email protected] or on Twitter @PariseauTT.