carloscastilla - Fotolia
The ITIL 2018 update better catch up to modern IT
When ITIL last updated, DevOps was in its infancy. In the face of rapidly evolving IT practices and technologies, ITIL 2018 must be powerful and usable for diverse IT organizations.
ITIL, once known as the Information Technology Infrastructure Library, was last updated in 2011. A lot has happened...
Continue Reading This Article
Enjoy this article as well as all of our content, including E-Guides, news, tips and more.
since then, and for an ITIL 2018 release to regain the relevance that the IT service management framework has lost, it must accommodate the drive toward DevOps.
IT projects are moving away from Waterfall's cascade style of deployment, with large initial releases followed by interim patches and functional upgrades at six- or 12-month intervals. Instead, services and applications have become continuous delivery projects with new functionality updates that release in monthly, weekly or shorter time sequences. Containerization begets new methods to manage software packaging, release and management. The move to a microservices-based, composite application model has enhanced distributed applications.
These changes to IT delivery forced many of the organizations that adopted ITIL to either massively adapt it to retain IT service management (ITSM) efficacy or drop it in favor of other frameworks that better meet their needs.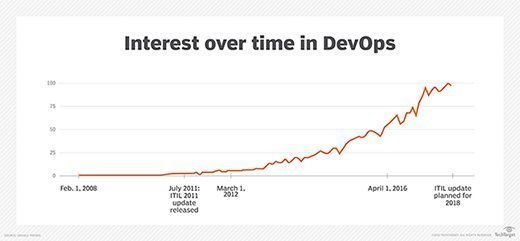 Few organizations have adopted ITIL fully, but have rather integrated pieces of it with other, internal service management processes that function better than what is nominally best practice.
This piecemeal adoption has hindered outsourcing companies that want to apply a full ITIL framework to a customer's environment, as well as service management software vendors that sell their products as ITIL-compatible.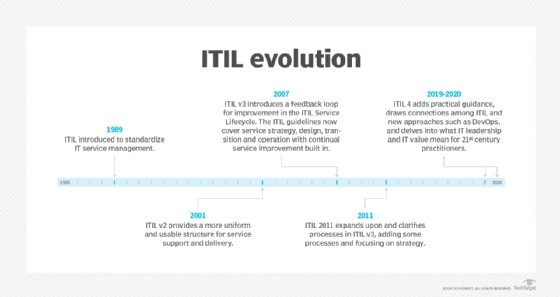 The ITIL 2018 update has more than internal or DevOps-based methodologies to take into account. It also must maintain commonality with the ISO standard on service management, ISO 20000, which is currently in its 2011 version. ISO 20000 Part 11 maps out how ITIL and ISO 20000 interact and intersect with each other.
ITIL 2018 expectations
Axelos, a joint venture company set up by the U.K. government's Cabinet Office and private entity Capita plc, is the group that oversees ITIL and that will control ITIL 2018's upcoming release, which is based on research conducted with the global service management community. This update to ITIL should be good news for organizations with ITIL processes in place, but as always, the devil is in the detail.
If everyone offers ideas about what would make the fastest, best racehorse in the world, what comes out the other end is a camel.
If it is to survive the rapid rate of change in modern IT, ITIL 2018 will need to fully embrace continuous development driven by DevOps, as well as work harder to break down the silos of control in the development, test and operations environments. Users must also see ITIL 2018 as a path to more streamlined and effective processes, rather than as a constraint to task completion.
Axelos reported that it spent 18 months communicating with constituents of the service management chain, and that, as a community-driven initiative, ITIL changes will reflect the needs of real-life organizations and individuals. While community insights are important, too much input can confuse and suppress progress. If everyone offers ideas about what would make the fastest, best racehorse in the world, what comes out the other end is a camel. Unless those who provide input already face the pressing issues of moves to hybrid cloud, continuous development, containerization and DevOps, their goal could just be to optimize old-style ITIL processes to make cascade projects move faster, rather than to bring the ITIL 2018 release in line with modern operations. For example, in U.K. government IT projects, Agile and DevOps are far less common than they are in the private sector. Both groups are ITSM constituents that ITIL 2018 aims to please.
ITIL's value
ITIL, particularly in large organizations, creates common processes to deal with many issues that arise across IT infrastructures. ITIL-structured IT organizations should more easily identify recurring issues and eradicate root causes. ITIL allows large IT deployments to continue to scale by automating many functions that would otherwise be carried out as standalone tasks by individual IT operations admins.
However, ITIL implementation also risks becoming unwieldy and expensive. It has been criticized for cementing many of existing IT environments' problems, such as siloed development, test and operations groups, and for working poorly with other ITSM and business approaches, such as Agile and Six Sigma.
The ITIL 2018 release must demonstrate awareness of these problems and dedication to get ahead of them. With its strong focus on process, ITIL 2018 must better cover hybrid IT environments, relatively static platforms and highly dynamic ones. ITIL 2018 must also become far more flexible internally -- seven years between updates does not demonstrate ongoing relevance.
ITIL 2018 must address where it sits in the wider scheme of things. It cannot fall further into a perception of it being the center of the universe. It must work alongside many other tools and approaches that businesses use.
There is little detail available about the content of the ITIL 2018 update, which Axelos announced at the IT Service Management Forum USA Fusion event in Orlando, Fla., in the fall of 2017. This is where the devil might lie in wait: Organizations that seek to adopt or continue using ITIL must read all the details as they come out to ensure that any investment in ITIL 2018 is worthwhile and ready for future developments. It is not enough to take on such an involved ITSM framework as a short-term, tactical solution.
Dig Deeper on Systems automation and orchestration