A fine-tuned change request template minimizes user discontent
Change management is an essential ITSM practice, but it doesn't have to come at the expense of end users. Use templates to clarify expectations and set changes in motion without disruption.
When end users are resistant to change, it's because the amount of time and effort required to adapt to the new situation doesn't feel justified by the change. Since an organization's IT department is a source of constant change, users start to wrinkle their nose at IT, too.
Change management is a key component of IT service management frameworks, such as ITIL, for good reason. There are three main goals of change management: Cause minimal disruption to services and staff, improve operations and enact the change via an agreed-upon workflow. It's a difficult balancing act for an IT department. Too much communication about a change leaves users overwhelmed and prone to ignore updates. But without enough back and forth, users feel that they have no oversight, control or influence over the day-to-day systems they use. Even worse, enact a change with a negative effect, and staff get upset -- and thus become further resistant to any more changes. IT ops admins can set controls for the communication levels and dynamics through change request templates tailored to specific types of actions.
Build a change request template
Choose a common but simple change to start out on templates. For example, a hardware purchase, such as a user request for a replacement laptop, is a process that usually involves multiple sign-offs for approval that are easy to understand and document. Do not attempt to apply change management to processes that you don't understand or can't document, or the only result will be frustration.
IT ops admins can set controls for the communication levels and dynamics through change request templates tailored to specific types of actions.
Once you have outlined the necessary workflow, decide on how to obtain information from the requester. Web forms and email templates are great ways to collect information, especially if the template includes options to choose from, such as available laptop models.
When end users fill out a clear, simple form, they can spend minimal time on the request and receive the conclusion in a timely manner. Below is a sample change request template optimal for email exchanges or to integrate into a help desk ticketing system, with links to catalogs of available options: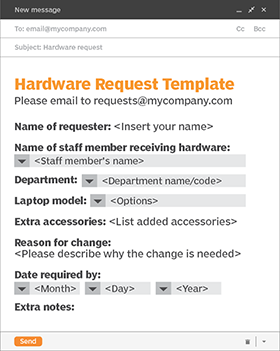 The series of questions in the change request template eliminates the need for additional email volleys. When you know which department a user is in, you know where the request goes for approval. The due date informs the help desk's problem-solving process if they cannot get the hardware requested -- offer the option to either select an alternative model or to wait longer for the originally requested machine. Similarly, a change request template can simplify and prioritize changes to the IT deployment hosting enterprise applications. And if the primary users of an application request feature updates, developers have requirements organized in a standard format.
The change management back end starts once the help desk or IT operations team receives the change request form. The workflows can be manual, but aim to automate as much as possible to speed up the process and free hands for more interesting work. Ensure that the change approval process is documented and repeatable. Someone must always own the change request as it progresses -- the actual owner could change throughout, depending upon the process -- to prevent the request from becoming stuck in an inbox or lost in the ether.
Continue to improve
Request feedback on the change request template after a few uses to fine-tune for improvements to both the template's questions and to the process workflow. Users should be happy with the implementation -- if they aren't, find out why. They might not understand the need for a change management process, or there might be additional improvements to a template on the docket.
Dig Deeper on Systems automation and orchestration