IT service delivery model: CIOs pressured to reinvent the process
Tech managers are on the hook to reinvent the IT shop, but tools like user self-service, ITSM practices and the rent vs. buy option are helping effect change.
Tech leaders feel a sense of urgency as they toil to reinvent the IT service delivery model.
It's no wonder why. The demands of digital transformation are sweeping a range of industries -- from logistics to healthcare. Companies hoping to head off upstart disrupters and boost customer service are enlisting IT to help get the job done. Digital transformation is part of a revolution of rising business expectations, which also puts IT departments under pressure to look less like a cost center and more like a revenue generator.
It's down to CIOs, CTOs and senior IT managers to keep pace with expanding enterprise demands.
"My personal mantra is evolve or die," said Ron McIntyre, CTO at Delmar International Inc., a global logistics company based in Montreal. "You can't sit back and say, 'I have always done things this way, and it has worked up until now.'"
Earlier this year, Delmar leaders decided to move its Microsoft Dynamics AX ERP environment from in-house servers to Rackspace, with an eye to eventually move all of its IT to the managed hosting company. Delmar is also in the process of migrating email from on-premises Microsoft Exchange servers to cloud-based Office 365.
Projects on this scale aim to provide the agility needed to address quickly changing business needs, but reinventing the IT service delivery model doesn't happen overnight. Delmar is looking at a five-year transformation process.
It's clearly no simple task. Indeed, 87% of the IT managers in an Insight poll said their departments struggle to adapt to an expanding role that encompasses innovation initiatives as well as keeping the lights on. Insight, an IT solution provider based in Phoenix, published its results last month based on a survey of 404 IT decision-makers.
Tools and techniques that can help IT departments manage their expanding charters include user self-service approaches, IT service management (ITSM) and making use of the cloud and managed services.
Self-service gets IT out of the fray
Organizations in the midst of retooling the IT service delivery model are pursuing change across a number of dimensions.
One important transition has the IT department abandoning its role as technology gatekeeper. As the arbiter of all things IT, the department acquired a reputation as a technological obstacle rather than an enabler.
McIntyre said gatekeeping IT shops "decide what gets done and how it gets done and have the power to enforce that."
My personal mantra is evolve or die.

Ron McIntyreCTO, Delmar International
But in his view, the department's role should be to serve as a business unit that adapts to the needs of the revenue-producing parts of the enterprise. IT should help the company become more productive, not create impediments.
"I am evolving IT to focus on providing value and service to customers, whether they are external or internal customers, and getting out of the way," McIntyre said.
In some cases, getting out of the way translates into user self-service.
"We are seeing an increase in appetite for things like vending machines and secure device lockers," said Michael Engel, director of technical services, connected workforce, at Insight.
IT vending machines offer users everything from headsets to keyboards. Lockers provide a different mechanism, but also dispense tech supplies on a self-service basis. Portals for acquiring virtual assets such as cloud services are another aspect of user self-provisioning. But it all adds up to improving services while lifting a burden off the IT department. When users become more self-sufficient, IT personnel have a freer hand to take on an enterprise's transformation challenges.
"Business is demanding more innovation, the adoption of future technologies," Engel said.
ITSM frees up IT time
In addition to self-service, approaches such as ITSM also help IT departments free up time to pursue innovation.
"This is a key activity for ITSM," said Gary Case, principal consultant at Pink Elephant, an ITSM training and consulting firm based in Burlington, Ont.
ITIL processes, which provide a mechanism for ITSM service delivery, play a role here. Case said using ITIL's problem management and continual service improvement processes, ideally along with Lean practices, can help IT organizations liberate resources.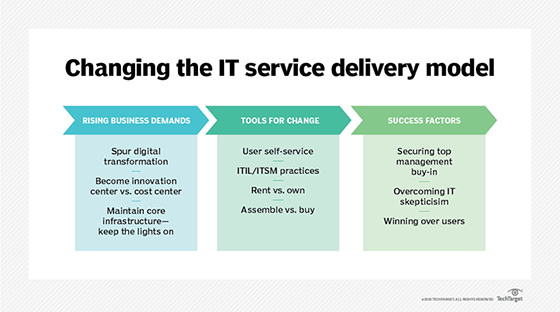 "In discussions with customers, we find that the majority of IT investments are spent on keeping the lights on, which leaves little investment to grow and transform the business or even to invest to retire existing services," Case said.
Boosting the efficiency of IT service delivery processes can help redeploy level-two and level-three support staff to "work on more value-add activities," he added.
Digital bartending: Serving what's on tap
Another shift in IT service delivery has technology managers making use of cloud and on-premises assets already on hand, rather than creating something entirely new.
Patrick Streck, senior director of IT services at Baystate Health, has seen this shift play out at the Springfield, Mass., hospital system as it has undergone a digital transformation in recent months. Streck described himself as a technology bartender, and it's an apt analogy. Healthcare informatics and technology departments traditionally found themselves buying and building new, and typically siloed, systems to handle each fresh business demand. But Baystate's evolution has tech managers taking stock of what's on tap and blending IT resources to address emerging requirements. An existing data set may be just what the healthcare organization needs to solve a problem, and an existing system may be used in a new way to capitalize on that data set.
A significant technology gap may call for a new purchase. But Streck said Baystate's inclination is to mix and repurpose existing assets "rather than buy something that is proprietary that generates the same data again and the system doesn't talk and coordinate" with other hospital systems.
This style of IT is associated with a shift toward "renting" IT assets versus owning them. Ownership can lead to the "IKEA effect" in which managers become overly invested in the technology they own and, as a consequence, resist change. In the rental approach, IT organizations can take cloud platforms such as Amazon Web Services and Microsoft Azure to spin up test and dev environments.
"We don't have to buy everything," Streck said.
Delmar's McIntyre has a similar take on ownership. He said the company's move to purchase managed IT services from Rackspace is, in essence, a rental approach and a marked contrast to the company's historical view that "we have to own our hardware and we have to own the software."
Organizations like Delmar and Baystate are taking strides toward creating a new IT service delivery model. But on the whole, reinvention initiatives are works in progress. Such efforts require a host of success factors: Tech managers must obtain management buy-in, sell IT personnel on the changes and market the new look of IT to end users. To smooth the path of adoption, users need to understand how they will benefit from new measures such as self-service.
However you slice it, CIOs and senior IT managers have their work cut out for them.
Dig Deeper on Digital transformation