Top 9 SD-WAN benefits for businesses
Make the case for an SD-WAN implementation, and explore the benefits and main use cases for SD-WAN in enterprises, beyond traditional hybrid WANs.
Software-defined WAN uses software- and cloud-based technologies to simplify the delivery of WAN services to the...
Continue Reading This Article
Enjoy this article as well as all of our content, including E-Guides, news, tips and more.
branch office. SD-WAN creates a virtual overlay to abstract the underlying network connections, and this overlay helps simplify network operations.
SD-WAN adoption enables IT and business managers to deploy internet-based connectivity easily, quickly, reliably and securely. Resulting advantages include ubiquity, increased bandwidth, reduced costs and improved application performance.
Below are some of the top SD-WAN benefits for enterprises.
1. Reduced costs
SD-WAN enables enterprises to use internet connections for primary or failover links, which means they can depend less on MPLS connections. Internet circuits -- like Ethernet, DSL or cable -- are typically one-third to half the cost of MPLS links at comparable speeds. Internet services also have the advantages of wide availability and rapid provisioning times, compared with MPLS.
2. Increased bandwidth
SD-WAN offers additional internet connectivity advantages, such as increased bandwidth, by alleviating concerns about internet reliability and security. Enterprises can aggregate multiple WAN connections and create SD-WAN policies for more efficient bandwidth consumption and allocation.
3. Hybrid WAN architecture
Organizations with distributed workforces in branch remote offices should consider SD-WAN adoption to implement hybrid WAN -- by combining MPLS and internet -- or internet-only connectivity. Hybrid WAN architecture enables enterprises to capitalize on internet-provided advantages, while maintaining the quality of service commonly associated with MPLS.
Organizations implement hybrid WAN architecture by dedicating MPLS links for mission-critical traffic and assigning internet connections for high-speed access to cloud- or SaaS-based applications, email, file transfers, storage and video applications. 4G LTE and 5G represent additional WAN connectivity options to include as part of SD-WAN architecture. These wireless WAN options offer rapid provisioning, enhanced reliability (failover) and speed that is comparable to many wired WAN offerings.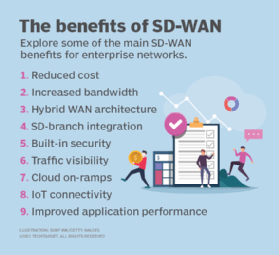 4. Cloud on-ramps
Most SD-WAN offerings provide shortcuts to popular IaaS and SaaS services, including AWS, Microsoft Azure, Salesforce and Microsoft 365.
5. Built-in security
SD-WAN offers sophisticated, built-in network security, including next-generation firewalls and encryption, along with improved integration with network security providers, such as Palo Alto Networks and Zscaler.
6. Traffic visibility
End-to-end network traffic visibility -- across LAN, WAN and cloud -- enables administrators to rapidly diagnose application performance degradation.
7. SD-branch integration
Software-defined branch (SD-branch) offers an integrated suite of branch network functionality, including SD-WAN, security, Ethernet and Wi-Fi.
8. IoT connectivity
SD-WAN can secure traffic to and from relatively insecure IoT devices. It includes the capabilities to rapidly onboard large numbers of diverse IoT devices.
9. Improved application performance
Because of its failover capabilities, centralized management and policy control, SD-WAN can prioritize business-critical applications and traffic. Open APIs enable the ability to customize offerings and integrate third-party applications, including security and performance management systems.
SD-WAN use cases
SD-WAN is a highly competitive market. As a result, enterprises should expect ongoing innovation in the breadth and depth of SD-WAN features.
SD-WAN adoption is seeing significant growth in a range of verticals and company sizes. A few interesting SD-WAN use cases are the following:
Financial services organizations with a large number of remote or branch offices have initiated SD-WAN adoption to provide direct internet access at their branches for applications like guest Wi-Fi and employee access to SaaS and cloud applications.
Retail stores use SD-WAN to rapidly deploy connectivity at new stores and pop-up locations.
Construction companies and other organizations with temporary work locations are implementing SD-WAN architecture to enable secure and reliable internet connectivity to corporate data centers and the cloud.
Branch users relying on unified communications real-time applications have deployed SD-WAN to reduce jitter and packet loss in voice and video traffic to improve the user experience.
Service providers also deploy SD-WAN technology to offer managed hybrid WAN services to their business customers.
A number of large, midsize and startup technology providers offer SD-WAN technology. Some of these SD-WAN vendors include Aryaka, Cisco, Fortinet, HPE Aruba, Juniper Networks, Palo Alto Networks, Versa Networks and VMware. A wide range of service providers offer managed SD-WAN services, including AT&T, Lumen, Comcast, Masergy, Verizon and Windstream.
SD-WAN disadvantages to consider
Clearly, SD-WAN can deliver benefits for enterprises with branch locations. However, enterprises must also consider the challenges of SD-WAN before they adopt the technology. Before deploying SD-WAN, enterprises should consider the possible effects to their network environment.
Some of the top SD-WAN disadvantages are the following:
Cost. SD-WAN can increase costs in the near term, and additional software licensing for this new layer of software may be necessary. IT departments must also ensure they allocate enough money for their training budgets.
Technical skills. SD-WAN upends the WAN status quo and requires extensive training for IT teams because of the new approach to WAN management.
Security. Deploying new WAN technology can introduce unintended security issues. Additionally, vulnerabilities could now exist across both WAN layers.
Complexity. SD-WAN adds a component to the WAN connection -- introducing an overlay to the WAN underlay -- which creates complexity.
Software. For years, WAN vendors hard-coded functions into hardware for stability. Software, however, is more susceptible to errors, bugs and glitches.
Troubleshooting. Because SD-WAN includes an underlay and overlay, WAN issues require two places to investigate and troubleshoot.
SD-WAN advantages make a solid argument for adoption
So, are the SD-WAN advantages enough to compel adoption? SD-WAN architecture is now a proven approach to connecting the WAN and offers solid advantages for distributed organizations with critical branch office operations. Other SD-WAN benefits include business agility, increased security, improved application performance and lower bandwidth costs.
IT organizations should consider implementing hybrid WAN architectures to capitalize on the high performance and cost benefits of internet and wireless connectivity, especially for cloud applications.
Editor's note: This article was updated to include SD-WAN disadvantages that enterprises may encounter.