CCNA exam preparation guide
A learning guide for CCNA exam preparation with book chapters, expert advice and quiz.
Whether you're cramming for the CCNA or shopping for test preparation materials, get started with the resources...
Continue Reading This Article
Enjoy this article as well as all of our content, including E-Guides, news, tips and more.
in our CCNA exam guide. Here, we provide chapters from popular books like CCNA Exam Cram and preparation materials from SemSim.com. If you have questions about the CCNA or other Cisco certification exams, ask our expert Dave Minutella -- or just browse through his previous answers. Finally, test your knowledge with our practice quizzes and see if you're ready to take on the CCNA.
CCNA books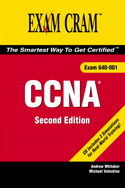 CCNA Exam Cram 2, Second Edition: Concepts in IP addressing
CCNA Exam Cram 2, Second Edition is a concise, comprehensive study aid, perfect for anyone preparing for the CCNA exam. This updated edition to the popular Exam Cram will keep you up to date on the latest version of the exam, while continuing to provide you with specific, targeted explanations of the concepts and commands that you will find on the actual CCNA exam.
The CCNA exam(s) require a near-perfect fluency in subnetting. Success requires speed and accuracy in answering the many questions you will see on this topic. The key to this level of fluency is practice -- you must work at your skills until they become second nature. The section excerpted here discusses binary and hexadecimal numbering systems as compared with the more familiar decimal system. After reading the chapter, download the chapter-specific quiz to test what you've learned.
Read "Concepts in IP addressing" now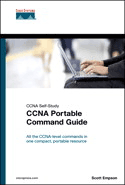 CCNA Portable Command Guide: VLSM
Preparing for the CCNA exam? Working as a network administrator? Here are all the CCNA-level commands you need in one condensed, portable resource. The CCNA Portable Command Guide by Scott Empson will help you memorize commands and concepts as you work to pass the CCNA exam (INTRO 640-821, ICND 640-811, or CCNA 640-801). The guide summarizes all CCNA certification-level Cisco IOS Software commands, keywords, command arguments, and associated prompts, providing you with tips and examples of how to apply the commands to real-world scenarios. Configuration examples throughout the book provide you with a better understanding of how these commands are used in simple network designs.
Chapter two, excerpted here, discusses Variable-length subnet masking (VLSM) -- the more realistic way of subnetting a network to make for the most efficient use of all of the bits.
Read "VLSM" now
CCNA Flash Cards and Exam Practice Pack: Determining IP routes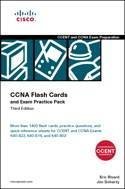 CCNA Flash Cards and Exam Practice Pack by Eric Rivard and Jim Doherty gives you three methods of proven late-stage CCNA exam preparation in one package. Here you'll find Chapter 3, Determining IP routes. This chapter includes a complete overview of IP routes, and then tests your knowledge with 63 question and answers. Even if you're not preparing for CCNA this is a great opportunity to expand your knowledge.
Read "Determining IP routes" now
CCNA ICND Exam Certification Guide: Frame Relay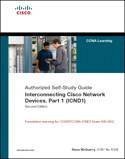 Chapter 11 of CCNA ICND Exam Certification Guide by Wendell Odom reviews the details of how Frame Relay accomplishes its goal of delivering frames to multiple WAN connected sites. It also describes the Frame Relay protocol details, along with the associated configuration. Since Frame Relay is the most popular WAN technology used today, so it's no surprise that Frame Relay is an important topic on the ICND exam.
Read "Frame Relay" now
Self-Study: Interconnecting Cisco Network Devices (ICND) 640-811, 640-801, 2nd Edition: Extending switched networks with virtual LANs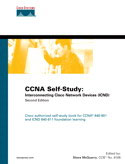 Chapter 3 of CCNA Self-Study by Steve McQuerry explores how VLANs operate to provide more effective networks by controlling broadcasts in your network. To configure VLANs on a Catalyst switch, you must first configure VTP to administer VLANs. Therefore, you'll learn how VTP operates and how it is configured. You also learn how to create a trunk link to carry all VLAN traffic, and how to configure a VLAN.
Read "Extending switched networks with virtual LANs" now
CCNA Intro Exam Certification Guide: Fundamentals of IP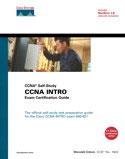 Chapter 5 of CCNA Intro Exam Certification Guide by Wendell Odom describes the core concepts behind OSI Layer 3. Because CCNA focuses on TCP/IP, you also will learn about the main Layer 3 protocol used by TCP/IP -- namely, the Internet Protocol (IP). Coverage includes IP addressing, IP routing and some protocols useful to IP's effort to deliver packets end-to-end through a network.
Read "Fundamentals of IP" now
Prep help
These resources are provided in partnership with SemSim.com.
CCNA 640-801 primer This guide lists exam tracks and topics included in the test.
What to expect at the testing center: Read this before you head to your local CCNA testing center.
The Cisco three-layered hierarchical model: This model simplifies the task of building a reliable, scalable, and less expensive hierarchical internetwork.
Selecting Cisco products: Learn how to select the appropriate Cisco product.
Cabling Cisco devices: Gain expertise with networking scenarios for certification and production environment.
Ask Dave Minutella
Like it or not, Cisco certifications are undoubtedly one of the keys to a successful career in network administration and management. Dave Minutella knows this as well as anyone. He's CCNP, CCDP, CCSP and CISSP certified and has been teaching fellow IT pros how to prepare for the exams for over three years. Send Dave your CCNA question today.
Here some of David's most popular CCNA Q&As:
Question: How does CCNA compare to other certs?
Question: What should I bone up on before attempting the CCNA?
Question: What should a person right out of the Cisco Networking Academy expect to earn as salary working as a CCNA?
Question: How long after passing the CCNA do I have to take the CCSP and subsequent Cisco certs?
Question: Where are the best networking jobs for a CCNA?
Question: Are the CCNA test lab questions graded on the end result or the end result and the way you get there?
Question: If I gain one CCNP cert (i.e BSCI) does this automatically recertify my CCNA?
Question: Studying for the CCNA is boring -- what would make it more interesting?
Quiz
Ready for the Cisco CCNA exam? Take this 10-question quiz to find out
Are you thinking about taking Cisco's CCNA exam (640-801)? Here's a 10-question quiz to let you know whether you're on the right track. (Questions and detailed answers taken from the book CCNA Exam Cram 2, Second Edition, by Andrew Whitaker and Michael Valentine, Que Certification)
Routing quiz: prep for your CCNA!
Are you preparing for the CCNA exam? Maybe you just want to test your knowledge of routing and routed protocols. This quiz will tell you if you are up to speed when it comes to TCP/IP protocols.
Dig Deeper on Networking careers and certifications