SAP HANA is an in-memory database and application development platform for processing high volumes of data in real time. It is SAP's highest profile product.
SAP HANA enables data analysts to query large volumes of data in real time. HANA's in-memory computing database infrastructure frees analysts from having to load or write back data.
HANA's columnar-based data store is atomicity, consistency, isolation and durability (ACID)-compliant and supports industry standards, such as structured query language (SQL) and multidimensional expressions (MDX).
SAP HANA also includes a programming component that enables a company's IT department to create and run customized application programs on top of HANA, as well as a suite of predictive, spatial and text analytics libraries across multiple data sources. Because HANA can run in parallel to a source SAP ERP application, analysts can access real-time operational and transactional data for real-time analytics processing and not have to wait for a daily or weekly report to run.
How SAP HANA works
SAP HANA stores data in memory in a columnar format. Doing so enables the product to deliver real-time or near-real-time transactions and analytics. For SAP, the columnar format offers better access to, and processing of data compared to traditional, row-based memory.
HANA's setup requires more server memory; however, this concern is offset because HANA databases, in general, are smaller than traditional architectures, thanks to high levels of data compression.
The benefits of HANA, according to SAP, include improved data management, analytics and application development.
SAP HANA origins
SAP HANA originated in research begun in 2006 by SAP co-founder Hasso Plattner while he was a computer science professor at the Hasso Plattner Institute in Potsdam, Germany. The goal was to develop a database that could operate with a near-zero response time for transactional and analytical data processing. Plattner wanted a system that could answer any conceivable business question in real time.
After several years of development at SAP, a prerelease version of SAP HANA was given to selected customers in October 2010. SAP released the first official version, SAP HANA 1.0, on June 18, 2011. SAP HANA 2.0 was released in 2017, with a variety of updated and new features.
The name HANA originally came from the full product moniker -- high-speed analytical appliance -- which has since been replaced by the acronym in all references.
SAP HANA releases
SAP releases versions of HANA as Support Package Stacks (SPS), which contain new features or advancements. Along with SPS releases, SAP makes revision versions available that may have additional features or fixes, and there may be several revisions between each SPS release.
In addition, SPS releases may include maintenance revisions if there are any major fixes that need immediate attention.
SAP HANA 2.0 and current SAP HANA editions
According to SAP, the current editions under SAP HANA 2.0 include the following:
SAP HANA, Base Edition, which offers the basic HANA functions for database, integration and application services.
SAP HANA, Spatial Edition, which builds upon the Base Edition by also offering capabilities for data warehousing and the use of spatial data.
SAP HANA, Platform Edition, which builds upon the Base Edition by also providing functions for data warehousing, predictive algorithms, text analysis and mining, graph processing, and spatial data.
SAP HANA, Enterprise Edition, which includes all the capabilities of the Base and Platform editions, while also including functions for data integration and data replication and offering distribution rights to export data into third-party applications.
SAP HANA, Express Edition, released in 2016, is a streamlined version of HANA aimed at spurring more adoption by enabling it to run on laptops and other resource-constrained hosts, such as a cloud-hosted virtual machine.
Prominent SAP HANA products
As of this writing, SAP has heavily emphasized its flagship HANA business suite -- known S/4HANA -- as the product of choice for digital modernization. S/4HANA includes the core ERP processes of finance and procurement, as well as other apps for supply chain and sales and distribution. S/4HANA is available on premises, in the cloud or as a hybrid setup.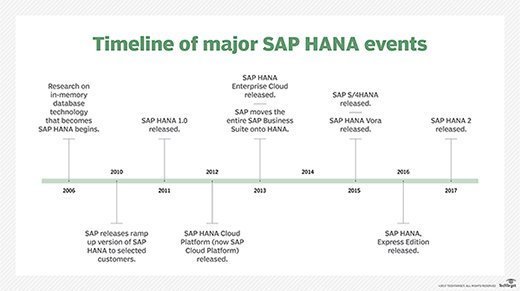 Meanwhile, SAP BW/4HANA is a data warehouse product built on HANA. BW/4HANA offers a rapid app development environment for data warehousing, a modern user interface, and cloud support for Amazon Web Services (AWS) and SAP HANA Enterprise Cloud (HEC).
SAP HANA deployment options
SAP HANA can be deployed on site as an appliance or it can be purchased as a managed cloud or hybrid cloud service.
SAP HANA has two primary cloud deployment options:
Other cloud vendors offer HANA as a service, including AWS, Microsoft Azure, Google Cloud Platform, IBM SoftLayer, Huawei FusionSphere and Hewlett Packard Enterprise Helion.
SAP HANA and big data
One of the main benefits of SAP HANA is that it makes big data available for real-time analytics. To meet these needs, SAP Vora was released in 2015. SAP Vora, formerly SAP HANA Vora, is a query engine that integrates HANA in-memory databases with big data sources like Hadoop and Apache Spark.
In 2016, SAP released SAP Leonardo, an SAP Cloud Platform that integrates HANA with a variety of next-generation, big data technologies, including machine learning, artificial intelligence (AI), 3D printing and the internet of things (IoT).
This was last updated in
July 2017
Continue Reading About SAP HANA