Exploring the SAP ERP system lineup
With its five main ERP products, SAP cast a wide net in the ERP market. Here's a rundown of SAP ERP software offerings, including its stalwart on-prem ERP and next-gen S/4HANA.
SAP offers a full retinue of ERP systems that companies of any size, in any industry or vertical, with any IT architecture, can adopt. This includes ERP products targeting large enterprises looking to keep their ERP system on premises, companies looking for a way to modernize legacy systems and integrate other software packages by moving to the cloud, and smaller businesses that want to implement cloud-based ERP -- often, their first ERP system -- or expand one module at a time.
Because there are so many choices, it's important that companies considering an SAP ERP system evaluate their ERP needs and budget. Service and support are also important considerations, as is existing IT architecture. Some companies only need service and support while implementing the software, while others continuously require it. Depending on the company's needs, a full infrastructure refresh may not be necessary, as SAP is working to expand its ERP offerings to run on public cloud systems, like AWS and Microsoft Azure, and has, in fact, announced partnerships with both cloud platform vendors.
SAP offers five main ERP products: SAP ERP, its flagship on-premises system; SAP S/4HANA; SAP S/4HANA Cloud, SAP Business One; and SAP Business ByDesign.
One final note, SAP's product branding can be confusing when evaluating its ERP offerings. For example, SAP's marketing materials may refer to cloud ERP, a broad term that encompasses several of its products, like SAP S/4HANA Cloud, Business ByDesign and cloud deployments of Business One.
SAP ERP
SAP ERP Central Component is the company's on-premises, stalwart ERP system, and it includes supply chain management, product lifecycle management, human capital management, financial management and customer relationship management software. Most simply refer to it as SAP ERP. It can be deployed on premises on a company's own infrastructure, with an IaaS provider or in a private cloud option. SAP does enable companies to migrate SAP ERP software to the cloud by converting to SAP S/4HANA, which runs as PaaS.
SAP ERP's maturity is its strength. More than 170,000 businesses worldwide use it as of 2018, and SAP customized it to support 25 different industry verticals and 37 different languages. This makes an SAP ERP system appealing to companies with global business dealings and companies in specialized industries with highly specific needs.
Because there are so many choices, it's important that companies considering an SAP ERP system evaluate their ERP needs and budget.
At the time of this writing, the latest release of SAP ERP is Enhancement Package 8 for ERP 6.0, Support Package Stack (SPS) 7. SPS 7 delivers logistics improvements, including enhanced functionality to SAP Retail and Plant Maintenance, as well as an update to the Data Controller Rule Framework that ensures personal data is stored according to legal requirements and complies with general data privacy acts. Additionally, Package 8 as a whole enhanced existing financial, retail, wholesale, logistics and plant maintenance functionality. Release 6.0 also delivered new hedging functionality for companies managing multicurrency environments. Additionally, Release 6.0 included embedded geospatial technology, which adds locational analytics for business operations.
What's important to note is that SAP Enhancement Package 7 for ERP 6.0 is required before a move to SAP HANA, SAP's in-memory database platform. SAP Enhancement Packages are designed to let companies add functionality as needed, while SPS releases are patches and updates that are designed to be implemented together.
SAP ERP software is available on a price-quote basis, as a traditional, on-premises system, licensed on a perpetual named-user basis from SAP directly or as SAP Business All-in-One software via an SAP reseller.
SAP S/4HANA
SAP S/4HANA is SAP's next-generation ERP platform. Used primarily by medium and large enterprises with at least $250 million in annual revenue, S/4HANA is built on the SAP HANA in-memory database and combines online analytical processing and transaction processing.
The combination of single database and parallel processing enables companies to run advanced analytics alongside high-speed transactions, as well as receive accurate and up-to-date responses in a fraction of a second. It's ideal for companies that need real-time or near-real-time analytics, particularly in industries such as banking, airlines, hospitality and securities. The sophistication of the software also makes it a good fit for enterprises with large IT staffs and in-house expertise in transaction processing, analytics, applications and database operations.
Some of the highlights of SAP S/4HANA include AI capabilities; machine learning for logistics, manufacturing and asset management; and the ability to customize the core system for specific industries.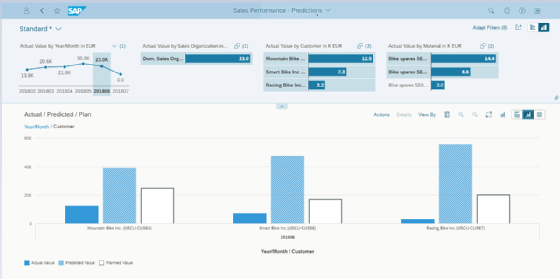 As of this writing, the next release of the software is SAP S/4HANA 1709, which runs on HANA 2, SAP's second-generation in-memory database platform. It supports scale-out and active/active state processing for added performance. It also includes transportation management, materials management and demand-driven supply chain replenishment enhancements, as well as a readiness tool to assess whether your existing IT architecture can handle the software.
SAP S/4HANA can be deployed on premises or in a private cloud environment. SAP provides support during deployment.
On-premises SAP S/4HANA is available through an annual maintenance contract license.
SAP offers free trials of SAP S/4HANA upon request.
SAP S/4HANA Cloud
SAP S/4HANA Cloud offers some of the SAP ERP system modules and functionality of on-premises S/4HANA but with quarterly updates rather than annual updates. It is the SaaS version of S/4HANA. Users access the software via a web browser on any device, and all business applications are launched from the SAP Fiori launchpad. It can be deployed on a public cloud or in a dedicated private cloud environment.
S/4HANA Cloud includes in-memory computing for real-time data, as well as embedded analytics, machine learning support, the SAP S/4HANA Cloud Software Development Toolkit (SDK) to develop custom extensions for SAP S/4HANA, and two-tier deployment support for enterprises running one or more instances of SAP ERP products, such as headquarters and subsidiaries. SAP products like SuccessFactors, Fieldglass, Hybris, Concur and Ariba can be connected to S/4HANA Cloud via SAP Cloud Platform. Additionally, SAP also offers SAP API Business Hub so that developers can build sample apps, extensions and integrations using SAP and partner APIs.
As of late 2018, 1808 is the next SAP S/4HANA Cloud release, which comes with AI-powered "intelligent scenarios." These include the following:
unusual business situation detection for SAP Financial Statement Insights;
RFx process automation from open purchase requisitions;
improved buffer proposal calculations for materials;
improved insights on potential sales order delays and planned delivering;
natural language support for tracking sales orders, accounts payable (AP) and accounts receivable (AR); and
situation handling, bringing urgent information to specific groups for immediate reactions.
Also new are additional enhancements for machine learning, natural language processing and predictive analytics. SAP claims release 1808 also contains new smart staffing analytics for HR management and improvements in chemical compliance and quality management key performance indicators (KPIs).
SAP S/4HANA Cloud may be best suited for medium to large enterprises with over $250 million in annual sales, companies that do business globally and companies that require specialized functionality for their industry verticals, like manufacturing and professional services. However, SAP also markets S/4HANA Cloud to small and midsize businesses.
SAP prices S/4HANA Cloud on a monthly subscription basis, starting at $220 per user per month.
During implementation, SAP provides full support.
S/4HANA Cloud is available for a 14-day free trial upon request.
SAP Business One
SAP Business One is SAP's ERP suite for SMBs, and it can be deployed on premises or in the cloud. It is aimed at companies with up to 350 employees and runs on both SAP HANA and Microsoft SQL Server platforms, offering companies more options to run the software. Business One includes integrated SAP Crystal Reports for Business One, which is useful for report generation and other analytics activities. Additionally, it includes mobile access for sales teams and other business users on the road, as long as real-time analytics and reports are enabled.
Core SAP ERP system modules include administration, financials, CRM, sales and AR, purchasing and AP, business partners, banking, inventory management, resource management, production, material requirements planning, service, HR, project management and reports. SAP Business One supports 44 country localizations and 28 languages.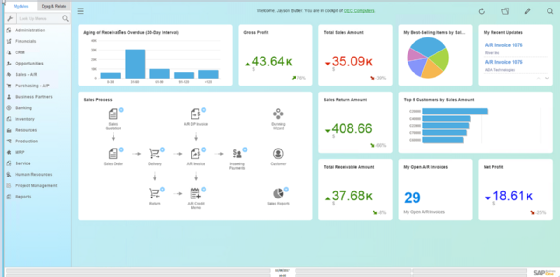 The suite also has more than 500 third-party offerings that integrate into the product, depending on the customer's needs and requirements, country and language. Companies have the option of using third-party add-ons, SAP Business One Studio or the SDK to customize the software for its industry or operations.
Other Business One integrations include the ability to create dashboards, mobile applications, automated quotations, purchase orders and invoicing, as well as integrate subsidiaries with headquarters and replicate master data and transactions automatically across multiple implementations. This is useful for recently acquired or merged companies.
SAP releases major updates annually, including new SAP ERP system modules and functionality, module enhancements and bug fixes. The vendor releases patch upgrades between major releases, typically every two to three months.
As of this writing, the current release is SAP Business One 9.3 PL05, with enhancements in GDPR support, user group management, production, project management, cost accounting, multibranch functionality and analytics. SAP has also released the Business One Service mobile app, which provides support teams with the ability to review and resolve service tickets online and offline.
Because Business One is highly customizable for each company, its pricing model is also customizable, with two types of licenses: Professional, which provides full functionality to all SAP ERP system modules, and Limited, which provides limited functionality for logistics or financials.
There are also additional price list options: indirect-access users, or users that connect to Business One via a third-party offering, and HANA engine, which SAP prices by 64 GB of memory.
Customers can purchase licenses in two ways: perpetual, which is a one-time purchase for life (this does not include HANA engine, which must be purchased separately), or cloud, which is a monthly per-user subscription and includes HANA engine.
SAP doesn't provide direct ERP training or consulting services to customers. However, SAP channel partners sell the product and often offer service options.
SAP provides a free, 31-day Microsoft SQL evaluation version of SAP Business One. Custom demos and consultations are also available through channel partners.
SAP Business ByDesign
SAP Business ByDesign is SAP's SaaS ERP suite targeting midmarket businesses, ideal for enterprises between 250 and 1,500 employees (although SAP supports Business ByDesign implementations for companies with as few as 20 and as many as 10,000 users). The product's core ERP modules include:
finance

CRM

HR

project

management

procurement

supply chain management
Companies can start with one functional area and later expand to the full suite. Prebuilt integrations with APIs are available to other SAP cloud products, like Concur, SuccessFactors, Ariba, SAP Analytics and SAP Integrated Business Planning, as well as Microsoft Office 365. It also offers connectivity via APIs to complementary products from data providers, unified communications systems and other third-party extensions and data sources.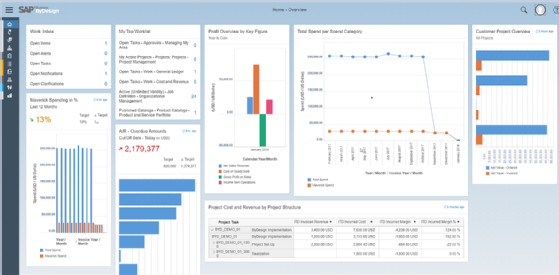 SAP Business ByDesign also has industry-specific functionality for professional services, manufacturing, wholesale distribution and public sector (North America only). The software is available localized in 10 different languages.
As of late 2018, the latest release of SAP Business ByDesign is the 1808 release. This release includes the ability to incorporate insights into role-defined overview pages. For example, project managers can view not-yet-invoiced time and expenses and receive alerts if a threshold is met or exceeded. SAP has built analytics into every process and includes over 500 standard reports, prebuilt KPIs and Microsoft Excel integration to enable enterprises to run reports and analyze data as quickly as possible.
SAP releases software updates quarterly and publishes a development roadmap to reveal upcoming changes.
SAP Business ByDesign is priced on a monthly subscription model that is based on user type and number of users. It can be deployed on a public cloud or private cloud option, with SAP ERP system training available through partners. The company offers test drives to prospective customers.