Journey to SAP S/4HANA Cloud driven by need for agility
Executives from midsize and large companies detailed their motivations and hoped-for benefits for migrating to the SaaS version of S/4HANA in a panel at the Sapphire Now conference.
Last year at the SAP Sapphire Now conference, the stories about moving to SAP S/4HANA Cloud centered on smaller businesses that planned for rapid growth. But this year, a panel titled "Embark on the Journey to S/4HANA Cloud," featuring companies with billions of dollars in sales, proved that S/4HANA Cloud may be a viable option for larger companies that need agility.
Originally introduced almost a year and a half ago, in February 2017, S/4HANA Cloud -- the SaaS version of SAP's latest-generation ERP platform -- was met with some trepidation, according to published reports. Smaller and rapidly growing companies seemed more likely to choose the cloud version to keep infrastructure costs down. However, at Sapphire this year, SAP CEO Bill McDermott said S/4HANA Cloud has 8,700 customers. And as noted by the panelists, the decision to move to S/4HANA Cloud has more to do with simplifying the business or being able to deploy faster.
Simplification, agility inspired move to SAP S/4HANA Cloud
The Chemours Company, a recent spinoff of DuPont's Performance Chemicals businesses, implemented S/4HANA Cloud on a public cloud platform. As a recent carve-out from its parent company, it had inherited a host of complex systems and processes, but as a smaller entity, its businesses are not as complex as the parent company's, according to Dean Meyer, CIO of Chemours.
Something similar happened with beverage distributor Cott Corp., which sold its $1.8 billion bottling and manufacturing business and, with that, its existing SAP landscape, according to CIO Greg Leiter. The company had a veritable "flea market of applications" due to acquisitions, so when it shed those systems, it looked to a cloud system to run its finance and procurement applications to "focus efforts on the other applications that will differentiate us," Leiter said.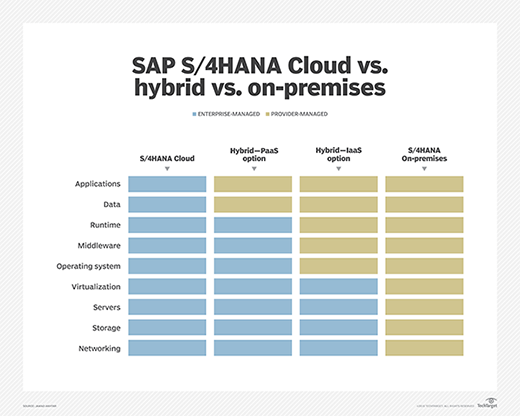 Simplification was a priority for EOH International, a systems integrator, which acquired 15 to 20 businesses in just a few short years and was running a motley mix of Microsoft Excel spreadsheets and high-end ERP packages, according to CTO Stephen Nurcombe-Thorne.
"The biggest issue was getting all of the business to speak the same language: financial language [and] processes," he said. The company rolled out S/4HANA in a public cloud deployment to unify the company and have access to information in a single platform, he added.
Becoming a more customer-centric organization
For confectionary company Pladis Global, best known for its Godiva brand of chocolates, when Anthoula Madden came on as chief digital officer in 2017, she wanted to free the company from legacy systems and implement technology that would help it become a consumer-centric organization. Moving to SAP S/4HANA Cloud was a strategic decision that would offer more agility and create a platform for growth and innovation and would shift the team from taking one or two years to complete technology products to three to four months, she said.
Deployments are new, but value is already apparent
Pladis has only been using S/4HANA Cloud since May 1, 2018, but is already seeing value in the deployment, Madden said. "We have a more integrated view of demand," she said, noting that most financial processes are automated, and the company is working toward only manually dealing with exceptions.
Meanwhile, Cott went live one week before the early June Sapphire panel. "When we went to HANA [as a larger company], we found incredible performance and productivity improvements," Leiter said. "Now, with S/4HANA in the cloud, we're running on HANA, and in-memory computing is a great technology that has a lot of future capabilities." The deployment also cost a great deal less than previous ERP integrations. The company deployed S/4HANA Cloud in 12 weeks, for less than $500,000, as opposed to an eight-month, $3 million project, he added.
Chemours sees S/4HANA Cloud helping to deal with the complex regulatory requirements in the 13 countries in which it operates. The quarterly release process replaces the upgrade process that was a large project, which will make keeping up with the regulatory environment a much simpler task, according to Meyer.
Data, AI may be on the horizon
Panelists viewed their SAP S/4HANA Cloud installations as a jumping-off point for dealing with their data and possibly expanding into AI to better understand their customers. Pladis plans to use data for predictive analytics to anticipate consumer demand and tailor its products and experiences to its customers, according to Madden.
"AI and machine learning will become key," she said, noting that these technologies are the next step up from mere automation.
Chemours also intends to use analytics to extrapolate data from its plants and catch up to what companies in other markets are doing, according to Meyer. It plans to learn more about how its plants perform, as well as forecast demand and automate its facilities, he said.
For the Sapphire panelists, SAP S/4HANA Cloud seems to just be the beginning of the projects they want to undertake. The common theme throughout was that they intend to better use their data once their processes have been simplified by a single platform.