carloscastilla - Fotolia
S/4HANA helps Queen of Raw improve textile sustainability
Queen of Raw's S/4HANA-based textile marketplace app is helping suppliers of the fashion industry reduce waste by keeping unused inventory out of landfills.
SAP put a stake in the ground for sustainability when it debuted its Climate 21 initiative.
The initiative, which was unveiled at Sapphire Now Reimagined in May, provides businesses with resources to build applications on SAP S/4HANA, a next-gen ERP, and SAP C/4HANA, a customer experience and e-commerce platform, that can capture and use data to further global sustainability goals.
One of Climate 21's target areas is the retail industry. Retailers can use SAP technology to not only become more environmentally responsible, but to also derive some of the economic benefits that go along with sustainable practices, such as waste reduction and supply chain improvements.
Queen of Raw, a textile marketplace in New York, was one of the first businesses to take advantage of the program, launching the Unused Inventory Onboarding and Sales Integration app, a global textile sustainability application based on SAP S/4HANA, in August.
Waste, inefficiency in textile supply chain
Waste is a significant problem for the textile industry, making it a perfect target for sustainability efforts, said Stephanie Benedetto, co-founder and CEO of Queen of Raw.
In 2014, Benedetto, an attorney who came from a family with deep roots in the textile industry, teamed up with Phil Derasmo, a technologist in the financial industry, to find solutions to the textile sustainability and waste problem.
"We saw all the waste and inefficiencies created all along supply chains -- from raw materials to finished goods -- and it just didn't make sense," Benedetto said. "It doesn't make sense for people and the planet, and it certainly doesn't make sense for business' profit line to have all this waste through its supply chains."
Each year around $120 billion worth of textiles from across the supply chain either sits unused in warehouses or is discarded and sent to landfills, Benedetto said. That kind of waste doesn't come cheap, either.
"For some of these businesses, it eats up to 15% of their bottom line in a year," she said. "The old model was to do more faster and not to worry about the waste. If any good can come out of COVID-19, it's that the world has slowed down and become aware of this, and seen opportunities now about what the future supply chain should look like."
Queen of Raw opened in 2018 as a marketplace to match suppliers with unused textiles to potential buyers. However, for the process to work efficiently, Queen of Raw needed a system that was easy to use but could provide the back-end computing power to store the volumes of data required to match suppliers and buyers as quickly as possible.
We saw all the waste and inefficiencies created all along supply chains -- from raw materials to finished goods -- and it just didn't make sense.

Stephanie BenedettoCo-founder and CEO, Queen of Raw
The goal was to build an app that could handle all the data that would be generated, such as the types of fabric, location and prices, but would also be easy for suppliers to inventory excess materials. Queen of Raw eventually turned to SAP S/4HANA as the platform of choice, said Derasmo, Queen of Raw co-founder and CTO.
"If something is done repetitively, it has to have a process, it has to have checks and balances, it has to be automated, and it has to be repeatable in the same way so you can continuously improve on it," Derasmo said. "SAP, one of the top providers of services to the fashion industry, worked with us to develop an automated process and provided us with access to technology and tools on their system so that it could be automated and not require so much time."
SAP incubator speeds development
Derasmo was able to secure the services of SAP.io, an application development incubator that SAP started in 2017 to provide resources and expertise for developing applications based on SAP technology.
"When they opened up their SAP.io and were calling for applications, it was going to be focused on retail tech, and we fit right into that," Derasmo said.
The development process for the Queen of Raw Unused Inventory Onboarding and Sales Integration app started in April 2020; more recently, and the app was released to the SAP App Center, an online marketplace for SAP-related applications.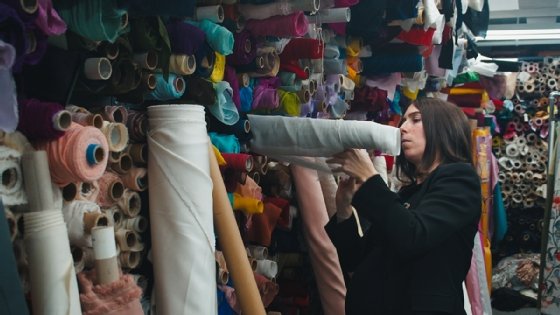 The Queen of Raw textile sustainability app enables suppliers to upload quantities of unused inventory. The inventory's data is subsequently pulled into the app's transaction engine, which catalogs all the attributes.
The app uses tools like blockchain and machine learning to identify the products, confirm the integrity and begin matching them to Queen of Raw's 175,000 global users, Benedetto said.
The matchmaking process, which uses S/4HANA's near-real-time processing capacity, matches uploaded inventory to buyers who are looking for textiles at a specific quantity and price. After a match is made, the app conducts a sales process, from payment processing to international shipping logistics, Benedetto said.
"The suppliers don't need to worry about anything other than slapping the label on and sending it out the door. It goes [out] with their regular shipments, and they get their transfer of money," she said. "The matchmaking part is the key; the quicker we make the match between the buyer and seller, the better the return for our customers and the more waste we keep out of landfills. So we've been tracking that."
Helping foster Climate 21
The biggest benefit for textile sustainability has been the data the system collects, Benedetto said. Data includes information on the surplus of materials such as type, value, location, reasons for discarding and potential buyers.
"This is previously dark data and now we can know where in the world this sits," she said. "This is important during COVID and beyond, as supply chains are disrupted and getting access to these materials at a good price is critical in areas impacted by disruption."
But the data collected also goes a step beyond textiles, matches and transactions. It includes a kind of environmental cost-benefit analysis when a successful match is made. This can play a significant role in SAP's Climate 21 initiative by providing companies with data that helps them reduce their carbon footprints.
For example, putting previously unused textiles back into the market not only saves the products from being wasted, it helps reduce the production of new materials. It takes 700 gallons of water to produce one T-shirt, Benedetto said, and the Queen of Raw marketplace has saved more than one billion gallons of water.
"We've got data around things like the amount of water used, the toxins, the energy and the dollars saved by people using the Queen of Raw solution," Benedetto said. "We can feed that to SAP and support their customers and initiatives, so it's critical. This isn't just about doing good for good's sake. It makes economic sense and how can we show people the ROI and the value of the circular economics."