Photo-K - Fotolia
SAP Cloud Platform apps deal with pandemic problems
SAP Cloud Platform is proving to be a useful development environment for applications that address issues brought on by the pandemic.
The COVID-19 pandemic has created unprecedented challenges for organizations. Some can be handled with technology such as the SAP Cloud Platform, which has emerged as a means to quickly build apps to address particular problems caused by the crisis.
One of these SAP Cloud Platform apps is SAP4Kids, developed by SAP and nonprofit organization GenYouth in New York. When the crisis first began to close schools in the U.S., GenYouth CEO Alexis Glick knew there would be a problem, as up to 30 million students rely on schools for at least some meals. The organization provides health and wellness programs and services for schools across the U.S.
Glick saw the issue almost immediately when the city of Seattle implemented shelter-in-place orders in March that closed schools. So she called on one of her business contacts, D.J. Paoni, president of SAP North America, to ask if the company could help build an application so families that rely on the program could continue to find schools that were continuing to offer meals in their area.
Within a few days, Paoni and Glick assembled a team of executives from SAP and Qualtrics and connected them to officials at the U.S. Department of Agriculture to start working on the app.
"Within days, we were doing not just a SWOT analysis [strengths, weaknesses, opportunities and threats], but also an inventory analysis to assess what existed in the marketplace, what didn't exist, what information and criteria needed to be set and how we were going to source the data and the information," Glick said.
Simple and functional application
After a few weeks of design and development, GenYouth released the SAP4Kids application, a mobile-enabled web-based application. It consists of two basic parts: One is an Assistance Entry form that allows organizations to submit available resources; two is a Resource Locator, an interactive map that helps families find the resources they need.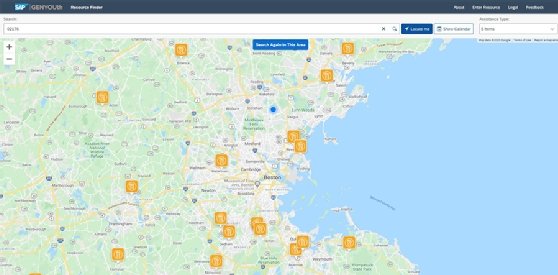 The app is based on the SAP Cloud Platform, a platform-as-a-service offering designed to make SAP's next-generation tools easily available for app development, and was built with rapid application development tools, said Gunther Rothermel, head of SAP Cloud Platform.
"Technically speaking, this starts off with the SAPUI5 framework," Rothermel said, referring to SAP's application development toolkit. "The advantage of UI5, in this particular case, is that it comes with a lot of controls and stuff out of the box, so you don't have to develop all of the elements of a UI yourself. There's a reusable box of controls and entities."
The key to developing a useful application is to evolve during the process, Glick said. As SAP4Kids was in development, working with SAP meant that the application could be more than just a resource locator for families. SAP Ariba supply chain technology, for example, was integrated to manage the supply and demand of the resources.
"You can build a resource and a technology that meets your needs right now, but you have to keep iterating and adapting," Glick said. "The way we're iterating and adapting was by having boots on the ground, sharing back what's happening on the ground locally, inside the school building."
App to manage hospital bed availability
An SAP Cloud Platform app is also at the heart of an initiative to coordinate the availability of hospital beds in the town of Heidelberg, Germany. When cases began to spike in Germany, a COVID-19 coordination office was established by the health department of the Rhine-Neckar district and the Heidelberg University Hospital. The office was headed by Erik Popp and Michael Preusch, doctors and professors at Heidelberg University Hospital.
The main goal of the project was to collect information about the hospital bed occupancy and availability of hospital beds for COVID-19 patients and to provide them to doctors and crisis managers in the district, Popp said. The two main tasks of the coordination office were to manage the collection and preparation of the data about the crisis and allocate beds based on availability to patients who needed one.
"At the beginning of March, we started collecting information on available beds -- ICU, IMC [intermediate care] and normal ward -- and respirators in the [Heidelberg University Hospital]. At this point there was no known case of COVID in Heidelberg, but 118 in Germany," Popp said. "Three weeks later, we got the task to gather information for a district of 25 hospitals and to be in charge for the allocation [of beds for] all COVID-positive patients in this area of about 550,000 inhabitants."
In the early stages, the office managed by entering data on Google Sheets and another online collaboration platform, but this soon became inadequate as the data in the system grew. At that point, SAP stepped in.
"It became clear that the SAP Cloud Platform was the platform of choice for development because it enabled both rapid development and deployment," Popp said.
Working with the COVID-19 response team, SAP developers delivered the first live application in one week, and a full version in four weeks.
"SAP worked with us in a very agile mode," Popp said. "We had frequent discussions about our specific needs, which were then implemented by SAP and presented to us during our next session."
The SAP Cloud Platform app is designed to have distinct functionality for the various users, Popp said. For example, front-line workers enter information about the patients and bed availability in the hospitals, hospital mangers get a view and analysis of the data at the hospital level, and the COVID-19 team and government get a district-wide view of all the hospitals.
Dig Deeper on SAP development and programming languages