Oracle vs. SAP for retail: Who has the edge?
SAP and Oracle continue to duke it out for the top spot in retail software, but both are fighting off best-of-breed competitors by touting the message that integration is critical.
SAP and Oracle have pulled even in the eyes of retailers, each edging out the other in certain areas, depending on the functionality customers are looking for, according to interviews with analysts.
When it comes to some of the hottest software that retailers are investing in right now, SAP has the edge when it comes to promotion and price optimization software, analysts said. Oracle has the edge in merchandise planning and execution.
It's tough to dub a leader in different retail segments, analysts said, because retailers' needs are so diverse, and they're still apt to choose best-of-breed vendors to fill them.
"All I can really say is that this continues to be a close race. I see both vendors winning new customers," said Leslie Hand, research director for Framingham, Mass.-based IDC Research, in an email response. "And I see competitors, including JDA, Aldata, Retalix, Epicor/CRS, NSB Group, and Tomax continuing to add customers and deliver new applications and services as well."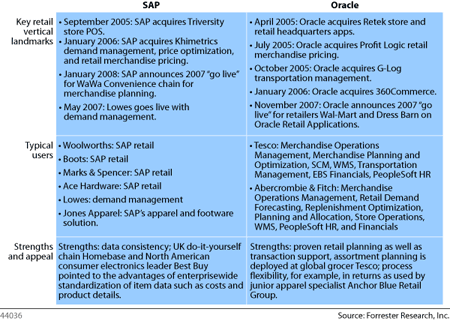 Oracle vs. SAP for retail comparison from George Lawrie's report "Retail Enterprise Apps Evolution," Forrester Research, Inc., May 16, 2008. (click to enlarge image)
The retail market has been a battleground for the two vendors ever since Oracle outbid SAP for Retek in 2005. Since then, the two have added functionality to their suites, buying best-of-breed vendors to bolster them (see chart). Along with Retek, Oracle acquired ProfitLogic and G-Log in 2005 and 360Commerce in 2006. SAP acquired Triversity in 2005 and Khimetrics in 2006. Recently, SAP acquired SAF AG, which makes forecasting and replenishment software.
The result has swayed the most skeptical of customers -- retailers -- more toward a suite approach to applications.
Most retailers still adhere to best-of-breed portfolios because of the diversity of their business processes and the manufacturing roots of ERP systems, according to Forrester Research's George Lawrie, principal analyst with the Cambridge, Mass.-based research firm. But as SAP and Oracle continue to bill themselves as best-of-breed with the added benefit of integration, more retailers are turning to ERP as a solution to a best-of-breed strategy that's burning up their IT budget for maintenance, he said.
Retailers don't want to sacrifice best-in-class functionality for a suite, but they also want integrated customer demand-driven forecasting that facilitates automated planning across functional areas and across channels, Hand said.
Integration was the reason Wawa, a chain of convenience stores in the mid-Atlantic U.S., chose SAP in 2005, weighing it against purchasing a then separate Oracle Financials and Retek package.
"We felt the Retek solution integrated with Oracle would present the same challenges we had with our best-of-breed environment," said John Baldino, director of business transformation at Wawa. "We also wanted integrated business processes across business functions. SAP met our needs in this area."
Wawa is running SAP ERP financials, procurement and project systems, NetWeaver point-of-sale (POS) data management, PI and BW. It is also running the Business Intelligence Accelerator (BIA), and it integrated JDA Intactics into SAP for space planning.
For more on Oracle vs. SAP
Learn why Fusion is giving Oracle an edge over SAP in application strategy

Read this SAP for retail special report

Find out more about SAP vs. Oracle
Who's better for retailers – SAP or Oracle?
Retailers, like just about everyone else, are cutting back on IT budgets, putting discretionary spending on hold and applying more stringent criteria to purchasing decisions, Lawrie said.
If they're purchasing software, they're buying one or two modules at a time, with the intention of tackling areas that will provide the most business value right away, Hand said.
Technology that can increase merchandise or price optimization is high on these lists of priorities. Retailers should prioritize initiatives that can deliver quick wins and more efficient use of inventory, such as in-store promotion technology, demand management, merchandise/price optimization and supply chain and replenishment, Lawrie said.
Oracle has a better merchandise planning and assortment module, he said. It's used to plan what's going to which store week by week, and how much space the store is going to give to it.
"Oracle does that very well," Lawrie said. "That's the thing that gives them an edge."
Wawa, one of SAP's first Merchandise and Assortment Planning (MAP) customers, implemented only a small portion of SAP MAP for budgeting purposes, Baldino said. It bolted on JDA Intactics for space management functionality.
Customers interested in merchandise optimization typically look to Oracle because of what it can do with markdowns, according to Mike Griswold, vice president of retail at Boston-based AMR Research. These are commonly apparel or footwear manufacturers.
"The apparel side is more of a strength of Oracle because of its planning applications – such as merchandise planning and execution," Griswold said.
Hand said both SAP and Oracle have really good merchandise planning applications. Oracle has an edge in markdown optimization, while SAP seems to have and edge in price and promotion optimization, given its Khimetrics acquisition three-and-a-half years ago.
SAP also excels at supply chain matters. Customers seeking tight integration around supply chain with execution of strategies at the store tend to look at SAP, Griswold said. One reason is that SAP is great at organizing item master data, Lawrie said, something important for stores like Home Depot, whose shoppers' experience often starts online.
"To say one's better for each other, it's a sort of horses for courses," Lawrie said.