Getty Images/iStockphoto
Faced with growing demand, 3 companies turn to S/4HANA Cloud
Three companies explain why they selected S/4HANA Cloud as a core system for digital transformation. One key takeaway: Good change management is required.
Every company that undergoes an S/4HANA implementation has its own motivations for making the move.
For some, it's about replacing outdated legacy systems with modern, cloud-based ERPs. For others, it's about installing an ERP to help adapt to changing business conditions and to provide a foundation for future growth. Some customers are migrating to S/4HANA Cloud from legacy SAP systems like ECC or R/3, while others are entirely new to SAP systems.
Here's how and why three companies embarked on S/4HANA implementations. All three were looking for an ERP that could manage rapid growth and faced challenges with the change management needed to transition users to a new way of doing things.
Old ERP capabilities can't match projected scale
Wolfspeed, a maker of silicon carbide devices for electronics in Durham, N.C., is growing quickly and expects to see exponential growth in the coming years.
Wolfspeed's silicon carbide devices are smaller and lighter than traditional silicon devices; they also cut charging times in half and hold the charge longer, making them particularly useful for the automotive electronic vehicle (EV) market, according to David Costar, Wolfspeed's CIO.
Wolfspeed originated as an LED light manufacturing company, but a few years ago transitioned to focus only on the silicon carbide business, creating an IT challenge as demand for its products grew, he said.
"We had a highly customized, highly complex, on-premises Oracle environment as our core ERP, but it didn't span the breadth of the organization," Costar said. "We had significant amount of bolt-ons, manual workarounds that relied heavily on tribal knowledge. God forbid one person took vacation who knew how the macros ran, that impacted [monthly] close."
Costar and the company's CFO decided they needed to make a significant change to the ERP system and began working to convince senior management that a full digital transformation was required to meet future needs. After considering several systems, including staying with Oracle, Costar selected S/4HANA Cloud because of the breadth of capabilities and the standards.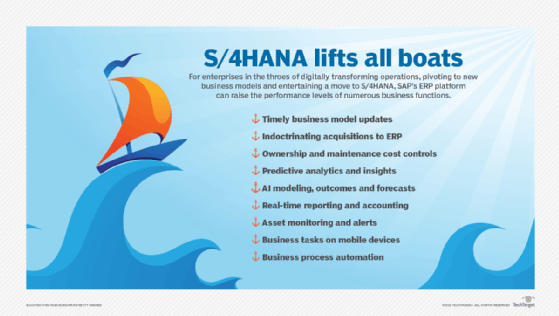 After a three-year effort, Wolfspeed will make the switch to S/4HANA Cloud this summer, according to Costar.
The company started with business processes.
We had to make a very intentional effort to change how we operated. It wasn't a matter of just throwing a software application to it.

David CostarCIO, Wolfspeed
"We had to make a very intentional effort to change how we operated," Costar said. "It wasn't a matter of just throwing a software application to it. We spent the first year of the transformation effort looking just at [business processes]; we didn't even think about the technology aspect of it."
A significant part of this was eliminating customized processes and old workarounds to ensure that new processes were aligned with S/4HANA Cloud's standards, he said. This was to ensure that the days of a single point of failure were over.
"There was a lot of gnashing of teeth and excitement about that," Costar said. "But we knew our manufacturing footprint, our company size and scale today is going to be insignificant compared to where we're going to be five years from now, so we had to have that standardization embedded into our environment."
Along with business process transformation comes change management, a difficult but key part of the process, he said. Longtime employees were familiar with the workarounds and manual processes of the old system, and they needed to be convinced that the new system would make their lives easier, not harder.
"People were used to doing things manually and that they would lose their job if we used technology," Costar said. "But now they're starting to see that they can do something else that's much more productive and valuable."
Enabling a circular economy for batteries
Battery usage is also growing exponentially and will only continue as the demand for EVs, e-bikes, smartphones and other battery-dependent products increases.
The rise in demand should ensure there will be no shortage of business for Ecobat, a Dallas-based firm that recycles and reconstitutes lead acid batteries, according to Jamie Lee, Ecobat CIO. Ecobat breaks down automobile and other-lead based batteries, so that the plastics, lead and other metals can be turned into raw materials for other products.
Lee said the projected growth in demand for Ecobat's battery transformation services combined with its outdated ERP system all pointed to an IT digital transformation.
"Ecobat was three decades behind in terms of technology, so we had to really ratchet up, and the only way to do this was to go cloud and not argue about it," Lee said.
Ecobat had SAP ECC on premises for about 15 years, and it decided to move to S/4HANA Cloud. However, because it wanted to transform the business rather than just upgrade its ERP system, Lee said it needed a greenfield implementation.
"We really did want to do away with the past and come up with something new," he said. "We are sunsetting the whole on-premises landscape. We will migrate the data into our data warehouse and then go live with S/4HANA Cloud on a private cloud, which is located in Frankfurt, Germany, and managed by SAP."
The decision to move to S/4HANA Cloud occurred at the same time that SAP launched Rise with SAP, and Ecobat became the first company to sign onto the program in January 2021, according to Lee.
Rise with SAP, a program designed to help businesses with business process transformation, eased the move to S/4HANA because it took the burden away from Ecobat's small IT team, he said.
"SAP handed me a menu and [asked us what we wanted], and 60 days later we got a full landscape --sandbox, dev environment, test, quality and production," Lee said. "Doing that on premises in today's hyper-converged world, where you need high availability, would take you take you six to nine months at best."
The people part of the digital transformation was a key factor for Lee.
"My modus operandi is people first, tech second," he said, "We started the journey with a robust OCM [organizational change management] strategy, pillars and framework, and we had a team engaged around that for about a year."
Pandemic leads to greater demand, IT challenges
The COVID-19 pandemic led to a boom in business for American Air Filter (AAF), but the sudden increase in demand put a strain on the company's IT systems.
"It took us all by surprise," said Bob Betts, SAP programs director at American Air Filter. "There was not enough capacity to support the growth, and we had product allocation problems and delivery problems with our customers."
Based in Louisville, Ky., AAF provides air filters and ventilation systems for large buildings, such as hospitals, convention centers and pharmaceutical companies.
AAF's struggle to meet the increased demand was exacerbated because of its legacy on-premises SAP ECC system as well as some acquisitions that brought in three other ERPs into the fold. Each ERP operated in its own silo, he said.
"Now all of a sudden, we needed to know how many filters we were shipping, how many we could make, and we had no idea and struggled with it," Betts explained. "It's a massive data problem because it's all represented differently in these different ERP systems."
The AAF executive board decided that the chaotic ERP landscape was holding the company back, so it committed to S/4HANA Cloud as the one common platform, he said. About a dozen ERPs from other vendors were considered, but they decided to stick with SAP.
AAF also chose to do a greenfield S/4HANA Cloud implementation with Rise with SAP, Betts said. He said it was the most cost-effective method for a small company with limited IT resources, and it didn't have to worry about the computing infrastructure of the system.
"In 90 days, SAP had that stood up on the AWS infrastructure," he said. "We did not have to spend one bit of energy worrying about that, and that part has worked beautifully. It works, [SAP] maintains it, you don't need to mess with it."
Its S/4HANA Cloud system is expected to go live in the fall of this year.
One of the benefits of moving to S/4HANA Cloud has been moving to standardized processes, according to Betts.
The old ERPs were riddled with broken processes and needed a "ridiculous amount" of manual activity, he said. Most its business processes, such as truck loading, shipping or warehouse picking, are common and don't need to be customized.
"These best practices have been built over the last 40 years -- millions of companies have used them and trillions of transactions have gone through these systems," Betts said. "We shouldn't be that special, or if we are, it's just one little piece and the rest should be all standard. The users have bought into that because they've experienced the pain of all the other customizations."
As a new program, Rise with SAP has some kinks that need to be worked out, Betts said. Rise promises to simplify the cloud contracting experience, but the reality is more complex.
"We have a lot of cloud services. For example, we replaced Salesforce.com with SAP Sales and Service Cloud, but if it's truly Rise, why do I have to have contracts for S/4HANA and for the cloud services?" he said. "We also have SAP IBP [Integrated Business Planning], Analytics Cloud, other applications, but you have to license all of those separately. You end up with essentially a network of applications in the cloud."
One of the biggest challenges of implementing S/4HANA Cloud has been fully understanding all of the capabilities of the new system, he said.
"You've got to understand the flexibility of the new system, because it's much more flexible and has a tremendous amount of capabilities compared to ECC 6 and 7 systems," he said. "What you can do with it and the way you can adapt it to your business is a lot more rich than it has been before."
Jim O'Donnell is a TechTarget news writer who covers ERP and other enterprise applications for SearchSAP and SearchERP.