nito - Fotolia
Slowdown, cloud, as-a-service products top 2019 storage news
Find out what storage industry news resonated with readers this year, including signs of a slowdown, cloud and consumption-based products, new storage arrays and technologies.
As a bellwether sector, the storage industry in 2019 revealed signs of a possible economic slowdown. That, paired with shifting data center buying patterns, affected the earnings statements of several industry vendors and were among the most-read storage news stories of 2019.
It wasn't all doom and gloom in our top storage news stories, however. Vendors launched a range of new storage products despite a slowdown in mainstream array sales. The year also saw renewed interest in as-a-service technology and pay-as-you-go pricing as cloud storage continued to attract attention. Other emerging technologies caught readers' attention, such as storage class memory, microwave-assisted magnetic recording HDD technology and computational storage.
And there was the usual smattering of acquisitions among storage industry vendors, bringing vendor changes that always attract storage administrators' attention.
Changing buying patterns: Array sales in disarray
In May, one of our widely read storage news stories was about both NetApp and Pure Storage coming in at the low end of their quarterly revenue projections. At the time, it was still early to talk of a slowdown, but it was clear that customers were extending storage buying decision timeframes.
"Customers are buying, but are taking longer and require greater effort to close," NetApp CEO George Kurian said at the time.
In August, NetApp reported net revenue down 16% for its previous quarter compared with the year-earlier quarter. It cited "meaningful deceleration" in overall IT spending as part of the cause. Large enterprises are "decidedly more cautious" about spending than they were earlier this year, Kurian said. NetApp, which is trying to remake itself into a cloud storage software vendor, saw net revenue for its quarter ending Oct. 25 come in just below analyst expectations, despite a surge in flash and cloud sales.
Another storage news story that caught readers' attention was Oracle closing its flash storage division and laying off several hundred people. Though not directly tied to a slowing economy, that move had more to do with Oracle's lack of competitiveness in the all-flash array market. Oracle said the decision was part of rebalancing resources as it focused on its cloud business.
The cloud effect
Enterprises redistributing data in the cloud and on premises are moving away from traditional storage arrays to hyper-converged infrastructure (HCI) and data protection gear that has expanded into data management.
Structural changes, such as growing use of cloud storage, are part of why traditional storage vendors are seeing slowing sales of on-premises storage. Enterprises redistributing data in the cloud and on premises are moving away from traditional storage arrays to hyper-converged infrastructure (HCI) and data protection gear that has expanded into data management.
Dell Technologies capitalized on this trend, reporting revenue gains for its quarter that closed last month from areas outside traditional primary storage arrays. Dell saw 7% revenue growth for the quarter, much of it coming from HCI and data protection products.
Other traditional storage vendors, including Hewlett Packard Enterprise (HPE) and IBM, have reported storage revenue declines this year.
Products keep on coming
Economic gloom and structural change haven't stopped vendors from launching new products. In April, Dell EMC added four NVMe-based models to its midrange Unity XT series of hybrid SAN arrays, expanding support for VMware Cloud. NetApp responded soon after, adding four new models to its All Flash Fabric-Attached Storage flagship array with an NVMe-connected A320 building block.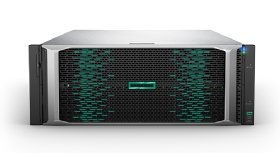 Midyear, HPE launched a new flagship Primera array with HPE InfoSight AI and machine learning technology. Primera will eventually replace HPE's 3PAR enterprise storage platform. And this fall, Hitachi rolled out its Virtual Storage Platform 5000 Series, refreshing its enterprise all-flash storage. The VSP arrays ship with NVMe and SAS SSDs and include cloud-based predictive analytics and data management to Hitachi Accelerated Flash stack.
Everything as a service emerges
As part of the exploding interest in cloud storage, the as-a-service, consumption-based pricing trend gathered momentum in 2019. Lenovo started things off with the launch of its TruScale Infrastructure Services, which provide hardware as a service for Lenovo ThinkSystem servers and Lenovo storage. With this move, the company is catching up with server competitors Cisco, Dell EMC and HPE.
Later in the year, NetApp kicked off its InSight conference with the introduction of NetApp Keystone, which expands NetApp cloud services. Customers can choose from Opex models that enable them to deploy NetApp storage systems and software as a local host or a NetApp-managed service. They can also choose the service level and type of storage they want.
Dell EMC joined the cloudlike consumption-based approach last month with the expansion of its on-demand pricing program. With Dell Technologies On Demand, customers can get all the vendor's hardware with consumption-based and as-a-service pricing. Dell EMC already offered storage as a service, and the new service adds PowerEdge servers, all Dell EMC PCs and full-stack offerings such as Dell Technologies Cloud and Unified Workspace.
HPE also expanded its GreenLake program that delivers IT products as a service, adding hyper-convergence and composable infrastructure, as well as its new storage arrays.
New technologies emerge
Readers were also quite interested in storage news about emerging technologies. For instance, Intel debuted its long-anticipated Optane DC persistent memory module, as well as a dual-port Optane SSD and ultradense flash SSD. The products are based on 3D XPoint non-volatile memory technology that Intel co-developed with Micron. Speed, ultralow latency and greater endurance than less expensive NAND flash are Optane's selling points. Micron finally introduced its first product based on 3D XPoint technology, the X100 SSD, in late October.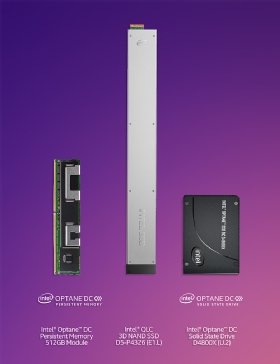 Startup NGD Systems' 16 TB Newport SSD with computational storage also got attention. Computational storage devices run OSes and execute applications inside SSDs, eliminating the need to move data between the storage and a host computer. By keeping stored data closer to compute processes, these devices provide lower latency and better performance than conventional storage.
In the HDD world, the potential for high-capacity drives at a low cost caught readers' attention when Western Digital revealed plans to start sampling helium-based 16 TB, 18 TB and 20 TB hard drives, using nine platters and energy-assisted recording technology. Western Digital noted that while the drives will use energy-assisted technology, they won't be full microwave-assisted magnetic recording, or MAMR, devices.
The acquisition roundup
Storage industry consolidation continued in 2019, with a handful of acquisitions that piqued readers' interest. Some of the more significant primary storage acquisitions are listed here.
Pure Storage bought Compuverde to add its unstructured data file system to Pure's FlashArray and create a unified storage system.
Google purchased Elastifile for its scale-out file system, which Google wants to integrate with its Cloud Firestore to provide enterprise-class file storage in the public cloud.
Amazon acquired E8 Storage with the intention of deploying its rack-scale flash storage in the AWS public cloud.
DirectData Networks bought Western Digital's IntelliFlash all-flash storage portfolio. The move took Western Digital out of the storage system business and let DDN expand its storage lineup with IntelliFlash flash SAS and NVMe chassis and software stack.
IBM formally closed its $34 billion Red Hat acquisition in July, giving Big Blue several new open source software-defined storage products.