Managing and protecting all enterprise data

Hybrid cloud ecosystem enables digital transformation
The digital economy has led to a dramatic increase in not just cloud adoption but on-premises data and workloads. Hybrid clouds seamlessly move applications and data between them.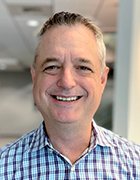 By
As modern IT organizations grapple with managing increased digital demands while trying to accelerate the delivery of IT services, there has been a dramatic rise in the adoption of cloud services. The natural inclination is, therefore, to say the future of digital business is only on the public cloud.
Well, not so fast.
The "ESG Master Survey Results: 2019 Data Storage Trend" report published in November 2019 found that 23% of IT organizations grew data off-premises in the cloud at rates of 50% a year or higher. Of those respondent firms that expected to experience similarly high levels of cloud data growth over the next three years, 75% anticipated growing their on-premises data at a rate of 50% or more annually.
Wait. What?
That's right, companies experiencing high data growth expected to increase data storage both on and off premises. This mean a hybrid cloud ecosystem has become an important factor to high data growth businesses looking to achieve digital success.
Other characteristics displayed by firms anticipating high levels of data growth over the next few years include a tendency to be younger -- often less than 20 years old -- and more likely to claim data is or will be their business in the future. They also tend to identify themselves as "cloud first," meaning they deploy new applications in the cloud by default, unless there is a good reason for on-premises deployment.
Despite often being cloud first, these organizations still expect high levels of on-premises data growth.
Opportunity-centric, not just cost-centric, thinking
A variety of factors influence whether a workload is deployed on premises or in the cloud, and if data is generated and stored on premises or in the cloud. Rationales often have to do with data sensitivity, regulatory compliance, cost, performance and availability-related needs.
While it would be naïve to think cost doesn't play a significant role in every IT decision, opportunity also powers data decisions for digital businesses. How can IT expedite access to new data and ensure developers get the performance and data access they need?
The effective use of data translates to business opportunity. More accessible data increases the potential of those opportunities.
Opportunity creation fuels a digital organization's focus on increasing cloud adoption and usage, while not abandoning on-premises data centers. They actively invest and expect to continue to invest in both areas at a high rate for the next several years.
What this means for your IT organization
Whether you are cloud first or evaluate on- and off-premises options evenly, design your IT organization, operations and processes around the idea that you will have to manage a combination of on- and off-premises infrastructure.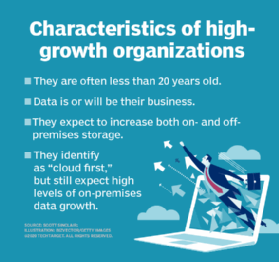 Don't assume your on-premises data center is for old, traditional workloads and the cloud is for new, transformational workloads. It is not that simple. You should look to modernize on both fronts. Take advantage of the agility and flexibility of the cloud and modern data center infrastructure. Enterprise Strategy Group, where I work, found that those with high levels of data growth are likely to be heavy users of flash storage on premises and report tangible business benefits as a result of these flash investments.
Expect data and applications to move not just to the cloud, but back and forth. As a result, invest in management, virtualization or orchestration platforms that can span both on- and off-premises environments. In addition, expect application and data movement across the hybrid cloud ecosystem to increase as container adoption increases.
Organize your IT staff to consolidate on- and off-premises infrastructure responsibilities as much as possible. The more tightly organized they are, the better these teams can share lessons learned about applications and workloads. It also ensures deployment decisions are optimized and efficient by aligning the right infrastructure to the business needs of the organization.
Hybrid cloud ecosystem enablers
Multiple vendor products and technologies can help you meet your hybrid on-premises and cloud goals.
VMware Cloud Foundation can simplify hybrid cloud management and application movement, for instance. Major public cloud providers have also embraced the need to span both on- and off-premises infrastructure with AWS Outposts, Anthos from Google Cloud Platform and Azure Stack from Microsoft as prime examples. Also, nearly every on-premises storage vendor provides a hybrid cloud offering, including Dell Technologies, Hewlett Packard Enterprise, Hitachi Vantara, IBM, NetApp, Pure Storage, Qumulo, IBM Red Hat and dozens of others.
Modern business is digital business
According to an Enterprise Strategy Group research study, 49% of IT decision makers said that "data is their business." Using that data to become more efficient, operate more effectively and generate new revenue opportunities are top goals for nearly every organization.
Digital business success requires you to evaluate all new infrastructure decisions to -- at least in part -- see how easily the technology will integrate into the larger hybrid cloud ecosystem. Nearly every vendor has a story. Understand how your technology fits into the infrastructure products and services under consideration and proceed accordingly.