Transforming IT infrastructure and operations to drive digital business
In an environment where speed disrupts everything, organizations must transform their I&O. Gartner's Gregory Murray explained how at the Gartner Catalyst conference.
It's time for organizations to modernize their IT infrastructure and operations to not just support, but to drive digital business, according to Gregory Murray, research director at Gartner.
But to complete that transformation, organizations need to first understand their desired future state, he added.
"The future state for the vast majority of organizations is going to be a blend of cloud, on prem and off prem," Murray told the audience at the recent Gartner Catalyst conference. "What's driving this is the opposing forces of speed and control."
From 2016 to 2024, the percentage of new workloads that will be deployed through on-premises data centers is going to plummet from about 80% to less than 20%, Gartner predicts. During the same period, cloud adoption will explode -- going from less than 10% to as much as 45% -- with off-premises, colocation and managed hosting facilities also picking up more workloads.
IT infrastructure needs to provide capabilities across these platforms, and operations must tackle the management challenges that come with it, Murray said.
How to transform IT infrastructure and operations
Once organizations have defined their future state -- and Murray urged organizations to start with developing a public cloud strategy to determine which applications will be in the cloud -- they should begin modernizing their infrastructure, he told the audience at the Gartner Catalyst conference.
"Programmatic control is the key to enabling automation and automation is, of course, critical to addressing the disparity between the speed that we can deliver and execute in cloud, and improving our speed of execution on prem," he said.
Organizations will also need developers with the skills to take advantage of it, he said. Another piece of the automation equation when modernizing the infrastructure to gain speed is standardization, he said.
The future state for the vast majority of organizations is going to be a blend of cloud, on prem and off prem.

Gregory Murrayresearch director, Gartner
"We need to standardize around those programmatic building blocks, either by using individual components of software-defined networking, software-defined compute and software-defined storage, or by using a hyper-converged system."
Hyper-converged simplifies the complexity associated with establishing programmatic control and helps create a unified API for infrastructure, he said.
Organizations also need to consider how to uplevel their standardization, according to Murray. This is where containers come into play. The atomic unit of deployment is specific to an application and it abstracts much of the dependencies and complications that come with moving an application independent of its operating system, he explained.
"And if we can do that, now I have a construct that I can standardize around and deploy into cloud, into on prem, into off prem and give it straight to my developers and give them the ability to move quickly and deploy their applications," he said.
Hybrid is the new normal
To embrace this hybrid environment, Murray said organizations should establish a fundamental substrate to unify these environments.
"The two pieces that are so fundamental that they precede any sort of hybrid integration is the concept of networks -- specifically your WAN and WAN strategy across your providers -- and identity," Murray said. "If I don't have fundamental identity constructs, governance will be impossible."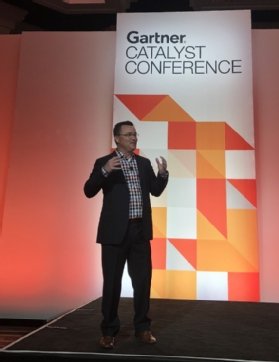 Organizations looking to modernize their network for hybrid capabilities should resort to SD-WAN, Murray said. This provides software-defined control that extends outside of the data center and allows a programmatic approach and automation around their WAN connectivity to help keep that hybrid environment working together, he explained.
But to get that framework of governance in place across this hybrid environment requires a layered approach, Murray said. "It's a combination of establishing principles, publishing the policies and using programmatic controls to bring as much cloud governance as we can."
Murray also hinted that embracing DevOps is the first step in "a series of cultural changes" that organizations are going to need to truly modernize IT infrastructure and operations. For those who aren't operating at agile speed, operations still needs to get out of the business of managing tickets and delivering resources and get to a self-service environment where operations and IT are involved in brokering the services, he added.
There is also need to have a monitoring framework in place to gain visibility across the environment. Embracing AIOps -- which uses big data, data analytics and machine learning -- can help organizations become more predictive and more proactive with their operations, he added.
Dig Deeper on IT applications, infrastructure and operations