Brian Jackson - Fotolia
Comparing UCaaS vs. CPaaS for cloud-based communications
CPaaS and UCaaS platforms are growing, as organizations move from on premises to cloud. Learn what capabilities these options offer and how they fit into your enterprise communications.
As enterprises make the move from on-premises to cloud-based communications platforms, they will have to choose which cloud-based model best suits their business needs. Both unified communications as a service, or UCaaS, and communications platform as a service, or CPaaS, offer many of the core communications services.
UCaaS and CPaaS provide similar capabilities. However, they diverge on how they provide service. UCaaS is reminiscent of a traditional on-premises platform, where all functions and applications reside inside the platform.
CPaaS takes more of a build-your-own model, with open APIs that enable enterprises to customize and embed communications within existing business applications.
What is UCaaS?
UCaaS provides a single platform for telephony, video calling, messaging and collaboration. Many UCaaS vendors also provide contact center and CRM capabilities.
UCaaS offers two types of architectures: multi-tenant and single-tenant. Multi-tenant UCaaS is hosted in the provider's data center, and customers share a single software platform. With a single-tenant architecture, customers receive a customized software platform, and data is stored separate from other customers.
What is CPaaS?
CPaaS is a cloud delivery model for integrating real-time communications capabilities, such as voice and video, into business applications and workflows. Organizations achieve these integrations through APIs to enable features like click to call and multifactor authentication.
The API integrations offered by CPaaS provide organizations a lower-cost alternative to building custom applications. CPaaS platforms often include APIs, SDKs, and Java or .NET libraries to develop integrations. Some vendors also offer low-code/no-code capabilities that use drag-and-drop visual tools to enable nondevelopers to build integrations.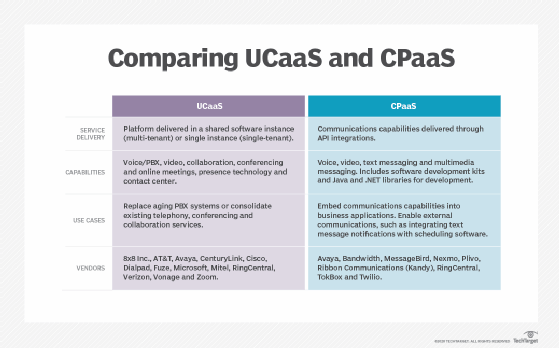 What services are available with CPaaS and UCaaS?
Cloud-based communications models include many of the same features and applications as traditional on-premises communications. UCaaS features include enterprise messaging, team collaborations apps, telephony and video conferencing.
CPaaS offers many of the same functions, but it relies on delivering capabilities such as voice, video and messaging as separate services -- often through APIs. APIs offer a higher level of customization and integration that make CPaaS an attractive option for organizations looking to embed communications into their apps.
Even UCaaS vendors have shifted toward incorporating CPaaS into their offerings as a way to make UCaaS options more customizable. The combination of UCaaS and CPaaS together make it easy for enterprises to meet all of their communications needs through a single vendor.
How do CPaaS and UCaaS handle internal and external communications?
CPaaS and UCaaS beat on-premises options when it comes to both internal and external communications due, in part, to lower infrastructure costs. The external nature of cloud networks also makes UCaaS and CPaaS desirable for enterprises, as they are built to communicate across network boundaries. CPaaS can offer a more seamless external communications experience than UCaaS due to the customizability of APIs.
Cloud-based systems are also adept at delivering internal communications, with only a few potential pitfalls. UCaaS and CPaaS can run into trouble if deployed in a highly restrictive network. All UC services, however, are designed to handle internal communication, regardless of whether they reside on premises or in the cloud.
How are UCaaS and CPaaS converging?
The cloud-based communications market has seen an explosion of vendor offerings, making it difficult for individual vendors to stand out. To differentiate, UCaaS vendors are incorporating sought-after features, like open APIs and CPaaS, as well as AI and contact center integrations.
Adding open APIs and CPaaS within UCaaS offerings enables enterprises to integrate more functionality into an established platform. Capabilities like click to call, for example, can be added into CRM applications to streamline workflows. Many vendors are developing CPaaS that will work alongside UCaaS, either in-house or through a third party. The addition of CPaaS provides more flexibility than UCaaS alone, so enterprises can use one vendor for all applications and services, rather than using multiple vendors to provide features not included in their UCaaS platform.
Dig Deeper on Communications platforms and integrations