How the UC market is addressing corporate ESG initiatives
More organizations are adopting ESG initiatives, and UC vendors have begun to offer new programs and capabilities in response. But how much of a priority is ESG in the UC market?
Many technology companies have joined the growing movement of placing importance on investments and practices around environmental, social and governance, or ESG, initiatives. The idea is to align corporate strategy with sustainability and ethical interests as much as possible.
In the unified communications (UC) space, Zoom and Cisco are two examples of providers developing their own ESG practices and supporting the ESG strategies of their customers. Cisco, for example, offers a sustainability-focused program for organizations to recycle products or purchase refurbished ones. Meanwhile, Zoom emphasizes how its cloud-based communications tools support corporate ESG initiatives through reduced business travel and support for diversity and equity efforts.
But not all firms have signed on to the trend or are doing a good job of promoting any efforts they are making.
This makes it tough for the end-user organizations that want to see ESG investments by service providers as a factor in selecting or remaining with them. In order to do so, end-user organizations must first be able to evaluate what meaningful ESG looks like in the UC market and if a provider is giving the topic more than lip service.
What are good ESG practices?
Although organizations are not required to detail their ESG investments in mandatory financial reporting, it is becoming a common practice to do so in an annual report or a standalone report. The CFA (Chartered Financial Analyst) Institute noted that several institutions are also working to form standards and definitions that would enable ESG investments to be factored into the investment process.
There are challenges to those efforts, however. For one thing, there is no definitive taxonomy of ESG factors, according to the CFA Institute.
"ESG factors are often interlinked, and it can be challenging to classify an ESG issue as only an environmental, social or governance issue," the Institute wrote on its website.
Still, there are several common elements within the environmental, social and governance areas that can be agreed upon, the Institute explained. They include the following:
Environmental. Conservation of the natural world regarding climate change and carbon emissions, air and water pollution, biodiversity, deforestation, energy efficiency, waste management and water scarcity.
Social. The consideration of people and relationships, such as customer satisfaction, data protection and privacy, gender and diversity, employee engagement, community relations, human rights and labor standards.
Governance. Standards for running a company, including board composition, audit committee structure, bribery and corruption, executive compensation, lobbying, political contributions and whistleblower schemes.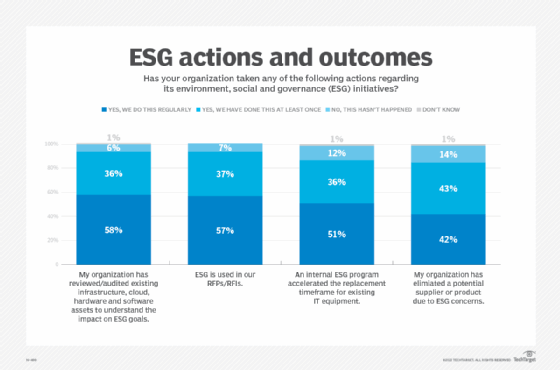 Outside view of market strategies
Consultants and research firms that cover the UC market may see most of the focus being placed on vendor product features but not on their own business practices.
"Many RFPs [requests for proposal] now include a statement or two about ESGs, which invites vendors to explain their position," explained Christopher Trueman, senior principal analyst for Gartner's employee experience technology team, covering communication and collaboration tools. "Some organizations require a vendor to support specific ESG practices as a prerequisite for doing business with that vendor."
However, most organizations do not require a specific ESG commitment and instead include the vendor's comments as another variable in their overall assessment, Trueman said.
"For the majority of organizations I speak with, the functional and nonfunctional capabilities of the solution itself come first," Trueman said. "After a shortlist of vendors has been established, ESGs may be included as one of many secondary considerations used to narrow down the list of potential vendors further. The amount of weight placed on ESG support varies significantly from one organization to the next."
How UC providers typically define their investments
Trueman said he has received briefings from Microsoft and global telecommunications service providers, including BT, NTT and several other European and Asian telecommunication companies, which mentioned their commitment to environmental sustainability goals. But too few UC vendors include specific details about their ESG commitments.
"Usually, the briefings I receive focus on new products and services or new capabilities for existing products. When ESG topics do come up, the focus is more likely to be on environmental sustainability than other ESG areas," Trueman said.
In terms on how UC vendors cite their efforts to help their customers be better ESG stewards, the focus is most often on remote communications capabilities.
"Business cases for unified communication suites regularly list travel reductions due to included meeting and conferencing tools as the primary environmental sustainability benefit of these technologies," Trueman said.
CIOs and IT executives should do more to hold UC and other technology vendors accountable regarding their ESG practices, Trueman suggested.
"In my five years at Gartner, none of the CIOs, directors of IT or other IT leaders that I advise has asked me about a vendor's own commitment to environmental sustainability, ethical hiring practices or other ESG commitments during a call about that vendor's unified communications suite," Trueman said.
Perhaps that picture will start to change, based on the growing interest in the topic.
"ESG support is an important and growing nonfunctional requirement, which must be included in technology evaluation and selection processes," Trueman said. "IT professionals are unlikely to be equipped with the skills and knowledge necessary to accurately capture their organizations ESG requirements, so IT must work with their internal stakeholders for ESG."