Kurhan - Fotolia
Keeping cloud-based unified communications grounded
Cloud-based unified communications brings with it a chance for networking pros to transform and innovate their networks -- and their own IT skill sets.
Three years ago, Oral Roberts University in Tulsa, Okla., had 15% of its IT infrastructure and applications in the cloud. Today, that number has climbed to 55%. Michael Mathews, CIO and associate vice president of innovation, said the university, which has 5,000 students and 700 faculty members, aims to be at 100% in just a few years.
Driving this transformation, in part, is the pressing need for cloud-based unified communications (UC). Where unified communications once comprised a simple combination of voice, video and email, it now is a sophisticated blend of chat, instant messaging, video and voice conferencing and SMS all tied into major business systems like customer relationship management and the school's learning management application.
The shift to cloud-based unified communications
To accommodate the move from on-premises to cloud-based unified communications, Oral Roberts University has retrained its IT team, redirecting it from tactical, hardcore voice engineering to strategic, line-of-business advocacy, security and other service-oriented roles. "They've seen clearly that the IT of old is gone, and our focus is now on innovation and technology," Mathews said.
[T]he IT of old is gone, and our focus is now on innovation and technology.

Michael MathewsCIO and associate vice president of innovation, Oral Roberts University
Mathews readily admitted it was not easy to get here. It took hiring Carousel Industries, a managed service provider (MSP) based in Exeter, R.I., to help IT link multiple services in the cloud and doing a realistic assessment of the team's collective and individual skills -- with full support of the president and CFO.
Cloud-based unified communications is growing 12% to 15% annually compared to on-premises deployments, according to research by Zeus Kerravala, founder and principal analyst at ZK Research. With the infrastructure side of UC moving to cloud providers, UC workers in IT will have to become far more software-driven and more aligned with the business.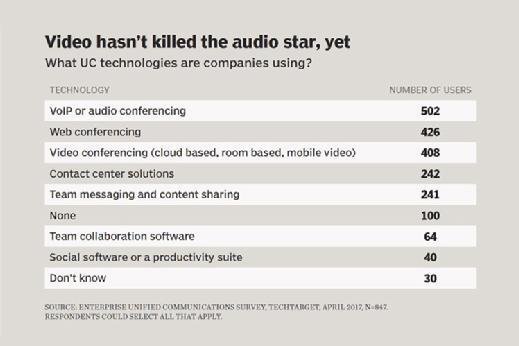 As organizations migrate from legacy to cloud-based infrastructure, roles and responsibilities within IT change. IT teams are learning new skills to achieve this digital transformation, and they are adapting to support UC applications that aren't necessarily under their own control.
"The cloud is not about cost savings, it's about creating new experiences," Kerravala said. "A mid-level engineer that has been immersed in break/fix will likely need to move into more strategic areas" like communicating the value of cloud-based unified communications to the line of business.
Net worth increases as skills increase
The results of making these strategic changes, though, have been worth it for Oral Roberts. As its associate vice president of innovation, Mathews developed 26 metrics the team had to meet for true digital transformation. Through a painstaking process, he thinned the team from 31 employees to 27, but the 27 have gained six more college degrees and seven more certifications among them. "We upped our skills by 35%," he said, adding, "IT members get the picture that their net worth is greater than it ever was."
That net worth is being gauged by what can be handed off to the managed service provider and what is kept within the team. "Our IT team knew how to connect web conferencing computer-to-computer, but not cloud service-to-cloud service or cloud service-to-back-end system," Mathews said. To start, the MSP took on the critical job of identifying and tapping into application programming interfaces among services that can help enhance productivity, especially among mobile users. It used APIs to link the cloud-based Zoom web conferencing system, which reaches students in 95 countries, to the in-house Polycom bridging system and the cloud-based learning management system for archiving.
Cloud-based unified communications is growing 12% to 15% compared to on-premises deployments.

Zeus Kerravalafounder and principal analyst, ZK Research
The IT staff members that once focused on unified communications are being redeployed to new projects like augmented and virtual reality, others are being tapped for a $400,000 upgrade to the routers and switches that will make cloud services more readily available. "Our goal is consistent and repeatable performance for all users," Mathews said.
Mathews said one of the more exciting outcomes of evolving his IT team from hardware to software has been the trust gained by the university. "We went from a $2.5 million fixed IT-only budget to a $5 million to $6 million flexible IT and innovation budget," he said, because IT is now fully concentrating on how to improve the user experience.
API knowledge drives cloud-based UC
Like Mathews, analyst Kerravala said API knowledge becomes essential in the new world of cloud-based unified communications and that UC teams will need to know scripting languages to take advantage of the APIs available from providers and vendors. "UC teams should be able to create a world of mobile apps that can interface with the cloud services," delivering optimal productivity for users, he said.
Data and analytics skills also will supplant more traditional unified communications tasks so IT can ensure the services deployed are high-performance and that their features are well-matched to user roles.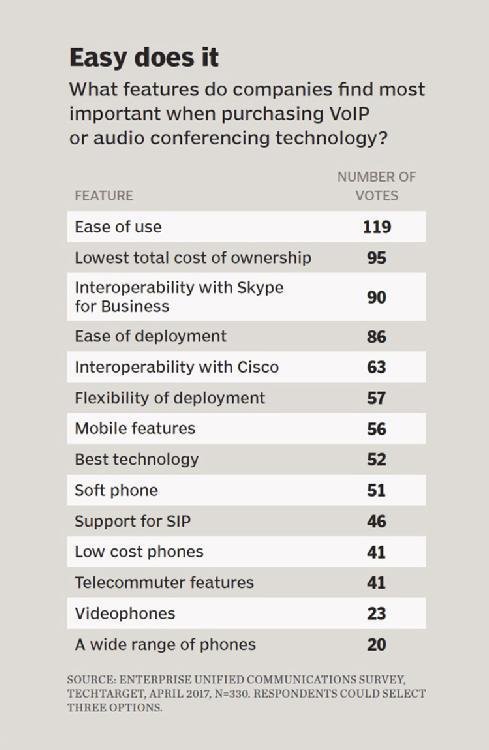 Mathews has seen data stewardship become critical "to ensure IT still owns the systems, yet facilitates the processes that allow data to flow around the enterprise with full accountability for its integrity and availability." He added that a data security mindset is necessary to audit cloud vendors.
So where does IT start to make the shift from in-house voice engineering skills to cloud-based experiential skills? Kerravala said to begin by freeing up the staff using automation and self-service tools. For instance, much of the systems patching and upgrading can be automated now, and password resets and other day-to-day tasks can be handled through self-service portals.
Ira Weinstein, senior analyst and partner at Wainhouse Research, recommended focusing on consistency across the enterprise. The best way to do this is to pare down the different systems dedicated to each task. For instance, if the organization has multiple video conferencing systems, standardize on one. "Users will learn how to work in a single environment and experience consistent functionality," he said. "Migrating to the cloud from a standard platform is easier than doing so from six different ones."
Weinstein also recommended heading to the cloud in small doses. "Start by supporting a specific team or initiative," he said, pointing to a cloud-based ideation -- electronic whiteboard, annotation or brainstorming -- environment for a research and development department as example.
The key, Kerravala said, is to make IT understand that the world of communications is progressing, and IT needs to as well. "We are at this watershed moment where jobs are changing, and IT needs to realize the things you did in the past won't be what you do in the future, and that's OK," he said.
Next Steps
The weight of cloud UC
Tips for choosing cloud-based unified communications
How to build a UC strategy
Dig Deeper on Communications platforms and integrations