Getty Images
Using Fibery to build The Ultimate Workspace for solopreneurs
The no-code digital workspace vendor for SMBs brings total customization to online knowledge hubs and generative AI tools to build online workspaces and create content quickly.
Yvette Lans was tired.
She was tired of using what she thought was a bugged-up, slow-moving, low-performance project management platform for her company, Acceleright.
Lans is a Dutch entrepreneur and business coach who splits her time between Spain and her native Holland with her partner and their two Basenji dogs.
Last year, Lans founded her own company, Acceleright, and she is still in the process of building it. On Acceleright, Lans will offer the Ultimate Workspace platform, expected to go live October, for solopreneurs and freelancers to build their own online work management environments.
The Ultimate Workspace will be an all-in-one tool for CRM, project and knowledge management, and strategic data dashboards.
"You can manage your whole company without any hassle," Lans said.
She had been building the Ultimate Workspace with ClickUp, an established vendor of workspace and project management technology. Last year, she decided to switch to a newer alternative: 2018 startup Fibery, whose work management platform seemed to offer some advantages.
Choosing a new vendor
Lans said she originally went with ClickUp for her new venture because she had used it in the past and thought it would be a good fit for what she wanted to do.
But she soon discovered the platform had changed in ways she didn't like, and she found that its basic functions were not working at 100% efficiency for her.
ClickUp declined to comment on Lans' views of its product.
While waiting for the new ClickUp 3.0 release last November, she decided to make a change. She did a Google search for a new work management platform tool that could potentially be better for her business.
That's when she discovered a blog post by Michael Dubakov, founder of Fibery.
Something for small businesses
With a background in developing Agile project management software for enterprises, Dubakov said he noticed an opportunity to create a more flexible platform for SMBs and startups to replace a smattering of management tools.
Nowadays, comparing Fibery with ClickUp and other vendors is one of Fibery's marketing strategies to hook new customers. In fact, Fibery and ClickUp are locked in a lively rivalry, touting their alleged supremacy against each other in blog posts and website copy. Fibery also likes to take on other rivals with cheeky analyses of their systems on its blog.
Fibery is a no-code work management platform.
Its tools are highly customizable, making it an option for those who have a vision and want to build a unique digital platform for their offerings. This also means that Fibery requires business owners to create the entire platform themselves.
Fibery is completely empty at the beginning. That's awesome, but it's also quite hard because you have a learning curve.

Yvette LansFounder, Acceleright
"Fibery is completely empty at the beginning," Lans said. "That's awesome, but it's also quite hard because you have a learning curve."
Just because Fibery is no-code doesn't mean that it comes without challenges. The Fibery platform construction journey requires some technical expertise and patience because the feature-building processes are unique to Fibery.
"The learning curve for Fibery is quite high," Lans said.
She compared it to Notion, a productivity and note-taking application that requires users to spend time learning how to wield its tools to build functions.
So, Lans turned to Fibery's customer support team for guidance.
First, she showed the team what she had built in ClickUp to get their advice. She ended up building most of the Ultimate Workspace herself but relied on Fibery's customer support for the final push at the end. That included many hours on email, chat and Zoom with Fibery support, Lans said.
"It's insane what we've built, but it's also insane how helpful they are," Lans said.
Making your own platform might cost more time and money than choosing one with more pre-built options. But for Lans, it was a satisfying tradeoff, especially since she will be able to sell to many solopreneurs and scale her company, she said.
Lans used automation inside Fibery to build a lead scoring system, which helps find prospective customers.
She said she also likes the performance of Fibery's search function, which lets her scour her entire work management platform.
Adding generative AI
Lans also created project management tools using new generative AI capabilities that Fibery developed by integrating Open AI's GPT-3 API into the Fibery platform.
Released in April, these tools include AI Space Generation to make a new domain using a text prompt, Text AI Assistant to generate and summarize written text, and AI in Automations to automate mundane tasks.
Inside the content hub, Lans gives prompts to the Text AI Assistant to help assemble the profile of her ideal customer. Then, the generative AI technology creates outlines for various posts for LinkedIn, or another social media platform, to attract this type of customer, she said.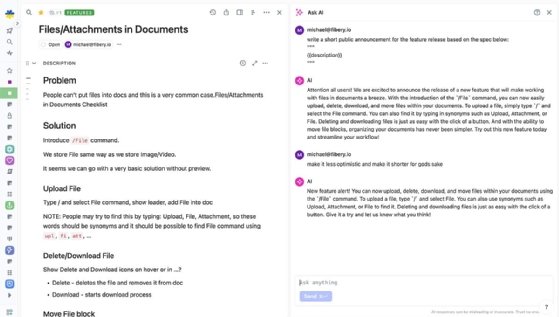 Dubakov called the advent of generative AI "a unique moment in history" and likened it to the invention of the graphical user interface.
"It can just transform how people build tools and upgrade tools," Dubakov said. "Our recent release is just the first step in this direction."
No such thing as the perfect tool
Fibery is a good tool for the Ultimate Workspace, but Lans said she still has ideas for how it can improve.
For one, Fibery's permissions model could have more options for the types of information shared and with whom it can be shared, Lans said. Basically, at this point, a team member can view either everything in a teammate's database or nothing at all, according to Lans.
But Lans' offering, The Ultimate Workspace, is meant for solopreneurs, who often store both personal and professional information in their workspaces, she said. While they will want to share professional information with freelancers or virtual assistants, they will want to keep the personal information private.
Fibery is currently working on a new permissions model, she said.
Fibery has three pricing options. The Solo option is free and includes 90-day version history for up to five read-only users. The Standard option costs $10 per month and includes 90-day version history and unlimited read-only users. The Pro option costs $17 per month and includes unlimited version history, read-only users and group permissions, as well as priority support.
Mary Reines is a news writer covering customer experience and unified communications for TechTarget Editorial. Before TechTarget, Reines was arts editor at the Marblehead Reporter.
Dig Deeper on Team collaboration software