Getty Images
ClickUp 3.0 built for scalability with AI, universal search
The new platform moves to the modern cloud infrastructure and offers a streamlined inbox, an AI-supported writing tool and universal search to access files across many apps.
ClickUp on Tuesday launched a major platform update, ClickUp 3.0, to ease click-through and communication between myriad apps.
ClickUp 3.0 offers a universal search capability, a unifying inbox and an AI-supported assistant, among other features. The San Diego-based vendor's project management platform gathers productivity apps into one place for simpler movement between them.
ClickUp 3.0 is a revamp with more focus on scalability to attract larger teams and enterprises, according to Beth Schultz, analyst at Metrigy. With the new release, ClickUp is moving into the modern cloud, aiming to take advantage of containerization and microservices using database sharding to help meet data residency challenges, she said.
"It has a pretty serious enterprise roadmap around governance, security, and automated provisioning and lifecycle management," Schultz said. "These are all critical elements for an enterprise player."
Using Slapdash technology
ClickUp 3.0 comes after the vendor acquired Slapdash, a unified interface for cloud apps, in April 2022. Slapdash's trademark feature was its Command Bar, which enabled an all-encompassing search across apps within a user's workflow.
The update's universal search feature incorporates this Command Bar capability. It enables ClickUp users to locate files from across all apps, which decreases time spent clicking between respective search bars, according to ClickUp head product designer Haris Butt, who previously worked as head of design at Slapdash.
We can expect more vendors in this space to follow suit, taking advantage of generative AI models -- GPT, primarily.

Beth SchultzAnalyst, Metrigy
"It lives on, but it's just got a new coat of paint and new logo," Butt said of the Command Bar. "It's all about speed and connecting your tools together."
ClickUp 3.0 also includes ClickUp AI to help individual users improve their writing skills.
"One of the things it's trying to do is differentiate on personal productivity, rather than just at the team level," Schultz said of the offering.
Meanwhile, ClickUp competitors have also been active with similar technology. Notion, another all-in-one workspace technology vendor, recently released a similar offering, Notion AI.
"We can expect more vendors in this space to follow suit, taking advantage of generative AI models -- GPT, primarily," Schultz said, referring to OpenAI's popular interactive AI chatbot.
Zoho also has a comparative offering.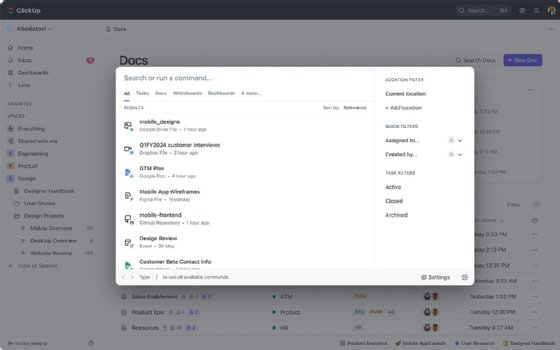 Unifying in one place
Among various new features, ClickUp 3.0 includes its own inbox, which gathers up all pertinent items such as documents, tasks and projects into one platform.
In a CRM application, this capability could simplify the help desk workload by connecting the complaint ticket correspondence between the customer, IT team and engineering team so that it lives on the single ClickUp platform, Butt said.
ClickUp's goal is to unite productivity apps into one space, and enhance search and communication capabilities between them.
"We don't really want to have an opinion on which tools you use or how you use them," Butt said. "All we really care about is that with ClickUp, you can tie it all together."
Mary Reines joined TechTarget Editorial in October 2022 as a news writer covering networking. Prior to TechTarget, Reines worked for five years as arts editor at the Marblehead Reporter, her hometown newspaper. She received her bachelor's in journalism from the University of Massachusetts Amherst, where she served as an assistant news editor for the student newspaper, The Daily Collegian.