oporkka - Fotolia
Smartphone push-to-talk apps poised for enterprise growth
Smartphone push-to-talk apps are a viable option for enterprises because of the improved reliability of 4G and LTE networks. Their automation and integration tools could be key to future growth.
With nothing but their voice, shopkeepers can check whether the backroom has that denim blouse in a size medium,...
Continue Reading This Article
Enjoy this article as well as all of our content, including E-Guides, news, tips and more.
and housekeepers can query which hotel rooms still need tidying. Contractors can see which plumber is closest to a homeowner's leaky pipe, and co-workers from different countries can speak to one another in their native tongues in real time.
And it has all been made possible by the reinvention of a century-old tool -- and toy: the walkie-talkie.
Startups and legacy phone companies alike are looking to remake the role of voice in the workplace with the introduction of push-to-talk (PTT) technologies that require nothing more than a smartphone or desktop application. Perhaps more critical, PTT vendors are incorporating artificial intelligence and data trackers to ease the workflows of corporate workers that historically have relied only on hardware.
While PTT cellphone technology has existed since the time of flip phones and Nextel, the reliability of 4G and LTE networks has made smartphone push-to-talk apps more attractive in recent years. AT&T, Verizon and Sprint offer PTT products for businesses over their networks, while Motorola Solutions Inc., which dominates the old-fashioned land mobile radio (LMR) market, sells a PTT platform that connects smartphones, desktops, radios and landlines.
Smaller vendors are also winning contracts -- with hotels, hospitals, retailers, contractors, developers and recreation departments -- by offering PTT apps improved by bots, location services, and the ability to integrate with business applications and collaboration tools. These platforms run over the top of cellular networks and Wi-Fi, connecting users over unlimited distances.
Orion Labs, based in San Francisco, sells small wearable devices that function as walkie-talkies by syncing with a smartphone app. Last week, the company upgraded its service, so workers using those tools can speak with colleagues equipped with only a smartphone or desktop app. Orion competes with vendors such as Voxer and Zello, which in mid-January extended a free-trial offering of its ZelloWork platform.
"The most important thing to understand is that this type of voice communication, walkie-talkies, really haven't evolved very much in the last 20 years," said Jesse Robbins, the co-founder and CEO of Orion Labs. The market, he said, is "long overdue for reinvention."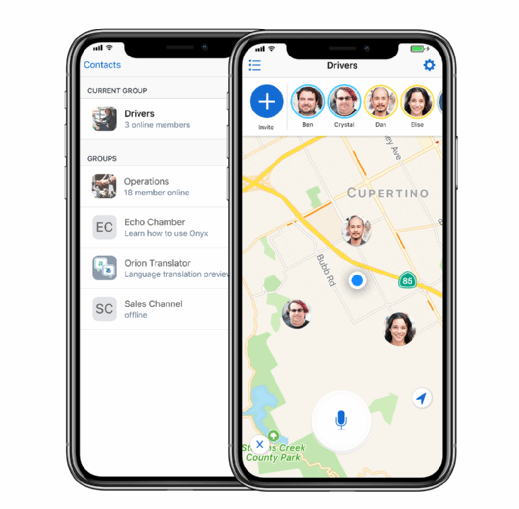 Cellular push-to-talk market poised for enterprise growth
In the United States, the PTT-over-cellular market will include 5.6 million business users by 2019, up from 4.2 million business users in 2016, according to projections by VDC Research, based in Natick, Mass.
First responders still depend on LMRs for their reliability. But other government agencies and industries with mobile workforces are increasingly adopting cellular PTT technologies to improve workflows and bring more workers into the PTT fold, said David Krebs, executive vice president of enterprise mobility and connected devices at VDC Research.
"In many ways, it is allowing organizations with significant investments in LMR to augment that user population," Krebs said. "So that you can combine workers who have their LMR radios to other people who may be communicating with them."
Companies and public agencies value being able to more closely integrate business applications with their PTT hardware, a functionality that isn't possible with LMRs, Krebs said. Others choose smartphone push-to-talk apps to avoid the maintenance costs associated with aging LMR hardware.
Smartphone push-to-talk apps facilitate more than just conversations
Location services could be vital to inspiring more companies to adopt PTT smartphone apps, said Rob Arnold, an analyst with Frost & Sullivan, a global research and consulting firm headquartered in Santa Clara, Calif. The artificial intelligence tools included in most offerings are also a draw, he said.
PTT smartphone and desktop apps typically pinpoint the location of users on an interactive map, a tool that could allow managers to monitor and dispatch workers from a command center easily. Smart Walkie Talkie, based in Singapore, has software that automatically shifts airport crews into and out of PTT groups based on flight plans.
The bots built into the smartphone push-to-talk app and wearable device of Orion Labs can translate languages among users in a PTT group and tap into inventory and other databases. The platform also integrates with the cloud-based collaboration tool Slack, allowing text-to-voice and voice-to-text communication among teams.
"The industries that we sell to, they have a large portion of workers who do not have a desk at work," said Zhou Wenhan the founder and CEO of Smart Walkie Talkie, which manufactures smartphones designed for PTT, selling primarily to markets in Southeast Asia. "So, it's the kind of workers that are currently still invisible to most IT companies.
"I think the potential is basically reaching a market that traditionally doesn't have much technology," Wenhan said.
Still, some analysts are skeptical industries that never used PTT in the past will adopt the smartphone model in the future.
"There are lots of other applications that are competing with this for the carpeted office worker," Arnold said. "The guys that traditionally haven't had these devices in their hands probably aren't going to get them just because they can load them onto their own smartphone."