James Thew - Fotolia
Microsoft Teams updates streamline search, sharing features
In UC news, new features in Microsoft Teams look to improve how users share and access information, while Verizon and Ribbon Communications partner for virtual SBC services.
Microsoft has rolled out updates to Teams that improve how users share information and access apps within the service. The Microsoft Teams updates range from embedding content in conversations to handling new app integrations.
Users can now share content from apps integrated with Teams by directly embedding the information into the conversation, rather than by hyperlinking or taking a screenshot. Users can search for specific information in an app, such as Trello or YouTube, and include an interactive card with the information in a chat.
The Microsoft Teams updates also include a personal view of user apps within Teams that allow users to access tasks, issues or requests they have been assigned to. Users can view recently accessed items such as OneNote notebooks or videos from Microsoft Stream. Microsoft also added a new app, called Who, which uses capabilities from Microsoft Office Graph to let users search for people within their organization by name or topic.
Microsoft has also integrated its automated workflow service, Flow, with Teams. The integration allows users to create and manage workflows, review approval requests and launch workflows from within Teams.
Constellation Research analyst Alan Lepofsky said in a blog post that the Microsoft Teams updates are good enhancements, but some features, such as the commands for searching and sharing information, will take some getting used to.
However, the updates could lead to increased user adoption of Teams. "The more integration, the more seamless experience, the more time you spend inside these programs," he said.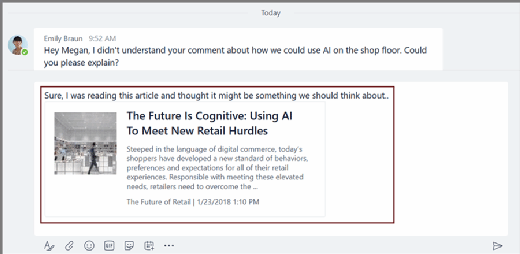 Verizon and Ribbon partner for SBCs as a service
Verizon has introduced session border controllers as a service (SBCs) to help its customers secure their real-time communications.
The offering, a partnership between Verizon and Ribbon Communications, is a fully managed service that can be deployed either stand-alone or service-chained with other virtual network functions hosted by Verizon's network service data centers. Individual virtual SBC instances are created for each customer; new SBCs can be spun up as needed to meet spikes in demand.
Virtual SBCs offer benefits for organizations by easing capital and operational expenses, allowing licensing-based subscription models and enabling integrated analytics and enterprise orchestration capabilities.
Ribbon, which was created following the October 2017 merger between Genband and Sonus, is the first vendor to offer virtual SBCs through Verizon's virtual network services platform.
Midmarket, enterprise cloud adoption drives 8x8 revenues
Cloud communications service provider 8x8 Inc. has reported revenue growth driven by demand for cloud services in midmarket and enterprise organizations.
Service revenue reached nearly $72 million, a 20% year-over-year increase. Service revenue for midmarket and enterprise customers represented 59% of total services revenue, according to 8x8's fiscal third quarter earnings report.
New monthly recurring revenue from midmarket and enterprise customers increased 70% year over year and comprised 65% total bookings in the quarter. Nearly half of new monthly recurring revenue from midmarket and enterprise customers came from organizations purchasing integrated unified-communications-as-a-service and contact-center-as-a-service offerings.
Vik Verma, CEO of 8x8, attributed the spike in revenue to demands by midmarket and enterprise CIOs for integrated enterprise communication services for their employees, customers and partners. He said midmarket and enterprise bookings grew 40% year over year.