Bobboz - Fotolia
Midmarket enterprises push UCaaS platform adoption
Cloud communications is growing in popularity among midmarket enterprises. UCaaS providers and enterprises must work together for successful adoption and deployment.
Cloud unified communications adoption is growing among midmarket enterprises as they look to improve employee communication,...
Continue Reading This Article
Enjoy this article as well as all of our content, including E-Guides, news, tips and more.
productivity and collaboration. Cloud offerings, too, are evolving to meet midmarket enterprise needs, according to a Gartner Inc. report on North American midmarket unified communications as a service (UCaaS).
Gartner, a market research firm based in Stamford, Conn., defines the midmarket as enterprises with 100 to 999 employees and revenue between $50 million and $1 billion. UCaaS spending in the midmarket segment reached nearly $1.5 billion in 2017 and is expected to hit almost $3 billion by 2021, according to the report. Midmarket UCaaS providers include vendors ranked in Gartner's UCaaS Magic Quadrant report. The latest Gartner UCaaS midmarket report, however, examined North American-focused providers not ranked in the larger Magic Quadrant report, such as CenturyLink, Jive and Vonage.
But before deploying a UCaaS platform, midmarket IT decision-makers must evaluate the broader business requirements that go beyond communication and collaboration.
Evaluating the cost of a UCaaS platform
The most significant challenge facing midmarket IT planners over the next 12 months is budget constraints, according to the report. These constraints play a major role in midmarket UC decisions, said Megan Fernandez, Gartner analyst and co-author of the report.
"While UCaaS solutions are not always less expensive than premises-based solutions, the ability to acquire elastic services with straightforward costs is useful for many midsize enterprises," she said.
Many midmarket enterprises are looking to acquire UCaaS functions as a bundled service rather than stand-alone functions, according to the report. Bundles can be more cost-effective as prices are based on a set of features rather than a single UC application. Other enterprises will acquire UCaaS through a freemium model, which offers basic voice and conferencing functionality.
"We tend to see freemium services coming into play when organizations are trying new services," she said. "Users might access the service and determine if the freemium capabilities will suffice for their business needs."
For some enterprises, this basic functionality will meet business requirements and offer cost savings. But other enterprises will upgrade to a paid UCaaS platform after using the freemium model to test services.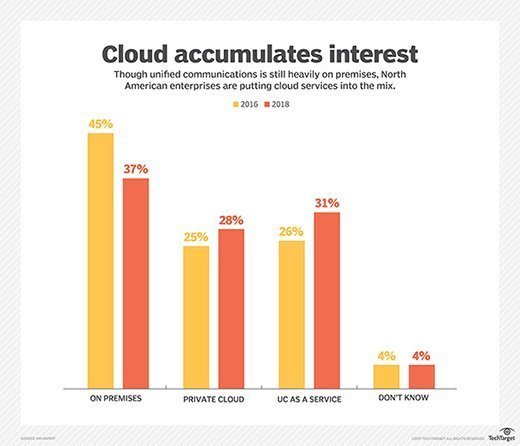 Addressing multiple network options
Midmarket enterprises have a variety of network configurations depending on the number of sites and access to fiber. As a result, UCaaS providers offer multiple WAN strategies to connect to enterprises. Midmarket IT planners should ensure UCaaS providers align with their companies' preferred networking approach, Fernandez said.
Enterprises looking to keep network costs down may connect to a UCaaS platform via DSL or cable modem broadband. Enterprises with stricter voice quality requirements may pay more for an IP MPLS connection, according to the report. Software-defined WAN (SD-WAN) is also a growing trend for communications infrastructure.
"We expect SD-WAN to be utilized in segments with requirements for high QoS," Fernandez said. "We tend to see more requirements for high performance in certain industries like healthcare and financial services."
Team collaboration's influence and user preferences
Team collaboration, also referred to as workstream collaboration, offers similar capabilities as UCaaS platforms, such as voice, video and messaging, but its growing popularity won't affect how enterprises buy UCaaS, yet.
Fernandez said team collaboration is not a primary factor influencing UCaaS buying decisions as team collaboration is still acquired at the departmental or team level. But buying decisions could shift as the benefits of team-oriented management become more widely understood, she said.
"This means we'll increasingly see more overlap in the UCaaS and workstream collaboration solution decisions in the future," Fernandez said.
Intuitive user interfaces have also become an important factor in the UCaaS selection process as ease of use will affect user adoption of a UCaaS platform. According to the report, providers are addressing ease of use demands by trying to improve access to features, embedding AI functionality and enhancing interoperability among UC services.