twobee - Fotolia
Unified communications consulting, implementation heat up
Channel partners provide a range of offerings in the unified communications market, from workplace analytics to entire product suites. Cloud conferencing is driving growth.
Unified communications consulting and deployment services are seeing increased demand as customers look to solidify and expand earlier -- and typically hurried – attempts to build remote work infrastructure at scale.
The onset of the COVID-19 pandemic compelled organizations to provide unified communications (UC) tools for a vastly expanded population of work-from-home employees. Systems were rapidly stood up as lockdowns went into effect in March 2020. Cloud-based technologies, such as Microsoft Teams, Zoom and Cisco Webex, were often the preferred choices, given the pressing need to accommodate large numbers of suddenly remote workers.
Months later, enterprises are now examining their first takes on remote work technology and moving ahead with more sophisticated systems. Professional services firms, systems integrators and MSPs are helping clients navigate the changing technology landscape.
Simon Walsh, CEO for the Americas at NTT Ltd., a technology services provider, said the urgency of COVID-19 led to a rush of activity in which organizations rolled out the "alpha version of work from home." He said the initial focus was on establishing the physical connection and enabling workers to participate from a remote location. Now, Walsh said, the emphasis is changing.
"One of the major trends we are seeing is the advancement to collaboration tools for shared documents and shared content," Walsh noted. "Collaboration from home, as opposed to work from home, is a key shift we have seen," he added.
Tech rollout
Unified communications, which includes on-premises and as-a-service offerings, covers a wide-ranging territory encompassing telephony, chat, messaging, conferencing and collaboration.
The technology's cloud conferencing component has been especially prominent in the current business climate.
"Unified communications was significantly impacted by COVID-19, and the biggest change that we saw was this significant uptake of [cloud] conferencing as a result of remote working patterns," said Megan Fernandez, senior principal analyst at Gartner.
Cloud conferencing adoption will lead the way for UC as a service (UCaaS) growth, enabling collaboration, workplace engagement and workplace flexibility, Fernandez said. Gartner projects a 46.7% rise in 2020 cloud conferencing end user spend. She said expectations for ongoing collaboration requirements and workplace flexibility will sustain conferencing demand through 2024, although the growth rate will decline to 4.4% in 2021.
Unified communications consulting and service providers will find that the licensing situation in this segment will soon change. In the early days of the pandemic, customers received licensing extensions as part of vendors' freemium offerings, Fernandez noted. Vendors offered those terms to help organizations in industries such as healthcare and education conduct work remotely. But some vendors' extended licensing terms are coming to the end of the free period, she noted.
"We are expecting that not everyone is going to necessarily convert to a paid-for subscription," Fernandez said. "But we do expect that the freemium-to-paid-for conversion rates will be above what they typically are."
But just figuring out how many licenses are needed can prove challenging. Organizations might lack visibility when it comes to usage patterns across work groups and departments. The problem is compounded if they have instances across multiple remote work technologies. Consultants and integrators are helping clients get things sorted.
"Customers weren't actually sure of some of the nuances and how much is being utilized in certain areas," said Mark Wall, practice manager at World Wide Technology (WWT), an integrator based in St. Louis. "One of the biggest areas is just looking at analytics and understanding what is going on within [the customer's] environment."
Providing a holistic view of those environments can prove challenging, however. That's because analytics software is often specific to each unified communications tool.
"For instance, Cisco has Prime for UC analytics or Webex Control Hub, but Prime and WCH [don't] integrate with MS Teams," Wall noted. "We've started to work with companies like Vyopta and IR Prognosis to deliver integrated analytics. Vyopta specifically can provide analytics on MS Teams, Cisco Webex, Zoom and Avaya."
Integration focus
While a unified communications suite provides integration, another approach is to knit together the tools organizations already use. The cloud eases the integration task.
Most vendors have worked toward interoperability with their cloud-based collaboration tools, said Penelope Prett, CIO at Accenture. "They understand the key to future survival is interoperability," she said.
Better integration improves the user experience, but it also makes life easier for the administrators operating unified communications systems. Automation, programmability and APIs help organizations more effectively manage their infrastructure and deliver services without having to maintain "an army of engineers," Wall said. "Abstracting a lot of the manual and complex activities with automation will make consuming UC solutions easier and drive more adoption."
That principle applies to as other technology domains as well as unified communications, Wall said. Customers, he noted, are interested in learning about programmability, containers, scripting languages such as Python, and tools such as Ansible and Terraform.
Analytics technology, in general, is gaining importance in unified communications. Tracking utilization helps iron out licensing, determine call flow activity and gauge productivity. Walsh said he has encountered increasing use of real-time analytics, noting Microsoft's Power BI and Tableau as examples.
Fernandez has observed this trend with UCaaS offerings.
"As part of the UCaaS solutions, we are finding a greater focus on dashboards and reporting analytics, so there can be visibility into how the capabilities are really being used," she said.
While web conferencing, licensing and utilization occupy channel partners, the next area of activity could be cloud telephony. Fernandez said organizations are planning to transition from on-premises systems to the cloud. "We are expecting that, especially next year in 2021, we will have a more significant migration to the cloud."
She said organizations recognize that cloud telephony is more agile and makes it easier to extend service to remote workers. On the other hand, a business dealing with a difficult financial situation and economic uncertainty might decide to stick with its existing on-premises telephony. "Some of those organizations are stretching the life of their installed telephony systems," she said.
While cloud conferencing surges, the UC market, overall, is expected to grow at a 3% compound annual growth rate through 2024. The extension of on-premises lifecycles and slowing of unified communications Capex investment will put downward pressure on overall market growth, Fernandez said.
Market dynamics
Organizations, in their haste to scale remote work technology, have deployed point products to get the job done. An integrated product suite provides an alternative. Here, the technology options for unified communications partners fall into two basic categories: telephony-oriented vendors that also provide collaboration tools and collaboration-centric vendors that are now focusing on telephony. Fernandez said examples of the former include vendors such as 8x8 and RingCentral, while Microsoft and Zoom represent the latter approach.
Fernandez suggested vendors leading with collaboration might have an edge in the current market. She said Gartner's research finds users aren't demanding that vendors replicate every feature of an on-premises telephony system in their cloud-based offerings. Instead, they favor a more collaboration-centric approach to unified communications.
"It is more important to have the collaboration element robust and to have integration with telephony," Fernandez said, summarizing the shifting market demands. "Essentially, it presents more risk to some of the providers that have kind of led with having a robust telephony feature set."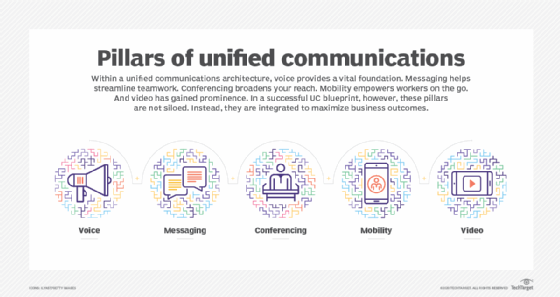 While some channel partners will opt to work with vendors' ready-made product suites, others have assembled their own unified communications offerings.
NWN Corp., an MSP based in Waltham, Mass., is one such partner. The company in June launched Officeanywhere, which it describes as an integrated suite of managed unified communications and collaboration services. The offering is built on Cisco Webex and NWN's own intellectual property, which includes an experience management platform that provides billing, provisioning and performance analytics. The suite spans video calling, cloud telephony, messaging, networking and security, which are covered by a single service-level agreement.
Jim Sullivan, president and CEO at NWN, said the company saw a need among its midmarket customers -- and departments within its larger customers -- for a cloud-based UC offering with enterprise capabilities. He said the company originally expected market adoption to take a few years, but the onset of COVID-19 has generated a much faster uptick in interest. The company aims to capture the market's shift from stop-gap remote work technology rollouts to "the next wave of permanent deployments," Sullivan noted.
In addition, Onepath, an MSP based in Atlanta, in July rolled out its Cloud PBX unified communications offering, which is geared toward SMBs. The company said features include the ability to receive and transfer calls and manage voicemail as if using an office desk phone, secure document sharing and storage, and video conferencing with screen sharing.
Integrated suites are an attempt to address the islands of separate communications systems -- discrete meeting apps, voice apps and messaging apps -- that organizations acquired to quickly support remote work.
"A lot of folks have pieces and parts that have been deployed since COVID-19 and now they are looking to bring them all together," said Andrew Gilman, head of marketing and alliances at NWN.
On premises vs. cloud
While cloud-based unified communications tools are getting a boost from the work-from-home trend, on-premises offerings are still holding their own.
A desire to get the most out of on-premises technology amid the economic downturn is one factor. In addition, organizations might have customization needs that can't be met with multi-tenant cloud tools. And NWN's Gilman pointed out that some organizations have invested in monitoring and management tools that can't be used for managing UC in the cloud.
Mitel, a communications vendor based in Ottawa, operates in both worlds, originating decades ago in the on-premises market and moving to the cloud in more recent years. Scott Peterson, senior vice president of the Americas at Mitel, which sells exclusively through the channel, said he is still seeing some new sales in the on-premises environment. He said customers in some vertical markets such as education, local government and hospitality have a greater comfort level with on-premises deployments.
In addition, some customers have specific security requirements that are better met by on-premises installations, he added.
Dig Deeper on MSP technology services