Lana - stock.adobe.com
How UC technology supports long-term remote work
Successful long-term remote work needs unified communications. Learn about the communications tools that organizations need to ensure effective employee communication.
For the foreseeable future, remote work is the reality for most organizations. As COVID-19 closed offices, many companies quickly deployed unified communications (UC) to support work-from-home policies. But as work from home continues, organizations need a strong UC strategy for long-term remote work communications.
This means not just deploying video conferencing apps to replace in-person meetings, but carefully evaluating the components of UC to create work hubs that support employee communications and collaboration.
Team collaboration contextualizes communications
Long-term remote work requires a different way to communicate and engage with employees. Team collaboration tools can provide a work hub for remote employees, which centralizes projects and communication.
Most team collaboration tools offer video and voice capabilities, so users can escalate a chat session to a call if needed. Third-party app integrations -- including file storage, project management and calendars -- can build upon team workspaces to create a more contextualized experience. Taking advantage of these capabilities to make team collaboration a work hub can transform employee workflows to better support long-term remote work.
Team collaboration can also mimic the more casual, watercooler chats that are often missing in remote work communications. Employees, for example, can set up social channels to discuss hobbies and other interests.
But organizations must be careful to control team collaboration tools. While an organization may standardize on one or two apps, most team collaboration vendors offer free versions that users can download without IT's permission or knowledge.
Multiple team collaboration tools create a management headache, particularly around security and compliance. Organizations that plan to deploy multiple apps must ensure they meet any regulatory requirements. To avoid shadow IT deployments, organizations should survey employees prior to deployment to determine communication and collaboration needs and identify the tools that best suit those requirements.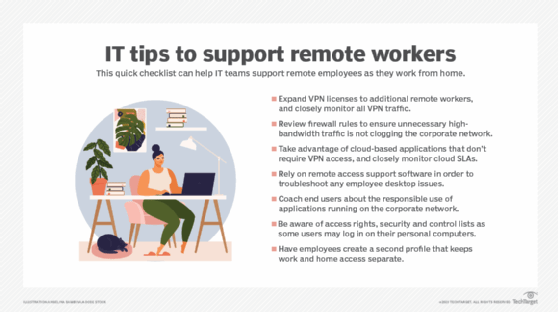 Extending video across the organization
When COVID-19 shut down offices, video was the UC app most organizations adopted to keep employees connected and maintain business continuity. As organizations move past the continuity stage and look to the future, they are planning to extend video into other areas of the business.
Organizations are spending more money on video conferencing to improve employee engagement and enable more effective long-term remote work, according to a Nemertes Research study. While meetings are still the main use case for video, organizations are looking to use video for training, employee newsletters and town hall communications. Some organizations are also developing custom video applications for telehealth and customer support.
Organizations are also evaluating tools to better support collaboration during virtual meetings. Ideation, for example, is a challenge when remote employees don't have physical whiteboards that are often found in meeting rooms to brainstorm ideas, take notes or annotate designs.
Virtual whiteboard apps can address many of the requirements of ideation for remote teams. App features include templates for projects and workflows, access across devices and third-party app integrations, including team collaboration and file storage.
Mobile UC and software-based phones take voice anywhere
When businesses shut down, most employees couldn't take their desk phones with them. But software-based alternatives enable users to take their business phone numbers anywhere. Softphones are common alternatives to desk phones and often include additional capabilities, such as video and chat.
Software-based alternatives to desk phones can also save organizations money. Enterprise-grade desk phones can cost between $100 and $500, which can be a hefty price for larger organizations. Deploying phones as desktop PC clients or mobile apps can cut hardware costs. Softphones and other software-based voice services can provide capabilities and cost savings that benefit long-term remote work.
Mobile UC has also seen increased relevance as organizations look to provide a more consistent remote work communications experience. Mobile UC has been around for years and many enterprise-grade services have matured to be as secure, reliable and feature-rich as traditional UC services.
Users can install mobile collaboration apps on their devices, log in with their employee credentials and access their communications services. Mobile UC apps also can be easier to deploy than a desktop client in a home environment, particularly if the endpoint is not a company-owned or managed device. Mobile UC also enables users to move between apps and devices with minimal disruption.