buchachon - Fotolia
How to prevent cloud computing bandwidth issues in UCaaS adoption
The adoption of UCaaS architecture presents network challenges. Learn what tools are available to support video and voice quality without causing cloud computing bandwidth issues.
So, you've decided to adopt unified communications as a service to take advantage of its benefits, such as improved agility, new features, reduced costs and shifting your IT focus to more strategic functions. On the surface, it seems like a pretty simple transition: Just buy the licenses you need, connect your endpoints to the cloud and off you go.
The reality, however, isn't quite that simple when it comes to cloud computing bandwidth issues. Moving to the cloud requires rethinking your network architecture from the ground up to ensure you have the right amount of cloud bandwidth where you need it and that voice and video quality aren't hampered by limited cloud access points.
The biggest change in network traffic when adopting cloud is the need for endpoints -- among them phones, video conferencing systems, desktop and mobile devices -- to connect to the unified-communications-as-a-service (UCaaS) provider to participate in a call or conference. What once was a session initiation request between the endpoint and the UC server running in the corporate data center now requires endpoints to traverse the nearest internet connection point to get to the UCaaS provider's data center.
For organizations with a distributed access strategy in which all -- or at least most -- offices have direct internet connectivity, the primary requirement is ensuring those internet connection points have enough cloud bandwidth to support anticipated call volumes. For those with limited internet access points, the challenge is more involved.
Let's say you have more than 100 branch offices connecting to each other through MPLS, and you have two internet gateways in New York and Los Angeles. A call from the Sacramento, Calif., branch to the Atlanta field office requires the Sacramento endpoint to initiate a session through the Los Angeles internet connection point to connect to the UCaaS provider, which then sends the call through the New York internet connection point to the call's destination in Atlanta.
This obviously isn't the most optimized call path, particularly because you already have direct network connectivity between Sacramento and Atlanta. The end result could be poor voice and video quality.
Increase WAN spend to combat cloud computing bandwidth issues
As a result of these cloud computing bandwidth issues, more than 25% of companies adopting UCaaS must increase their WAN spend, according to Nemertes benchmark research, typically to add more bandwidth at internet connection points.
Fortunately, IT leaders have a number of tools at their disposal to address the changes UCaaS architecture brings to traffic flows, as well as minimize the amount of money budgeted to WAN improvements.
These tools include services that directly connect the enterprise WAN to the cloud provider, eliminating the need for internet connection points to set up a call or conference. Examples include Cisco Webex Connect, Microsoft ExpressRoute and RingCentral CloudConnect. All of these services essentially make the UCaaS provider a node on the enterprise WAN. Approximately 36% of UCaaS users have adopted these direct-connect services.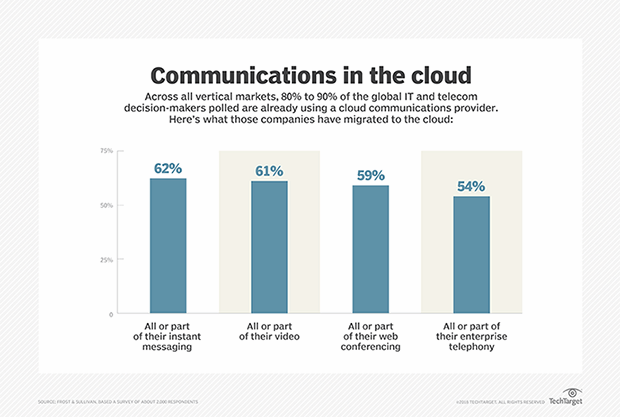 UCaaS providers make SD-WAN partnerships
Software-defined WAN can be used as an MPLS alternative to reduce WAN costs and improve resiliency. SD-WAN enables companies to use broadband and other lower-cost connectivity services to transmit data, while maintaining the resiliency, jitter and latency standards necessary to support voice and video.
According to Nemertes' recently released "WAN Economics Research Study 2018-19," almost 25% of organizations are currently using SD-WAN, while another 38.5% plan to do so in the next two years. SD-WAN is available both from hardware vendors and service providers, like AT&T and Comcast Business. In addition, some UCaaS providers, such as RingCentral, are partnering with SD-WAN providers to deliver SD-WAN bundled with UCaaS.
Network architects should also consider capabilities from some UCaaS providers that allow traffic between endpoints to stay on enterprise-WAN links. One example is Cisco's recently released Video Mesh that keeps video conferencing traffic between endpoints on the enterprise WAN, eliminating the need for all video traffic to move between endpoints and the UCaaS provider. Nemertes' research found 45% of UCaaS buyers cite this capability as a primary requirement.
Moving to UCaaS offers many benefits, compared with running on-premises UC platforms, but a successful migration requires addressing network architecture and cloud computing bandwidth issues upfront to ensure the network is optimized for changing traffic flows. Direct-connect, SD-WAN and on-premises traffic controllers are options worth evaluating to minimize cost and maximize performance.