auremar - Fotolia
Avaya follows Cisco into market for UC headsets
Avaya has begun manufacturing UC headsets, following the lead of rival Cisco in a trend that is shaking up the market for such devices.
Avaya has started making UC headsets in the latest expansion of its portfolio of endpoints for unified communications and the contact center. The move comes on the heels of Cisco's entrance into the growing market for professional headsets.
After exiting bankruptcy in early 2018, Avaya began investing more heavily in its desk phones and other endpoints. The vendor refreshed some products for the first time in years and, in a strategic shift, released its first open Session Initiation Protocol (SIP) phones, which work with the software of any UC vendor.
In an earnings call last month, Avaya executives said revenue from those endpoints was trending upward at the end of fiscal 2018. Endpoints will likely continue to play an increasingly significant role in the vendor's business strategy in 2019 and beyond.
In addition to the UC headsets, Avaya this week updated its line of open SIP phones to work better with cloud calling plans from Cisco's BroadSoft and added capabilities to its provisioning software to make it easier for organizations to deploy and manage devices.
Many leading UC-as-a-service (UCaaS) providers don't make desk phones. As a consequence, more and more businesses are buying open SIP phones from vendors like Polycom, Yealink and Grandstream.
Some companies are forgoing desk phones entirely by using softphone clients and headsets. The shift has compelled vendors like Avaya and Cisco to enter the headset market with offerings that incorporate analytics and management tools that can improve a customer's overall UC experience.
"Headsets are no longer commodities bought solely on price, but rather are a key part of a UC architecture," said Irwin Lazar, analyst at Nemertes Research in Mokena, Ill.
Avaya vs. Cisco: UC headsets, desk phones
The five headsets Avaya released this week -- the L100 series -- all come with wires. Avaya said it would produce wireless versions "in the near future." The first headsets are targeted mostly at Avaya's contact center customers. For example, some models come with an extra USB port that lets supervisors connect to an ongoing call.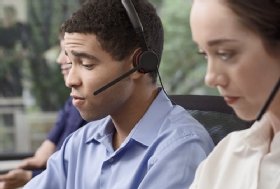 Avaya rival Cisco also recently entered the headset market. Cisco released a wired headset in March -- its first -- and added two additional wired models and two wireless models in September. Next month, the vendor plans to release software that should make it easier for IT administrators to manage and update those devices.
Revenue from the sale of professional headsets is projected to grow at an average annual rate of 8% between 2017 and 2024, according to Frost & Sullivan. New entrants, like Avaya and Cisco, have begun to challenge traditional market leaders Plantronics and Jabra.
"Certainly, the incursion of Avaya and Cisco into this space is a clever move from both companies," said Alaa Saayed, analyst at Frost & Sullivan. "Both vendors are well-known for their enterprise communications and collaboration endpoints."
Avaya will also face competition from Cisco in the market for open SIP phones. Cisco has begun pushing service providers selling BroadSoft cloud calling plans to start bundling Cisco phones and collaboration displays with those services -- an initiative that comes just as Avaya tries to break into the open SIP market.
"The shift to UCaaS is changing the market dynamic," Lazar said. "With its open-SIP offerings and its broader support for BroadSoft-based solutions, Avaya is seeking to reposition itself as an open endpoint company that can support a wide variety of UCaaS offerings."