Fotolia
Unify Square adds Slack, Zoom, FB to IT management software
Unify Square will add support for Slack, Zoom and Workplace by Facebook to its IT management software. The vendor previously worked exclusively with Microsoft apps.
Unify Square, a maker of IT management software for UC apps, will add support for Slack, Zoom and Workplace by Facebook. It's the vendor's first expansion beyond the Microsoft ecosystem and underscores that many enterprises are increasingly embracing multiple collaboration apps.
Since its founding in 2008, Unify Square has helped IT administrators oversee deployments of Microsoft communications and productivity apps, including Skype for Business, Microsoft Teams and the Office 365 suite.
Unify Square plans to add support for the team collaboration app Slack, the video conferencing platform Zoom, and the collaboration and intranet app Workplace by Facebook. Support for each of the apps will roll out throughout the spring and summer.
"We realized that, number one, our focus on just Microsoft wasn't going to be enough to satisfy the market needs," said Scott Gode, chief product marketing officer at Unify Square. "But we also realized that our focus on unified communications alone wasn't going to be enough."
Unify Square's PowerSuite IT management software gives administrators the ability to monitor and troubleshoot issues with voice and messaging traffic. Administrators can also use the platform to set policies restricting the ability of users to create new channels and invite guests, among other controls.
The additions of Zoom and Slack were "no brainers" given their rates of growth, Gode said. Workplace by Facebook is a newer product that has gained traction with large enterprises such as Starbucks and Walmart.
Notably absent from the expansion is Cisco Webex Teams. Gode attributed its omission to the uncertainty surrounding Cisco's rebranding of Spark to Webex Teams last year but left open the possibility that Unify Square would add support for the platform in the future.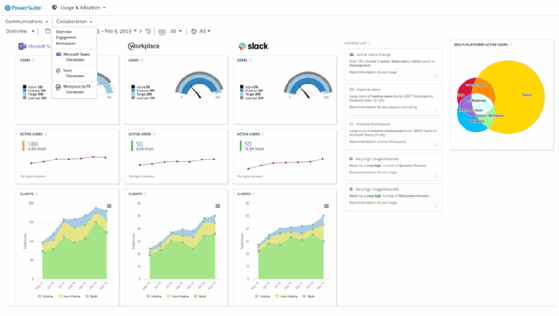 IT management software lessens the burden of managing multiple apps
Cloud-based startups like Slack and Zoom have changed the UC and collaboration landscape over the past several years. Teams within an organization can begin using those apps for free, and anyone with a corporate credit card can access the premium versions instantly.
Many organizations now have a mix of UC and collaboration apps from different vendors. Unify Square's expansion will help those businesses manage those apps from a single platform.
Cloud-based PowerSuite works with cloud- and premises-based deployments of UC and collaboration apps. The vendor also offers a managed service through which businesses can outsource oversight of its apps.
Unify Square competes with Riverbed, Voss and LayerX Technologies, but none of those offer the same combination of features or supported apps, said Robin Gareiss, president of Nemertes Research, based in Mokena, Ill.
"Unify Square has carved out a very useful niche in the management market," Gareiss said. "It straddles both administration and performance management."
In addition to troubleshooting problems, the vendor's IT management software could help companies improve adoption of new apps by tracking their usage, Gareiss said.
"I always have believed one of the biggest weakness in collaboration is companies don't effectively market the tools and track utilization to make improvements," she said. "With Unify Square, you can actually track utilization of apps by employees, departments, teams, workspaces, and then develop a strategy to improve adoption."