TheSupe87 - Fotolia
Cloud UC and video conferencing adoption see uptick
Cloud-based unified communications and video conferencing adoption are seeing gradual increases, according to a new survey. Plus, Cisco and Microsoft still reign supreme.
Video conferencing adoption has some momentum as organizations look to integrate the technology into their unified communications toolkit, according to a survey from analyst firm IHS Markit.
The survey of 207 medium and large organizations in North America found 86% of businesses will use video conferencing as part of their UC by February 2018. That's a slight increase from last year's report that found 84% of organizations planned to implement video and web conferencing into their UC strategies by February 2017.
In the annual UC survey, video conferencing again stood out as an increasingly important tool that businesses are either using or looking to implement. Increased availability and decreased costs -- thanks to cloud-based technology -- are two key reasons why video conferencing adoption is seeing sustained interest.
Video conferencing adoption through PBX and UC systems is on the uptick since they provide a more cost-effective, high-quality experience compared to dedicated room-based systems, according to the survey. And as video conferencing becomes more readily available, businesses are using it to enhance interactions among employees, partners and customers.
Aside from conferencing, video is also taking on different forms within unified communications. For instance, video communications can be embedded into business applications to improve workflows. Additionally, huddle rooms have offered a new frontier for video deployments.
Cloud-based UC adoption on the rise
As cloud technology has boosted video conferencing adoption, other unified communications tools are also benefiting as more businesses adopt cloud services for various needs.
In the IHS survey, 25% of organizations use UC services within a private cloud, 26% implement UC as a service (UCaaS) and the rest are deployed on premises. In the next year, according to the survey, on-premises services will shrink 8%, private cloud services will jump 3% and UCaaS will rise 5%.
As the survey points out, most companies are not yet going all in with the cloud. For this reason, providers should support hybrid deployments that still offer businesses a seamless UC experience.
Vendors that deliver a broad suite of UC capabilities in a simple and easy-to-use manner should be best positioned for success, the survey said. Vendors that have premises-based and cloud capabilities -- either directly or through partners -- are in a better position to capture and migrate customers as they move to the cloud completely or in a hybrid fashion.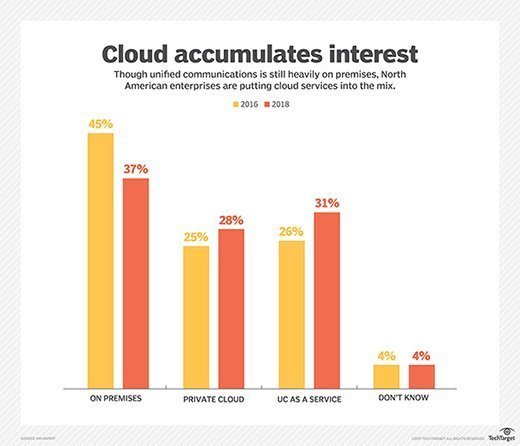 Microsoft, Cisco rated top UC vendors
In the survey, UC customers named Microsoft and Cisco as top UC vendors for eight key buying criteria: financial stability, service and support, installation, product reliability, innovation, price-to-performance ratio, system management and solution breadth.
Microsoft was ranked as the top vendor, followed by Cisco. Microsoft scored the highest across all categories except installation, which went to Cisco. The two vendors have long tangled in a tight battle for enterprise UC deployments.
The survey also found businesses are deploying UC to improve employee productivity and response times, as well as to provide employees with mobility and flexibility. Although mobility has been a key theme in past surveys, it is now deemed a "de-facto element" in any company's communications plan.
Next Steps
Video collaboration tools highlight UC market trends.
Cloud video conferencing has substantial upside.
Find out what's driving cloud-based UC adoption.