How to evaluate top UCaaS providers and vendors of 2023
In a growing UCaaS market, there are many considerations to make when evaluating which providers best suit your business communications needs.
The unified communications as a service market continues to grow. Nearly 30% of organizations have adopted UCaaS as their primary calling platform, according to Metrigy's "Workplace Collaboration: 2023-24" global study of 440 organizations. Of those still operating on-premises systems, about 26% were planning on moving to UCaaS while another 21.4% were evaluating doing so in the future.
Those who have already moved to UCaaS systems or are planning to do so are primarily motivated by the opportunity to save money by offloading operational management of cloud communications to a service provider. UCaaS providers control their own platform and are responsible for maintenance and upkeep as well as end user support if a problem arises.
The desire to better support remote work by eliminating the need to carry calls across a VPN into the enterprise network is another major driver for UCaaS adoption. An additional adoption driver gives access to features UCaaS providers may offer, including integrated meetings, contact center and AI-driven enhancements for call management.
Leading UCaaS providers and vendors of 2023
When it comes to picking the right provider, buyers have many choices and factors to consider. Currently, there are at least 30 providers in the market, not including managed service providers who resell and support UCaaS offerings. Some leading providers who either offer their own native services or resell and support UCaaS from partners include the following:
8x8 Inc.
AT&T.
Avaya.
Dialpad.
Comcast.
GoTo.
Intermedia.
Lumen.
Microsoft.
Mitel.
NEC.
Net2Phone.
Nextiva.
RingCentral.
Verizon.
Vonage.
Webex by Cisco.
Zoom.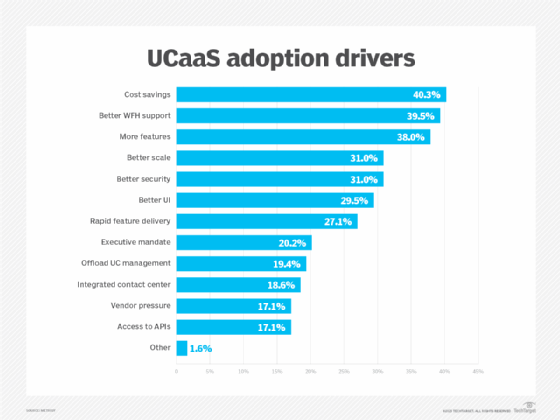 How UCaaS providers differ
While UCaaS platforms include standard features and capabilities, UCaaS providers will differ in how they support them. There are several capabilities that set vendors apart from one another:
Features. Some providers are focused on VoIP and calling. Others offer integrated video meetings, messaging and contact center functionality.
Size and scope. This ranges from a focus on large companies with multinational support to one on smaller companies, often within limited geographies. Providers targeting larger enterprises are more likely to support bring your own carrier options to help customers connect to the PSTN through their existing Session Initiation Protocol trunking providers or to take advantage of best-in-region carriers to minimize telecom costs.
Migration capabilities. Some providers offer seamless migration for existing hardware like telephones. Others require purchasing or leasing new phones and other infrastructure, including remote survivable gateways.
Cost and flexibility. License costs vary across providers and by services included. For example, the costs for contact center features, 800 numbers and international long distance are different across providers. Some vendors offer more flexible "à la carte" licensing; others limit options to a few bundles.
Mobility. Almost all providers offer a mobile app for their services. Some are now working closely with carrier partners to support the use of native dialers on iOS and Android-based devices.
Messaging. Most providers now offer an integrated messaging app within their UC offering. Support for text messaging and MMS integration still varies.
AI. As both AI and generative AI take the world by storm, UCaaS providers are rapidly differentiating themselves from one another by how quickly they can bring AI features to the table. Capabilities range from advanced analytics to meeting summarization, translation, and auto-composition for chat app messages.
Resiliency. Most providers offer a minimum of four-nines (99.99%) availability, though many are now guaranteeing five-nines (99.999%) availability. That's the difference between about 52 minutes of unscheduled downtime per year and 5.2 minutes.
Security and compliance. Providers often vary in their ability to offer features such as end-to-end encryption; single sign-on support; export and archiving of data, including call logs and messages; and support for standards such as ISO27001 and SOC 2.
Bundled services. Offerings from network service providers are likely to include WAN services with service-level guarantees. Over-the-top providers are reliant on the quality of the underlying network and may lack visibility into network performance.
Industry and role-specific products. Some providers have offerings designed for specific roles or types of companies. This could include tools to optimize sales management and analytics through AI or options to integrate calling platforms into business applications for CRM and appointment management, such as for a doctor's office.
Integrations. Most UCaaS providers offer some level of integration with popular office productivity suites, such as email and calendar, with a few offering their own apps. More advanced providers not only have an extensive list of third-party application integrations, but also offer APIs and collaboration tools to enable customers to create their own custom integrations as needed.
How to evaluate and choose the right provider
Evaluating and choosing the right provider requires careful analysis of each provider's capabilities versus customer needs. Typically, this starts with looking at the feature sets, price, availability and geographic reach.
It also means looking at different buying options, such as purchasing directly from a UCaaS provider or through a partner that may also provide management and network services as part of a packaged offering. Use the list above as a starting point to weigh each area of differentiation based on importance to your requirements.