VMware Workstation 6.5: Installation how-to's and notable features
Take a first look at VMware's latest Workstation release. We review the most useful new features, such as unity mode and integration with VMware Converter 3.
Recently VMware released the latest version of VMware Workstation, version 6.5. The latest version offers several new features such as unity, virtual machine record and playback, virtual machine streaming, integration with VMware Converter 3.0.3, and general performance enhancements.
This article outlines what VMware Workstation 6.5 can do for you, where to obtain it, how to install it and the best new features.
Why use VMware Workstation when so many products are free?
I have been using VMware Workstation for a number of years. As an IT Pro and content author, I believe that Workstation is the best tool to run multiple operating systems on your desktop. While Microsoft Virtual Server, Virtual PC, VMware Server and VMware ESXi are all free – VMware Workstation still costs $189. Workstation is worth it because it has the advanced snapshot manager, it performs great, offers USB 2.0, multi-monitor support and much more.
Simply put, VMware Workstation 6.5 ups the ante.
What's new in VMware Workstation 6.5?
After watching software companies update their products over many years, I am typically cynical when I hear that a new upgrade is announced – assuming that there will be very few useful features. After spending some time with VMware Workstation 6.5, however, I was pleasantly surprised. There are actually some very cool features in 6.5 that make it more than worthy of its point revision to 6.5.
Here is a list of the most significant VMware Workstation 6.5 features:
New support for 32-bit and 64-bit OSes.
Major new features - Unity mode, enhanced ACE authoring, accelerated 3D graphics in Windows XP and virtual machine streaming.
Usability enhancements - Integration with VMware converter 3.0.3, new VMware player features, easy Windows and Linux installation and virtual network editor for Linux hosts.
Performance improvements – Improved performance when using NAT, folder sharing/dragging/dropping/copying/pasting, USB performance enhancements and VMCI improvements.
New platform capabilities – New hardware version, smart card support, laptop wireless connection state replication, text copy and paste enhancements.
A list of developer tools that are too numerous to list.
I will go into these features in more detail later in the article.
How do I obtain and install VMware Workstation 6.5?
VMware has a new website for VMware Workstation 6.5 beta. That website offers videos, a strong beta community, excellent options for feedback and archived expert sessions. To access this special website, first go to the VMware 6.5 beta community website. From there, click on the Access the Secure Beta Portal Now link (see Figure 1 below).
Figure 1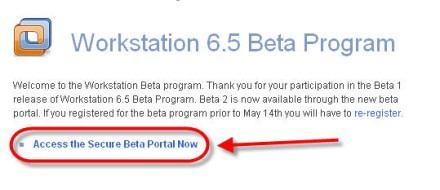 Next, you will need to either register for a VMware log in, or log in with your existing account to be taken to the VMware Workstation Beta Program website.
Figure 2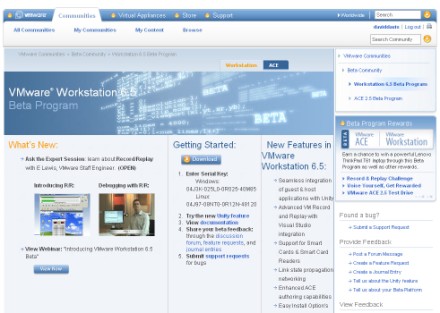 Once in the beta program website, you can watch a number of training videos about new VMware Workstation 6.5 features.
Figure 3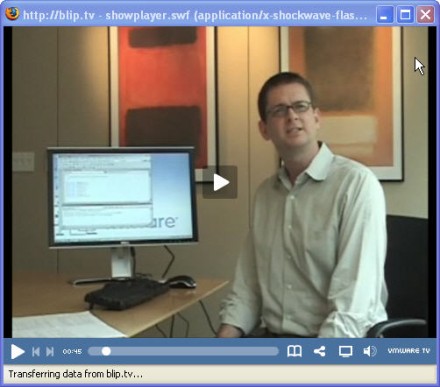 To download VMware Workstation 6.5, just click the Download link in the middle of the screen. Make note of your serial numbers just below the download link. You will note that there are Windows and Linux serial numbers as you can download Workstation 6.5 for either OS.
From there, I chose to download the Windows 32/64 bit version of VMware Workstation6.5 Beta RC1 at 544MB (see Figure 4 below).
Figure 4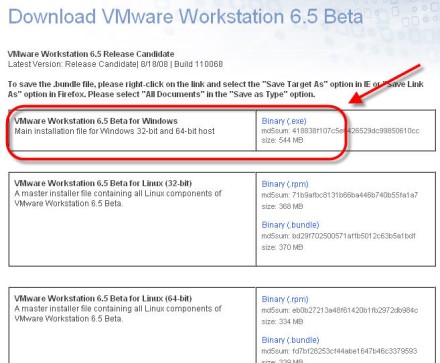 After downloading and running the installer, a wizard takes you through the installation.
Figure 5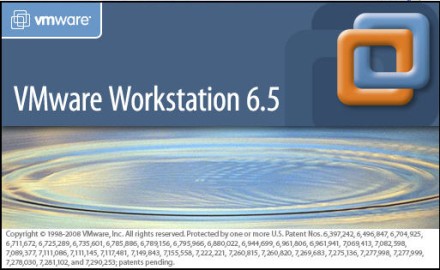 Figure 6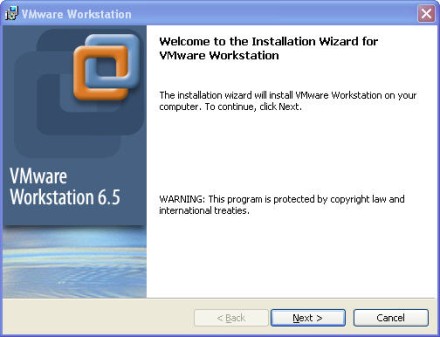 I chose to keep all the defaults; you can do what fits your needs best. Click Install (see Figure 7 below).
Figure 7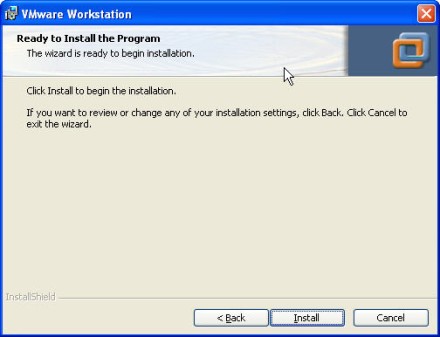 When prompted, enter your registration information and serial number from the Workstation 6.5 beta site. You'll need to restart your computer to complete the install.
Figure 8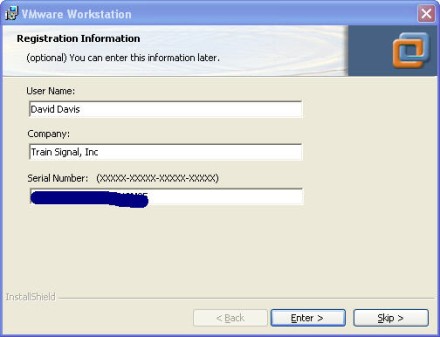 With that, the installation is complete. I had to restart my computer for the installation to take effect.
Figure 9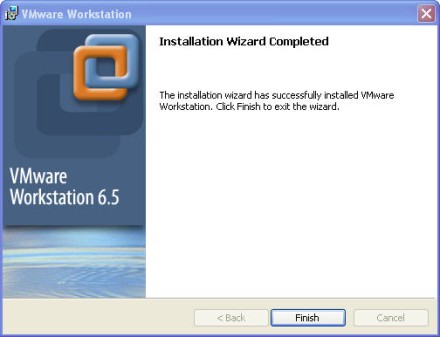 What does VMware Workstation 6.5 look like?
After rebooting and starting VMware Workstation 6.5, I accepted the license agreement and took my first look at the VMware Workstation Administrative interface (see Figure 10 below).
Figure 10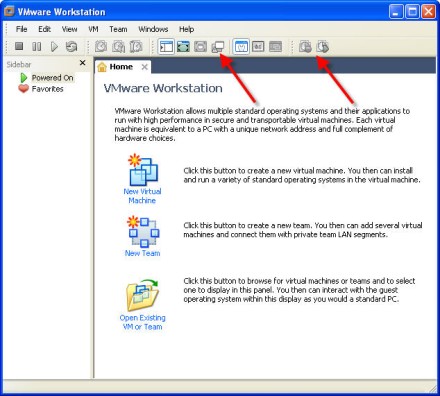 As you can see, VMware Workstation 6.5 looks very similar to Workstation 5.x and 6.0x. There are, however, a few buttons on the main toolbar that you'll immediately noticed are different. These buttons are the Unity button and the Record and Replay buttons. I'll talk more about these buttons in our next section. First, we need to install a guest OS.
Click on the New Virtual Machine button. The New Virtual Machine Wizard will ask you what media you want to use. If you have an install CD, it should recognize it.
Figure 11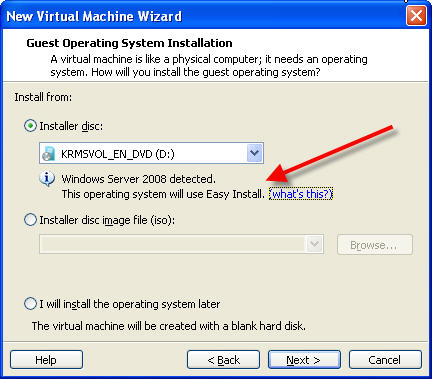 Easy Install
When using the Easy Install option, you will be able to perform an unattended installation of the Guest OS after answering questions in the New Virtual Machine Wizard.
Figure 12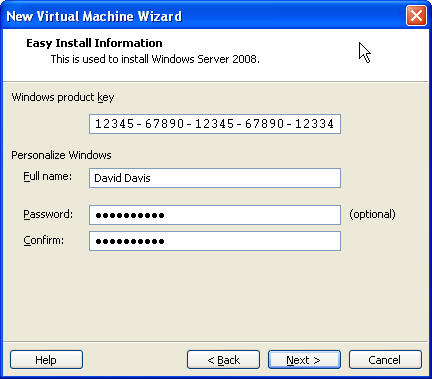 It will ask you one question – which version of the OS you want to install. From there, the installation should complete by itself. In my case, after installing Windows Server 2008, the next thing I saw was the press control-alt-delete to login screen.
Once you log into the new VM, VMware Tools installation should start immediately.
The best five new features
In my opinion, the best five new features of Workstation 6.5 are unity, Record and Playback of Virtual machines, record and playback of virtual machines, virtual machine streaming and integration with VMware Converter 3.0.3.
1. Unity
With the new unity feature, you can display applications from the running virtual guest directly on your host desktop. You can also drag, drop, cut, copy and paste between the host and guest. Applications in the guest will even display in the taskbar on the host system.
To switch to unity mode, you want to change the view to unity or use the toolbar button. When you do this, you will see the apps in the guest OS magically appear on the host's desktop, just as if they are running on the host. In Figure 13 below, you see Windows 2008 Server Manager and the Reliability/Performance monitor seemingly running in my Windows XP workstation. Also, down on the toolbar, you can see these applications appear as if they are running on this host. I can tab between them and my mouse works fine from one to the other.
Figure 13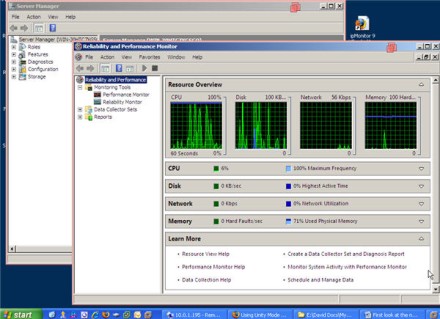 In Figure 14 below, you can see how if I move my mouse over my host start button, a new start button appears above my start button. That new start button is for the guest OS running in Unity mode so that I can use it to launch programs from the guest – which would then appear in the host.
Figure 14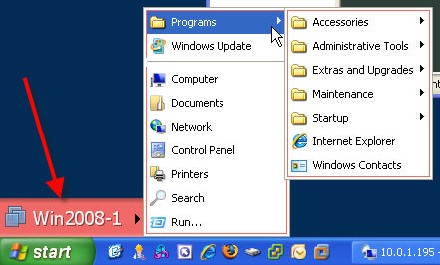 2. Virtual machine record and playback
Unlike Workstation's movie-capture feature, the record/replay feature records all the processor instructions of the virtual machine throughout the time of the recording. This feature helps software developers and QA engineers to record a bug and attach a debugger while replaying the recording.
3. Virtual machine streaming
With virtual machine streaming, you can download a virtual guest OS from a web server (either over the Internet or on your LAN) and begin playing it inside VMware Workstation 6.5 or VMware Player – before the entire VM has been downloaded. To do this in Workstation, go to the command line and enter
vmware.exe http://<path_to_vm>.vmx
4. Integration with VMware Converter 3.0.3
Workstation 6.5 offers VMware Converter 3.0.3 built in. To use it, go to File and then select Import/Export. This will launch the converter (see Figure 15 below).
Figure 15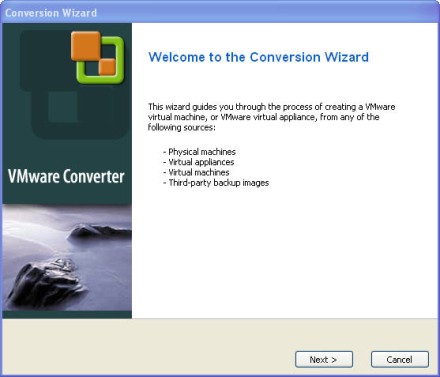 With converter 3.0.3, you can import Acronis True Image files, Microsoft Virtual PC, Symantec Backup Exec System Recovery, and StorageCraft ShadowProtect file types previously supported. You can also convert Open Virtual Machine Format (OVF) appliances. For Microsoft Virtual PC and Microsoft Virtual Server virtual machines, you now have the option of sharing the source virtual hard disk (.vhd) files.
5. Performance enhancements
Every application could use some performance enhancements. Here are some of the enhancements made to the latest Workstation release:
Additional 32- and 64-bit OS support – more than any other virtualization platform.
Accelerated graphics performance for Windows XP 3D graphics.
Improved NAT networking performance.
Improved USB device performance by as much as 50%.
Conclusion
In this article, you learned you learn about the latest version of VMware Workstation – version 6.5. The latest version offers many useful product enhancements and is worth taking for a test run.To download the beta of VMware Workstation 6.5 and see these new features for yourself, visit the VMware 6.5 beta community website.
Dig Deeper on VMware desktop software and virtualization