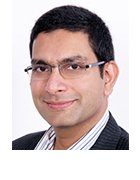 Kashyap Kompella is an industry analyst, author, educator and AI advisor to leading companies and startups across the U.S., Europe and the Asia-Pacific region.
Currently, he is the CEO of RPA2AI Research, a global technology industry analyst firm. RPA2AI advises global corporations, venture capital or private equity firms and government agencies on AI investments, enterprise AI, AI governance, AI audits and AI ethics.
Kompella is co-author of the Amazon bestseller Practical Artificial Intelligence. He is an invited speaker at several global conferences on AI and other emerging technologies and their impact on industries and careers. He is a visiting faculty on transformative technologies for Institute of Directors. He is also the founder of AI Profs, whose mission is to democratize AI education and equip public and private sector workforces with the right skills for the future.
He has a bachelor's degree in electrical engineering, a Master of Business Administration degree and a master's in business law. He is also a CFA Charter holder.
Kashyap Kompella's Most Recent Content