alphaspirit - stock.adobe.com
IoT creates safer workplaces and promotes greater adoption
Since the start of the COVID-19 pandemic, organizations have adopted technologies, including cameras and sensors, that can keep workers and customers safe during the pandemic and beyond.
Executives at QuadReal Property Group didn't know how many people came in and out of their buildings, nor did they know how many people were in any given space at any given time.
These insights are helpful in normal times, but during a pandemic, they become critical for health and safety reasons.
QuadReal upped its IoT investments to accelerate sensor and intelligence deployments at the edge. The organization, which worked with managed IT services provider Andorix to deploy MyThings wireless IoT technology from BehrTech, initially viewed IoT as a way to understand people flow within its buildings so it could be more energy efficient, optimize utilities usage and make strategic decisions over space needs. Now, it also uses IoT to build a safer workplace and meet pandemic-related safety requirements.
"We spun the IoT use cases to satisfy the needs we have with COVID-19," said Thano Lambrinos, QuadReal's vice president of smart building technology and digital innovation.
QuadReal uses the technology to determine and alert users if areas within the building are too densely packed with people to meet the new social distancing guidelines. IoT devices measure whether the restrooms are at maximum occupancy levels and digitally post that information for people to see before entering. IoT technology also analyzes indoor air quality to determine when it needs to be infused with fresh air.
The company even developed an app for tenants to access such information so they can use it to safely plot their movements within the buildings.
"All that helps make sure everyone stays healthy and well," Lambrinos added.
IoT adoption on the rise
Even though organizations have prioritized safer workplace creation, the coronavirus pandemic has pushed for innovative methods to achieve this goal; there's evidence to support increased adoption.
Vodafone surveyed 1,639 businesses around the world in May 2020 for its "IoT Spotlight 2020" report and found that even though 73% initially had to delay some IoT projects due to restrictions, 81% said they're making IoT projects a higher priority than they had before the pandemic, while 77% accelerated some of their IoT projects as a result of the COVID-19 crisis.
Even before the pandemic, there was a movement toward more digital infrastructure to make operations more efficient and safer. Now, COVID-19 has accelerated that, as companies have had to figure out how to operate safely and profitably in these unprecedented times.

Greg KahnPresident and CEO, Internet of Things Consortium
Additionally, 77% of businesses in the study said the pandemic caused them to rethink their use of IoT to provide greater operational stability and adaptability, with some organizations citing their use of IoT to ensure safer workplaces as a new priority use case.
Executives and IoT industry experts concurred with the Vodafone report's findings and described a growing enterprise embrace of IoT to support both safety requirements and normal business operations.
"Even before the pandemic, there was a movement toward more digital infrastructure to make operations more efficient and safer. Now, COVID-19 has accelerated that, as companies have had to figure out how to operate safely and profitably in these unprecedented times," said Greg Kahn, president and CEO at the Internet of Things Consortium.
The data around IoT for workplace safety is strong: Seventy-three percent of workers are worried about their employers' ability to protect them from COVID-19, and 75% said they'd consider quitting if their employers downplayed the virus' risks, according to a summer 2020 survey of 1,000 U.S. workers from tech firm Envoy.
Kahn pointed to various examples of organizations that use IoT for workplace safety: Manufacturers who had initially adopted IoT to support equipment monitoring have deployed the technology to enforce social distancing requirements; hospitals and retailers use IoT to safely direct the flow of people; and building owners implement IoT sensors for touchless access.
Ignite Brewing Co., a craft brewery and taproom in Barberton, Ohio, is a primary example of these use cases.
Ignite first closed in March and then transitioned to offer to-go sales only; the brewery resumed patio service in May. Ignite then worked with Insight, an IT services and solutions provider, to implement an IoT platform that Ignite workers use to automatically and unobtrusively scan customers for elevated body temperatures that could signify an infection.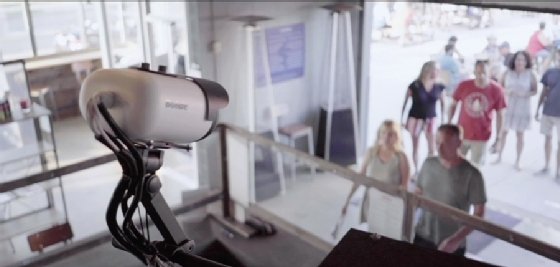 "IoT allows for us to make sure we can run a safe operation," said Megan Slater, one of Ignite's founding partners.
Slater and Michael Chisnell, fellow Ignite founding partner, said they've consistently employed innovative technologies to ensure they're running their four-year-old company as efficiently as possible.
"If I can't run the business from my cellphone, I feel like I'm doing something wrong," Chisnell said.
They had already adopted smart sanitizers and soap dispensers before the pandemic began, and they explored using IoT in operational areas such as to monitor the fermentation process and equipment. COVID-19 merely shifted and accelerated their IoT plans.
Ignite's IoT platform uses Insight's thermal imaging device to scan individuals, detect high temperatures and send managers real-time alerts about individuals who enter the building with a temperature that exceeds a set threshold.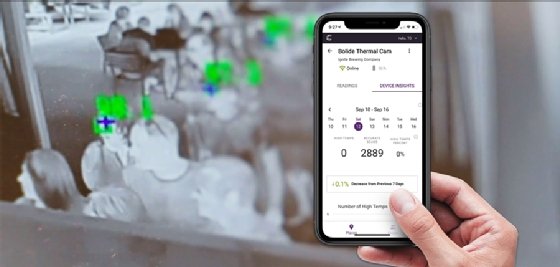 COVID-19-related IoT use encourages expanded adoption
Ignite's use of IoT for temperature scans has buoyed the company's plans for other IoT deployments. The brewing company plans to adopt IoT devices to support other safety objectives, such as monitoring for gas leaks in equipment or for dangerously high temperatures in the kitchen.
Peter Heron, principal of supply chain strategy and operations at Deloitte, said he sees other organizations following a similar path, as they seek to first use IoT for new safety regulations and then expand from there.
However, there are adoption obstacles, Heron said. Some organizations don't have the infrastructure -- such as adequate bandwidth -- to support deployments, even though vendors offer IoT products that are near ready for use right out of the box.
Meanwhile, some organizations contend with privacy concerns from workers or customers who prefer not to be tracked and monitored. Others struggle to find money for new tech initiatives at this time, even if they can help them operate more safely.
Still, most organizations don't let those challenges stymie their IoT plans, Heron said. In fact, he said organizations are already expanding their visions of what's possible with IoT as the technology proves its value in supporting workplace safety.
One such company is GP Transco.
The Chicago-based trucking and logistics company has deployed an IoT platform that includes dashboard cameras and AI from Samsara to monitor drivers and alert them of problematic actions such as excessive speed, distracted driving or lack of seatbelt use in real time, said Marija Jamontas, vice president of safety and human resources.
The platform -- and the visibility it offers into driver behaviors -- has brought significant improvements in several key metrics, with the hours driven over the speed limit down by 66% and speeding violations down 34%.
The technology also helps keep the drivers safe by letting the company monitor where they are geographically and analyze that location against possible dangers as they unfold, Jamontas said.
This summer, GP Transco quickly rerouted drivers before they reached areas affected by the California wildfires and areas shut down by civic protests. It also redirected one driver who was about to drive into a flooded area following a dam break.
Such incidents show IoT's real ROI: a safer environment for everyone, Jamontas said.
"One accident prevented is already a huge win for the company and the public as well. All the other benefits we've been able to see because of the integration, that's just been the cherry on top," she said.