Definition
AWS Management Console
The AWS Management Console is a browser-based GUI for Amazon Web Services (AWS).
Through the console, a customer can manage their cloud computing, cloud storage and other resources running on the Amazon Web Services infrastructure. The console interfaces with all the AWS resources, including:
Elastic Compute Cloud:

a web-based service that allows businesses to run

application programs

in the

AWS

public cloud.

Amazon Simple Storage Service: a scalable, high-speed, low-cost, web-based cloud storage service designed for online backup and archiving of data and application programs.
Elastic Load Balancing: a load-balancing service for AWS deployments.
Amazon Relational Database Service:

a fully managed

SQL

database service.

Auto Scaling:

a cloud computing service feature that automatically adds or removes compute resources depending upon actual usage.

AWS OpsWorks:

a

cloud computing

service from

AWS

that manages infrastructure deployment for cloud administrators.

AWS Identity and Access Management:

a directory service designed for tracking system users and providing ways of keeping track of information about how they get authenticated.

CloudWatch:

a component of

AWS

that provides monitoring for AWS resources and the customer applications running on the

Amazon infrastructure.
An AWS user can also manage his accounts, including monitoring monthly spending. A user can deploy new applications and monitor existing ones.
The AWS Management Console also provides educational resources, including wizards and workflows, to help users adapt to the cloud.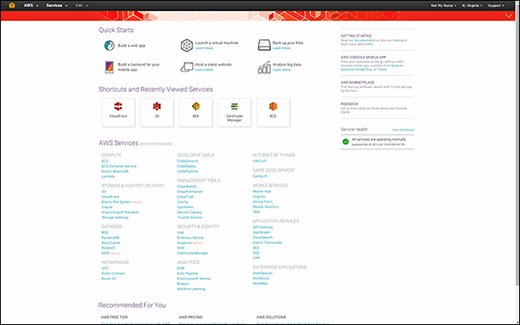 The AWS Management Console allows each user to drag and drop service links for a personalized view. An AWS user can also view and group resources and applications that share common tags, and then use the Tag Editor feature to quickly make a change across an entire resource group.
The AWS Console mobile app allows a user to perform operational tasks from a mobile device. The mobile app can be downloaded from the Amazon Appstore, Google Play or the Apple App Store.
The AWS Management Console supports Microsoft Edge, Firefox, Chrome, Internet Explorer and Safari browsers. There are separate consoles for iOS and Android.
This was last updated in
March 2017
Continue Reading About AWS Management Console