sdecoret - stock.adobe.com
AWS unveils generative AI tools for QuickSight BI platform
The tech giant introduced two natural language processing features aimed at making dashboard developers more efficient and enabling more business users to work with data.
AWS on Wednesday unveiled new generative AI features for Amazon QuickSight Q aimed at enabling developers and business users to work with data more efficiently by using exclusively natural language.
The capabilities are part of QuickSight Q, a natural language query tool within the QuickSight analytics platform first launched in September 2021. The features were revealed during AWS Summit New York, an in-person event for AWS customers.
AWS is calling the Ask Q and Build for Me options -- which the tech giant said will be generally available soon -- within QuickSight's dashboard creation environment generative BI.
Both were developed using Amazon Bedrock, an AWS service first introduced in April 2023 that provides access to generative AI and large language model capabilities.
New capabilities
One of the main potential benefits of generative AI is enabling more than just data experts to work with their organization's data. Another is increased efficiency by enabling data experts to work more easily with their organization's data.
QuickSight Q's new generative AI features address both.
The Build for Me option is aimed at dashboard developers. By clicking an icon, developers will be able to build and add to dashboards by simply typing commands in natural language, doing in minutes what previously might have taken hours.
Ask Q is a data storytelling tool aimed at business analysts who often need to put in hours to summarize their work in order to share it with colleagues and develop presentations.
By clicking on Ask Q and using natural language to describe the data to summarize, such as sales figures for a given period, narrative summaries are automatically generated that can then be shared and presented. In addition, users are given filtering options that address, for example, the length of summaries and the style, such as full sentences and paragraphs or bullet points.
Natural language query is a significant addition for any business intelligence tool. It makes analytics accessible to a much larger portion of the organization.

David Menninger Analyst, Ventana Research
The simplicity the features enable, meanwhile, make them useful, according to David Menninger, an analyst at Ventana Research.
"Natural language query is a significant addition for any business intelligence tool," he said. "It makes analytics accessible to a much larger portion of the organization.
"No need to know SQL and the concept of joins and subqueries," Menninger added, referring to coding terms.
As a result, QuickSight will become usable by more people within organizations already deploying the platform, he continued.
"Building or tuning visualizations with natural language will expand the use of QuickSight in organizations," he said. "For decades, business intelligence tools have been built for analysts, not for the mainstream line-of-business personnel. These new features help address that shortcoming."
Beyond simplifying the use of QuickSight and enabling more people to use the platform, adding Ask Q and Build for Me to QuickSight's authoring environment make the platform's generative AI capabilities comparable with those introduced by some of QuickSight's competitors, according to Menninger.
To date, BI platforms including Microsoft Power BI, Qlik, Tableau and ThoughtSpot are among the many with generative AI capabilities in the works. Now, QuickSight is also among them.
"Several vendors have delivered or are delivering similar types of natural language features," Menninger said. "These new features put Amazon out front with the leaders -- perhaps leading in some respects, such as building visualizations with natural language and fast followers in natural language query."
The essential aim of QuickSight's new generative AI capabilities is to both make current BI users more efficient and enable more people within organizations to work with data, according to QuickSight general manager Tracy Daugherty.
For decades, due to a combination of factors including platforms aimed at data experts rather than self-service users and organizations' own lack of data literacy training, BI use within the enterprise has been stuck at around a quarter of employees.
Generative AI has the potential to change that, given its understanding of true natural language rather than a limited set of business terms and commands.
"The motivation is to create a situation where less people need to be trained on BI tools," Daugherty said. "I want every user within an organization to be able to make data-driven decisions. The motivation is to provide tools for individuals in the places they are, so they can get insights from data."
He added that customer requests provided the impetus for developing generative AI capabilities for QuickSight Q and adding the Build for Me and Ask Q options.
Daugherty noted that dashboard developers wanted to save time while business users wanted to be able to author their own additions to dashboards and more easily develop narratives to share and present their work.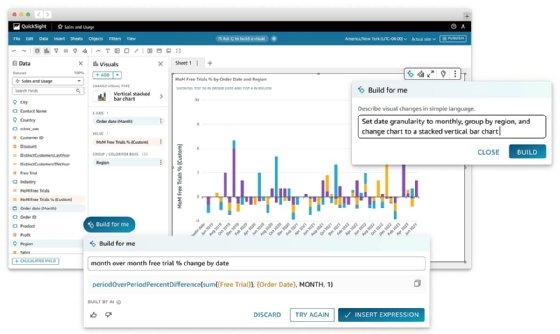 Future plans
While Build for Me and Ask Q represent QuickSight's first generative AI capabilities, they are just the start of the generative AI plans AWS has for QuickSight, according to Daugherty.
He declined to divulge specific plans but noted that the roadmap for QuickSight includes adding generative AI throughout the platform.
"We're going to infuse this technology throughout the BI experience," Daugherty said. "This is the starting place. Right now, we're starting with the authoring experience and the stories experience. In BI, there are many other things we can leverage on this front as well."
Menninger, meanwhile, noted that while QuickSight is now in line with its competitors with respect to generative AI, there are still areas where the platform has room for improvement.
When first introduced in 2016, QuickSight was a basic BI platform but not as full-featured as some others. Its main differentiators were price and its native connection to the rest of the AWS ecosystem. In recent years, additions such as Q and embedded analytics capabilities have added depth to the platform.
Still, however, QuickSight still has room to grow relative to its competition, according to Menninger.
In particular, he noted that QuickSight doesn't yet have some of the decision intelligence capabilities some other platforms now have as central pillars.
"Where I'd like to see more from Amazon is in the area of decision intelligence [such as] helping organizations evaluate different scenarios and how they would impact the business," Menninger said. "As it stand now, with QuickSight and many other vendors, that part of the process needs to be conducted outside of the business intelligence tools and often in spreadsheets."
Eric Avidon is a senior news writer for TechTarget Editorial and a journalist with more than 25 years of experience. He covers analytics and data management.