30 top edge computing companies to watch in 2022
With the amount of data organizations are generating today, IT leaders should consider edge computing technologies to keep all that data closer to the edge.
Enterprise technology leaders spent the past decade moving into the cloud, chasing the promise of its highly scalable centralized compute power.
Now -- and into the future – they're expected to move more to the edge.
Consider this figure: Gartner, the IT research and advisory firm, predicted that 2022 will see more than half of enterprise-generated data being created and processed outside of the cloud and any remaining on-premises corporate data centers.
Although some data still ends up in the cloud, organizations are finding that certain use cases require data analytics closer to endpoint devices rather than in centralized corporate data systems. In other words, handling all the data from endpoint devices must happen at the edge.
As a result, they need a full range of products to meet their own unique and varying needs for capturing, processing, analyzing and storing all the data at the edge as it comes off endpoint devices.
That has organizations investing heavily in edge technologies: GlobalData, in its 2021 research report, predicted that the market for edge computing products, services and platforms will hit $17.8 billion in 2025, up from approximately $8 billion in 2019.

There is a mix of products that make up this market: hardware, including gateways and servers designed for edge computing, as well as software, edge-managed platforms and services.
Edge computing vendors include longstanding tech companies, newer entries and startups. Some vendors offer a range of products and services to organizations across industry verticals. Some sell specialized offerings, such as ruggedized hardware that can withstand harsh environmental conditions, including those found on offshore oil rigs. And others target their technologies to specific industries, such as transportation or utilities.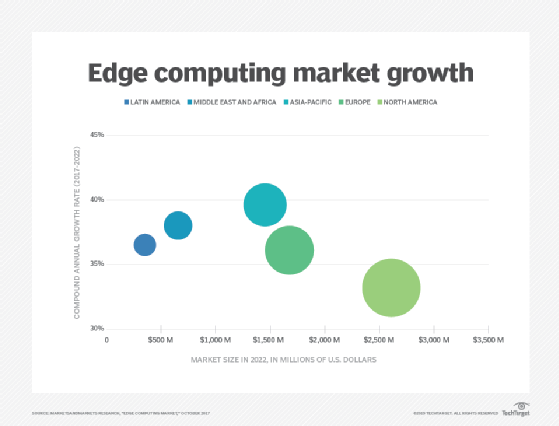 Here's a sampling of edge computing vendors offering devices, platforms and services to varying classes of customers as they build edge computing ecosystems:
Aarna Networks. Specializing in 5G and edge software and services, its products include a public cloud interface blueprint for the mid-level edge between the enterprise and the public cloud.
Adlink Technology. This global company sells a range of hardware and software products supporting edge computing deployments, including 5G multiaccess edge computing (MEC) servers.
Akamai Technologies. Akamai sells a number of products in the security and content delivery network (CDN) space, as well as in the edge computing market, with offerings including its Intelligent Edge Platform, the world's largest serverless compute platform.
Aruba Networks. A subsidiary of HPE, Aruba Networks offers networking and security platforms, as well as gateways, controllers and its Aruba Edge Services Platform, an AI-powered, cloud-native platform to automate, unify and protect the edge.
AWS. The cloud giant offers its own edge services that enable enterprises to have data processing, analysis and storage close to their own endpoints by deploying APIs and tools to locations outside AWS data centers.
Azion. Noted in Forrester Research Inc.'s 2021 fourth-quarter report on edge development platforms, Azion has multiple products to support edge deployment; among them is its edge platform, which enables developers to write and deploy serverless applications, create zero-trust security architectures and create IoT deployments.
ClearBlade. This edge computing software company's products include ClearBlade Edge and ClearBlade Platform, enabling enterprises to engineer and run secure, real-time, scalable IoT applications and to ingest, analyze, adapt and act on any data in real time and at extreme scale.
Cox Edge. Cox Edge is among a growing number of companies delivering last-mile edge computing locations to end users as they seek to cut cloud transport costs, latency or both. This company offers full-stack, edge cloud infrastructure service, which includes virtual compute, storage and bare-metal offerings, from its localized data centers,.
Dell EMC. Another technology giant with a vast list of products for sale across multiple sectors, Dell EMC also serves the edge computing market through its edge gateways, servers, hyper-converged infrastructure, data storage, streaming data platform, and other products and services.
Edge Impulse. This is a development platform that enables developers to bring machine learning to edge devices, thereby giving organizations the ability to gain insights from and execute on the data they're getting from endpoint sensors.
Fastly. Another example of a company offering an edge cloud platform, Fastly offers a CDN -- a network of servers and data centers that are in highly distributed locations to bring compute power close to the end users. Its [email protected] enables organizations to build high-scale globally distributed applications and execute code at the edge without having to manage the infrastructure.
FogHorn. FogHorn is an emerging company that enables organizations to make use of the data they're collecting through endpoint devices with their IoT deployment by providing intelligence at the edge with products such as the Lightning Edge AI platform.
Hitachi Vantara. Hitachi Smart Cameras, Hitachi Edge Gateway for Video and Edge Connect software from Hitachi's Lumada Edge Intelligence are among the offerings in the edge computing space from this long-established tech company.
Hivecell. Hivecell offers a complete edge as a service (EaaS) platform, which moves the compute power out of the data center and places it at the edge. Each Hivecell stacks together, with power and Ethernet plug-in connections in the back. The devices are small and operate at 15 watts, enabling them to be stacked nearly anywhere with no need for special power or coding for installation.
HPE. HPE has a family of edge computing hardware and software products, including its Edgeline Converged Edge Systems, as well as additional enterprise-class edge compute and storage devices, networking infrastructure systems and related services.
IBM. IBM, which has played a role in the evolution of computer technology since the early 1900s, has added offerings for the enterprise edge computing needs of the 21st century. This includes its Edge Computing Manager that lets organizations manage and secure their edge servers and edge devices cost effectively at scale.
Lumen Technologies. This company provides network, security, communication and collaboration, as well as multiple edge computing platforms; those edge platforms include its Edge Bare Metal for dedicated, on-demand, pay-as-you-go servers hosted in distributed locations and its Edge Gateway, a virtualized platform.
Microsoft. Among its many products and services, Microsoft offers Azure Stack Edge, a purpose-built hardware-as-a-service offering enabling a cloud-to-edge experience. It also offers private MEC, with ultra-low latency networking, applications and services at the enterprise edge.
MobiledgeX. This company's platform provides an infrastructure-agnostic, multi-cloud platform that enables telecommunication companies to manage and monetize edge network infrastructure. The MobiledgeX Edge-Cloud platform provides a common interface for managing application workloads anywhere, while abstracting them from the underlying infrastructure, thereby giving users the ability to maintain control over data, privacy and security.
Moxa. Moxa makes a family of cloud-ready industrial internet of things (IIoT) gateways for edge computing applications in various industries, including the utilities sector and the factory automation market. It also has supplementary IIoT software to simplify the connection of edge data to the cloud.
Mutable. Aiming to supporting augmented reality/virtual reality, IoT deployments, drones, autonomous vehicles and cloud gaming, Mutable offers public edge cloud technology through its platform delivering micro data centers to end users.
One Stop Systems (OSS). OSS provides its AI Transportable edge computing modules and systems, including ruggedized servers for the aerospace, defense, industrial and media/entertainment markets, as well as for autonomous vehicles and instrumentation.
OnLogic. This company offers different types of computing devices, one of which is edge servers. These are small form factor, fanless systems and highly configurable workstations that integrate with enterprise IoT deployments.
Oracle. This multinational technology company offers Oracle Roving Edge Infrastructure for accelerating deployment of cloud workloads outside the data center. Meanwhile, its Ruggedized Oracle Roving Edge Devices, known as Oracle REDs, are built to deliver cloud computing and storage services at the edge and in disconnected locations.
Ori Industries. Ori Industries makes Ori Global Edge Platform for automating application distribution across data centers, clouds and the edge. It has platforms for telecommunication, enterprise and software clients, with the company announcing in 2021 a partnership with enterprise software maker VMware to deliver Ori Global Edge on VMware Telco Cloud Platform for multiconnected edge.
SAP. SAP Edge Services is among the many offerings from this international software maker. This product enables microservices to be deployed at the edge for local compute power with low latency.
Section. This company offers EaaS, with its container-based platform giving developers and operations engineers the ability to either build their own edge modules or use modules from the company's own library.
StackPath. StackPath puts cloud's computing power closer to the edge by providing infrastructure and cloud services near the end users and their devices. It has multiple locations, and it offers platforms and other products to support enterprise edge deployments.
Stratus. Stratus offers simplified, protected, autonomous edge computing platforms, including its ztC Edge platform, which combines built-in application virtualization and fault tolerance in a ruggedized design for the industry edge. Frost & Sullivan named Stratus its North American Edge Infrastructure Company of the Year.
Sunlight. Named a runner-up for Edge Computing Innovation of the Year at the 2021 DCS Awards, the company offers, among other products, its Sunlight Infrastructure Manager and Marketplace to support the deployment and management of infrastructure and applications in highly distributed edge environments.