kentoh - Fotolia
Here's why a customer feedback program is essential to a business
With C-suite executives investing in a customer feedback program, they will be able to implement strategies to capitalize on positive ratings and resolve negative comments.
Executives are aware that customers have more power today than ever before, due in part to social media platforms, increased competition and web-based ratings. Consumers post positive and negative feedback online that can affect businesses, but many organizations don't act on it because they don't have a strategic program in place to gather, analyze and act upon the data.
Businesses that implement and support a customer feedback program can capture, analyze and act on customer feedback, helping to avoid a potential business catastrophe or accelerate a boost in revenue.
Today, two-thirds of companies gather customer feedback and 43.6% use customer health scores to continuously monitor changes, according to Nemertes' 2019-20 Intelligent Customer Engagement research study of 518 companies. And though about half make changes regularly based on that feedback, 45.7% make changes periodically and feel they could do more. Another 3.1% of those that gather customer feedback do not do anything with the relevant data.
To deliver top-notch customer experience, the C-suite must be aligned on the customer feedback program and then swiftly execute on it. This means investments in survey and analytics tools, data analysts to recommend changes based on that data, and guidance for the C-suite on next steps.
Recognizing the leadership team
By identifying the customer feedback program as a joint executive initiative, the likelihood for success improves exponentially. The C-suite executives provide direction on what information they need from customer ratings, and the data analyst team executes on it. Key players in the voice of the customer program include the following:
Chief customer officers -- Together with the chief revenue officer and chief marketing officer -- and perhaps others, depending on the business -- they are responsible for developing the business case that outlines what relevant information they need from customers, how frequently they need it, and which success metrics they will track. They are also responsible for analyzing the data, recommending change and overseeing that customer service agents comply with new scripts or processes.
Chief information officers -- CIOs are responsible for selecting the tools to gather and analyze customer feedback, as well as the supporting network and server or cloud platforms. The CIO's team is responsible for training AI data sets, and data scientists developing programs -- if a business uses internally-developed tools -- would report to the CIO.
Chief marketing officers -- They are responsible for promoting positive customer feedback and curtailing negative feedback; or changing marketing programs that are misaligned with the customer feedback.
Chief revenue officers -- They are responsible for changing sales strategy or processes based on the customer feedback.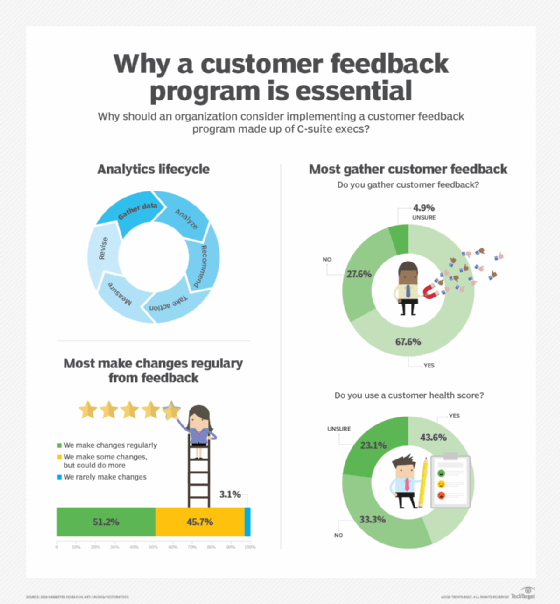 Implementing a strategy
Once a business establishes a customer feedback program, the next step is developing a strategy to gather and analyze data.
Gather data -- Businesses must determine the type of data to gather. Common metrics include customer satisfaction (CSAT), net promotor score (NPS), transactional net promotor score (TNPS), customer effort score, post-call surveys or custom surveys. The company or a third-party partner sends survey requests to customers to gather this information on a regular basis. In addition, companies should ask for qualitative feedback -- open-ended comments from customers explaining why they provided the ratings they provided, details of their experiences, etc. All of the aforementioned feedback is then generated by the company's proactive outreach. Data analysts review third-party quantitative and qualitative data and roll that into their analysis. For example, a hospitality company may want to regularly track Hotels.com, Expedia and Google ratings to get a true, 360-degree view of customer sentiment.
Analyze data -- Armed with massive amounts of data, the analysis requires tools to make sense of the information. The quantitative feedback isn't too tough to analyze -- any business analytics tool such as Tableau, SPSS Statistics or even Excel can crunch those numbers to provide summary views or more detailed correlation analysis. For open-ended comments, AI-enabled analytics tools such as Chattermill, Clarabridge, Medallia and hundreds of others are a must to weed through all the qualitative comments and determine whether they are negative, positive or mixed reviews.
Make recommendations -- The data analysis tools may make recommendations for strategic, non-urgent changes or issue urgent alerts, as in the case of a customer complaining on a well-connected social media site. In addition, a team of data analysts may view the data and use it to shape marketing strategies, advertising campaigns or branding.
Take action -- Organizations must act on the data and associated recommendations. Many organizations gather and even analyze data, but they don't do enough with the results. Executive leaders must put both automated and human processes in place to act upon customer feedback. These actions may be specific to an individual, a group of customers with similar circumstances -- airline delay or product warranty issue -- or to all customers. The type of action including email, text or phone call will depend on the situation and what the process dictates.
Measure success -- Once the company addresses the CX issue, it's important to continue to gather more data from the customers to measure success. Did the action work as intended? If so, use that data to secure funding for new AI- or analytics-related projects. If not, go to the next step. Either way, keep measuring success.
Make revisions -- The best customer ratings programs are always evolving. That's why AI is a useful tool. As the AI engine learns what works and what doesn't, it can adjust processes and automated feedback to continually raise the bar and ensure customer ratings trend in the right direction.