your123 - stock.adobe.com
Smartsheet's new AI tools answer queries, visualize data
The project management vendor unveiled generative AI tools that visualize data insights, give guidance with a virtual assistant, generate formulas and create captions for visuals.
Smartsheet on Wednesday unveiled generative AI tools to improve self-service and create captions, formulas and data visualizations.
The new tools, based on Microsoft's Azure AI, are available to select customers in private beta. Information on prices is not yet available, according to Smartsheet.
Smartsheet's entry into the flourishing generative AI market comes as a host of software vendors have introduced similar tools and generative systems based on large language models (LLMs).
The platform's new AI-enabled features can instantly answer how-to queries, generate formulas that align with a company's business goals or create descriptions for visual media to quickly categorize photos and videos by caption.
The generative AI capabilities can also provide data visualization, a highlight, according to IDC analyst Wayne Kurtzman.
"Many vendors added the conversational part of AI -- Smartsheet also added visual augmentation as well, which will resonate well with customers," Kurtzman said. "After all, we all need better visuals to communicate our work."
Getting specific information quickly
The project management vendor's new AI capabilities expedite users' routine workflows. Forrester analyst Julie Mohr singled out the virtual assistant as a highlight.
"Assisted help is a game changer," she said.
Assisted help is a game changer.

Julie MohrSenior analyst, Forrester
Previously, Smartsheet required users to potentially take myriad steps to retrieve specific information. These steps could include rephrasing the question, browsing various help topics, searching for answers on a separate app or calling a subject-matter expert.
Mohr compared the tedious process to an early aughts Google search.
"It used to be that you'd have to search through this very lengthy set of results," Mohr said. "The better your query, the more likely you were to get search results."
But with Smartsheet's generative AI-supported help assistant, users can ask a specific question and the assistant will siphon bits of scattered information and compile them succinctly.
The value of reliable knowledge management
Knowledge management is an area where generative AI can have a profound effect on an organization because it helps employees increase productivity and consolidate useful information.
"The most important use case or the one that we can make the biggest difference on is around knowledge management," Mohr said.
Strong knowledge management is a positive indicator of reliable data, which is less likely to spur hallucinations, or inaccurate results, in LLMs, according to Mohr.
Companies that have effective knowledge management tools, reliable data to train generative AI models and the willingness to tinker with generative AI early on will have greater success against competitors, Mohr added.
"I've been pushing up on companies: Start experimenting," she said.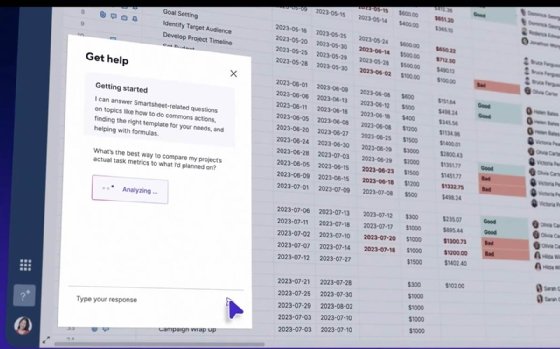 Taking a careful approach to AI
Smartsheet guarantees that no customer data will be used to train models. According to Mohr, such data privacy concerns have led to some hesitancy regarding AI for some enterprises.
"Not many customers are jumping in, given the public potential loss of data," she said. "They're just being cautious."
Mohr also recommends companies invest in internal AI training to avoid employee departures in this volatile market and retain skilled staff who can steadily navigate AI.
"Invest in your people," Mohr said. "That's what's going to make a difference long term."
Mary Reines is a news writer covering customer experience and unified communications for TechTarget Editorial. Before TechTarget, Reines was arts editor at the Marblehead Reporter.