Getty Images
What are the key issues in knowledge management?
Knowledge management systems help employees find important information. However, implementation can pose challenges with user adoption and content maintenance.
Organizations can use knowledge management systems to improve employee productivity, but they may face user adoption and integration challenges.
Knowledge management tools can offer organizations a competitive edge because they help employees quickly address customer inquiries and offer easy access to training materials, standard operating procedures and other business-critical documents that employees may need. However, implementing knowledge management systems can pose many challenges.
Explore common knowledge management issues that organizations may face.
1. User adoption
Organizations need user adoption to make technology investments worthwhile, including for knowledge management systems. Employees don't always like change, so knowledge managers may need support from their organization's leadership to ensure users adopt the system. Leadership support can help encourage employees to embrace the change and make the best of it.
2. Learning curves and system integrations
As organizations implement a knowledge management system, employees may struggle to search for and interact with information until they learn how to use the system. Also, implementation teams must configure the system with different classifications and ensure its ability to integrate with other existing systems, which can be complex and time-consuming. These tasks require thorough planning and a deep understanding of an organization's information and system expectations.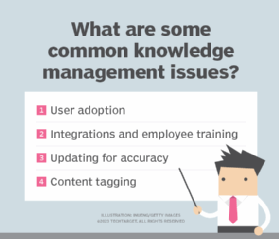 3. Updating content
To add value to an organization, a knowledge management system must contain up-to-date and relevant content. Therefore, organizations should train employees to continuously update important information, such as training materials and product catalogs. If a knowledge management system contains too much irrelevant and out-of-date information, users may abandon it.
4. Content tagging and storage
To ensure users can easily search and navigate the knowledge management system, implementation teams must configure the system to classify information into useful categories and locations. These teams should consider which kind of taxonomy structure can best store and tag content.
Also, different systems -- like cloud or on-premises -- offer different features and information storage options, so organizations should decide how they want the system to store and categorize information. Business leaders typically consult with their IT departments to determine the most effective ways to store and organize content within a knowledge management system.
Dig Deeper on Knowledge management
Ownership of AI-generated content currently lacks clear, regulatory guidelines. With deepfakes and voice cloning on the rise, businesses must learn ... Continue Reading
A sales enablement manager helps sales reps boost productivity and improves their workflows to generate more revenue. Some organizations may have a ... Continue Reading
Explore the three ways Microsoft supports integrating a contact center with Teams to enable more advanced calling and collaboration features for ... Continue Reading