How do collaboration and knowledge management relate?
If organizations integrate their knowledge management and collaboration systems, employees can better collaborate on and share data and documents in a secure environment.
If organizations improve how users can share customer and product information, they can create more efficient teams and happier customers.
Organizations generally keep information siloed in different systems, making it difficult to find and collaborate on. To address this challenge, IT leaders can invest in software platforms like knowledge management systems to unlock data and make it easily accessible. Yet, if users can't share knowledge or collaborate on data, a knowledge management system may become a data vault for the company's digital assets.
Explore the relationship between collaboration and knowledge management, and how integrating these services and strategies can improve employee efficiency and content collaboration.
What is knowledge management?
The knowledge management market features several powerful platforms that can store and let users find and share data on customers, products and services.
Knowledge management systems can also integrate into existing platforms, such as ERP software or collaboration platforms, to retrieve product and customer data. A knowledge management system can centralize all relevant data staff might need to access when they interact with customers and review internal product documentation or processes.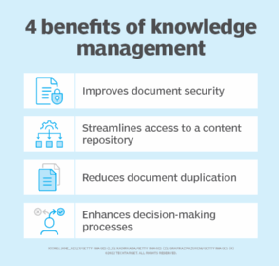 For example, an organization that offers air and heating system services to commercial properties can use a knowledge management system to provide product specification documents to technicians. The system can also help customer support agents find customer data and make internal processes and procedures available to all employees.
Why is knowledge management important in team collaboration?
To make a knowledge management system more effective, IT leaders must implement ways for teams to collaborate on the data stored within those systems. Organizations have access to numerous collaboration technologies, including Microsoft Teams, Slack and more. These platforms can easily integrate with a knowledge management system so users can interact with and collaborate on data and documents stored within those tools.
To ensure effective collaboration, IT leaders must focus on ease of use and tightly integrate the collaboration tool with the knowledge management system.
When an organization implements a knowledge management strategy, its goal is to improve workflows and give teams information they can use to improve the customer experience. With that focus, IT leaders should understand the importance of a collaboration strategy to support how teams communicate and collaborate on data within knowledge management systems.
Knowledge management systems and collaboration are critical to modern organizations. They help increase the adoption of knowledge management systems, drive knowledge sharing and generate new content as teams collaborate.
Dig Deeper on Knowledge management
Ownership of AI-generated content currently lacks clear, regulatory guidelines. With deepfakes and voice cloning on the rise, businesses must learn ... Continue Reading
A sales enablement manager helps sales reps boost productivity and improves their workflows to generate more revenue. Some organizations may have a ... Continue Reading
Explore the three ways Microsoft supports integrating a contact center with Teams to enable more advanced calling and collaboration features for ... Continue Reading