Getty Images/iStockphoto
What does a knowledge champion do?
Knowledge champions use communication and leadership skills to encourage their department or group members to adopt knowledge management best practices.
A network of frontline advocates can help knowledge management teams maximize their program's reach.
Knowledge management (KM) -- the process by which organizations gather and share knowledge -- requires a central team of players with skills in business, change management, content management and IT. Regardless of an organization's size, these teams typically contain a handful of people. To help the team embed its KM strategy into the everyday processes of the organization, they need help from passionate KM advocates known as knowledge champions.
Explore important responsibilities and skills of a knowledge champion.
What is a knowledge champion?
A knowledge champion is an employee that advocates for and supports the central KM team in their own area of the organization. They may represent KM for their department, group, team or project, depending on the organization's needs. The position is voluntary, and employees balance it with their full-time duties.
Organizations need knowledge champions throughout the business to guide workers through any changes from a KM implementation or update. These changes can affect people's roles and processes, which often creates stress. A knowledge champion uses change management and leadership skills to help workers embrace and adapt to the change.
6 responsibilities of a knowledge champion
Knowledge champions guide their groups through KM implementations and report back to the central team with feedback. Other common responsibilities of a knowledge champion include the following:
Answer team members' questions. Knowledge champions serve as their department or groups' point of contact for questions about KM best practices. Group members should feel like they can approach the knowledge champion with any questions they have about how KM applies to their area of business.
Communicate between the group and KM team. As the central KM team rolls out new processes and improves old ones, knowledge champions can share updates with their group. Knowledge champions can also inform the central team about how the KM framework affects their department. They should point out any practices that have increased efficiency and those that need improvement. Knowledge champions can also give the central team specific ideas on how to enhance the KM framework.
Host learning sessions. Knowledge champions can host recurring KM trainings for their groups, which helps embed the KM framework into their area of business. They can also host regular sessions or presentations on department-specific tips and best practices. Knowledge champions can host themselves or delegate them to other group members to encourage a collaborative culture of knowledge sharing.
Network with other knowledge champions. The KM practices and resources of one group can often benefit others. Therefore, knowledge champions should meet with each other regularly to discuss problems and share ideas.
Inspire change. A knowledge management framework requires change agents at various levels of an organization to encourage the adoption of KM processes. Knowledge champions can help group members understand KM's value and motivate them to follow best practices.
Manage the knowledge base. In some organizations, knowledge champions oversee a specific area of the company's knowledge base. These workers must identify and address knowledge gaps and outdated material in the knowledge base. They may write and update knowledge articles themselves or delegate work to contributors and experts, depending on their organizations' needs.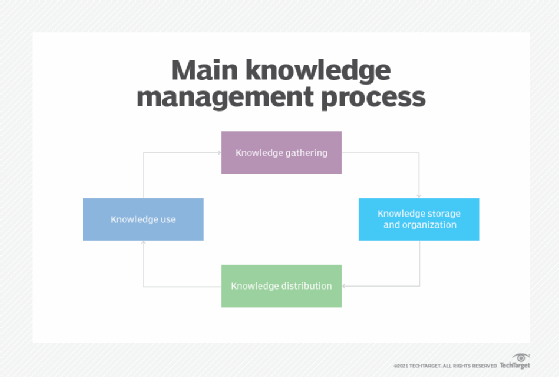 How to prevent burnout among knowledge champions
Knowledge champions go above and beyond their regular work duties, so they often have busy schedules and may experience burnout more frequently than others.
To create a positive employee experience and reduce burnout among knowledge champions, organizations can take the following steps:
Set clear expectations. Knowledge champions may feel lost or overworked if organizations don't clearly define their roles. Managers should outline specific duties, KPIs and how many hours of work per week the role requires, so the knowledge champions know what to expect.
Be flexible. To help knowledge champions balance their KM and full-time responsibilities, managers can work with each knowledge champion individually to craft duties and goals that work with their existing schedule. Managers can also give knowledge champions the option to opt out of the role if they become overwhelmed.
Hold orientation sessions. An orientation for knowledge champions can give these employees an initial sense of direction. Organizations can use these sessions to reiterate expectations and introduce champions to contacts within the central KM team.
Offer trainings and peer meetups. The central KM team should work with department managers to set up recurring training sessions and peer meetups for knowledge champions. Training sessions help them stay up to date on the latest KM best practices, while peer meetups can create a sense of community and help them learn from each other.
Reward hard work. If organizations fail to recognize and reward voluntary work, employees have little incentive to take it on. Managers should recognize a knowledge champion's efforts during their performance reviews and offer annual bonuses, if possible.
KM teams implement processes and technology to make knowledge easily accessible to customers and employees. Although KM teams may only contain a few members, a network of passionate knowledge champions can help them embed KM processes across their organization.
Dig Deeper on Knowledge management