Rawpixel.com - stock.adobe.com
6 key roles in a knowledge management team
Many organizations form dedicated teams to implement and maintain their knowledge management programs. Key roles include KM specialist, IT professional and knowledge champion.
Organizations need experts in change management, knowledge management and IT if they want to run a knowledge management program.
A knowledge management team oversees an organization's KM strategy and ensures employees and customers can access valuable information. Organizations can structure the roles and processes of a KM team in various ways, like making teams centralized or decentralized. They might also create formal KM roles with dedicated job titles or organize informal efforts with existing staff.
Understanding common roles within a KM team, such as a KM leader and knowledge champion, can help organizations create a team that meets their needs.
What does a knowledge management team do?
KM teams find optimal ways to capture and share knowledge across organizations. They also use knowledge to improve products and services, said Bhrugu Pange, managing director of technology services at global consulting firm AArete.
These teams create processes that let users easily document, find and share knowledge. For example, KM teams find ways to improve the use of explicit knowledge -- information organizations documented -- and tacit knowledge, information that lives inside people's heads, said Lynda Braksiek, principal research lead at research firm APQC.
KM teams ensure workers can access valuable knowledge, which improves employee efficiency. To create an effective KM program, the team must ensure it will improve employees' workflows.
"Knowledge is not valuable until it is used in new contexts," Braksiek said.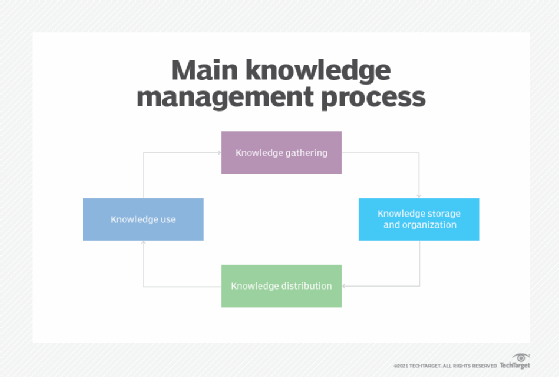 Centralized vs. decentralized teams
Organizations must decide whether they want a centralized or decentralized KM team. A centralized team implements and oversees a KM program for an entire organization, while decentralized teams are smaller and assigned to individual business units, functions or departments.
Decentralization might make sense for organizations with a broader decentralized structure, Braksiek said. If an organization has a decentralized structure -- meaning decision-making power is spread among various departments or leaders -- then it makes sense to mirror that structure for KM.
However, centralized approaches often have better adoption, performance and leadership support, according to APQC, because they tend to get higher engagement from employees.
6 common roles on a knowledge management team
In addition to KM experience, KM teams often include members with expertise in change management, communications and IT.
1. KM leader
KM leaders guide KM efforts across their organizations. They ensure KM initiatives support and align with the organization's mission and goals, Braksiek said. In addition, these leaders oversee the KM team's relationship with business leaders and other stakeholders involved in KM activities.
KM leaders focus more on change management aspects of KM than technical aspects. The implementation of a KM program requires organizations to implement new tools and processes and encourages more knowledge sharing. This shift can create challenges, as employees may resist change. However, a skilled KM leader should inspire employees to embrace a new program.
2. KM specialist
KM specialists help design the systems and processes organizations use to capture, store and share knowledge. For example, these workers might design a taxonomy to organize information in a knowledge base or arrange quarterly meetings for customer service agents to share tips with each other.
KM specialists also find ways to easily share knowledge across organizations' IT platforms, Braksiek said. For instance, they might collaborate with IT professionals to integrate a CRM system with a knowledge base.
3. KM communications director
KM communications directors develop, manage and publicize communications about KM programs across their organizations. They use emails, newsletters and social media to keep the KM team and other employees aware of new KM practices and tools.
KM communications directors also monitor the progress of KM programs and new initiatives, which lets organizations identify and update ineffective elements of their KM programs.
4. IT professional
IT professionals work with the KM team to help implement new tools and integrate them into various teams. They understand the technical systems behind these tools and collaborate with other roles to integrate them into the existing IT infrastructure.
They can also help resolve any data management, governance, security or privacy issues that may arise from the rollout of new processes or tools. Additionally, IT professionals offer technical support to ensure programs operate smoothly.
5. Knowledge champion
Knowledge champions are volunteers who use leadership skills and enthusiasm to advocate for the KM program within their department or team. These people take on the knowledge champion role in addition to their official role within the organization.
Knowledge champions communicate with their associates to identify new KM opportunities and share ideas with the KM communications director. If problems arise within a knowledge champion's team, that individual might contact an IT professional or KM specialist to help address the issue.
6. KM trainer or coach
KM trainers and coaches have a solid understanding of KM tools and good communication skills. They also have access to the latest training materials and can help users adopt new KM tools.
KM trainers and coaches also share insights with the communications director about more effective ways to update and train users on new processes. Trainers and coaches also update educational material to improve adoption of the latest tools and best practices.
Dig Deeper on Knowledge management