metamorworks - stock.adobe.com
How IT departments structure collaboration management
Today, there are countless apps used to communicate across companies. IT departments are taking two approaches to organize the teams responsible for collaboration deployments.
The collaboration landscape has undergone profound changes in the last several years. Gone are the days when most employees worked together in the same physical office, using a limited set of applications. Organizations must now ensure employees can use a wide variety of tools, including messaging, video and content creation apps, to collaborate with each other as well as with partners and customers, regardless of location.
Applications are changing as well. Today, companies can purchase, from a variety of vendors, suites that combine multiple collaboration capabilities into a single user interface rather than deploy standalone applications.
At the same time, new challenges continue to arise with the need to secure and achieve compliance for an ever-growing array of apps, and AI-driven features. Enabling effective cross-company collaboration to support supply chains and other multi-company activities is another factor to consider. At the end of the day, investments in collaboration must deliver demonstrable business value in terms of productivity improvements, cost savings and opportunities to increase revenue.
These trends require a reassessment of collaboration management strategies. Many still have siloed approaches to managing collaboration applications and services. Metrigy's "Workplace Collaboration: 2023-24" global study of 440 organizations found that just about 56% of participants had converged their collaboration teams into a single group with shared responsibility for architecture and operations of all collaboration applications.
Those who have not yet converged typically have separate groups with individual responsibility for areas including video conferencing, telephony, messaging, email, document, content and knowledge management. The siloed approach is considerably more prevalent among larger companies. Nearly half (47.8%) of companies with more than 2,500 employees still maintain separate teams for managing their individual collaboration apps.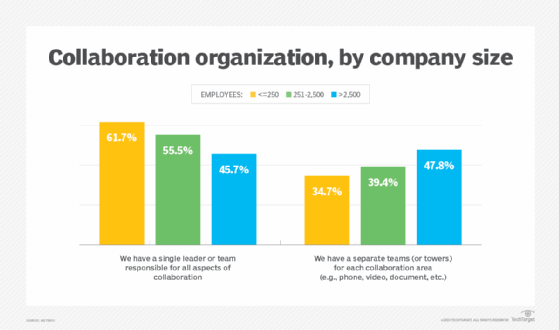 The siloed approach is simply unsustainable as applications converge and new AI-driven features blur the lines among various apps. For example, a company with an audio/video team responsible for video conferencing room design, deployment and management must be aligned with those responsible for meeting apps, which are often integrated with chat and calling services. New meeting capabilities, such as in-room person framing, in-meeting chat integration with team chat, virtual whiteboard and the use of AI to summarize meetings, cannot be successfully implemented unless there is alignment between conferencing system and application.
Successful organizations must have at least one single team responsible for ensuring alignment across various collaboration applications and infrastructure. Collaboration teams must engage with those responsible for security and compliance to ensure that deployment of new applications and features can be done in accordance with appropriate security and risk controls.
Engaging with HR to provide insights into employee engagement and in-office attendance will drive future office configuration plans. Working with facilities teams to share workspace usage data will also help this initiative. Finally, collaboration teams should proactively engage with sales and marketing to make sure that communications and collaboration tools are integrated into CRM and marketing automation tools.
Collaboration is essential to organization success, especially in the new age of hybrid work. Ensure that teams responsible for various aspects of collaboration applications are unified and that they are appropriately connected to other functions that can benefit from convergence of collaboration and business process applications.
Dig Deeper on Team collaboration software