Is the future of ECM software in the cloud?
Traditional enterprise content management has been woefully inadequate for user needs in the era of cloud and mobile. Can the market turn things around?
Choosing cloud-based enterprise content management (ECM) over on-premises software has been almost a no-brainer for some organizations.
Lawrence Gianneschi, a legal information and technology manager at a New-York-based consumer products company, didn't want to bear the albatross of managing his company's ECM system and hardware. Moving to hybrid cloud-based ECM meant the company could avoid up-front IT costs and management headaches associated with on-premises technologies.
"I want to get out of the provisioning business," Gianneschi said.
ECM in the cloud has become an increasingly attractive option for companies with distributed workforces that need anywhere, anytime access to information. But it has taken some time for the market to catch up with user needs.
Indeed, over the past several years, the ECM market has seen users run in exile to file-sharing applications because of their easy access to information and forum for collaboration, despite security concerns. Others have defaulted to shared company drives out of frustration with difficult-to-use software. ECM vendors have taken a hard look at these defections and are beginning to build forward-looking enterprise content management technology. As mobile devices, social media and cloud computing proliferate, the ground beneath vendors' feet is undergoing a tectonic shift. ECM software is finally starting to meet users' needs, with perhaps the most promising prospect being the hybrid cloud.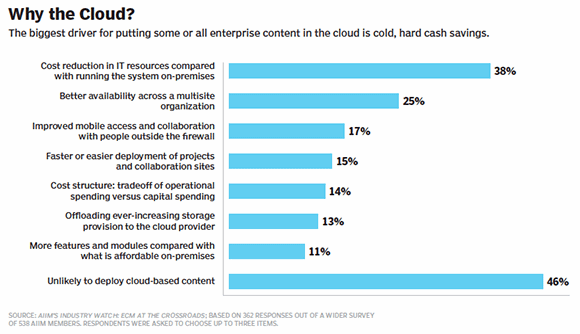 Hybrid clouds enable traditional ECM functionality but also easier access for remote workers and better security than standard file sharing. They offer a central location from which workers can share and edit documents from anywhere with version control, workflows and audit trails. And they keep sensitive corporate data behind the firewall, safe from prying eyes. They also enable records management and disaster recovery through file syncing, and the user interface for these applications is often vastly improved over previous incarnations. In sum: They can span standard ECM functionality with better ease of use and access.
Many industry experts see hybrid clouds as the future of ECM, addressing the need for secure anywhere, anytime collaboration. And the numbers support this vision. According to a May 2013 report from the Radicati Group Inc., the ECM market as a whole is poised to grow from $5.2 billion in 2013 to $9.3 billion in 2017. In addition, SearchContentManagement's 2013 Reader Survey found that the biggest ECM-related challenge for 1 in 5 respondents was deploying and managing cloud-based ECM.
"If hybrid cloud matures, it will be the right solution for a lot of companies," said Alan Weintraub, an analyst at Forrester Research Inc. "It will gather steam."
Holistic ECM
Before 2010, the legal department at Gianneschi's company had no content management system, and it needed document management to govern information related to legal matters. It also needed a central location where its 200 attorneys in 33 offices around the world could share files with version control and a clear trail for documents, then integrate document management with other key aspects of the workflow, such as e-billing, records management and legal matter management.
Hybrid clouds can provide the best of both worlds for content management.
"We needed to have a place where attorneys could collaborate better … and break down information silos," Gianneschi said.
Gianneschi's team wanted a holistic way to manage content to prevent manual rekeying of information to enable better enterprise search. A system that could share information would also enable better records and information management.
And the company needed an ECM technology that could integrate with various other back-end systems and manage the information throughout its lifecycle in these systems.
"Whoever we chose [needed to] integrate with our IT management system, our matter management system and provide a records management solution so we could manage the matter from cradle to grave."
Integration key to platform choice
Gianneschi's company chose Hewlett-Packard Autonomy's cloud-based ECM software, partly because of the software's ability to integrate with IBM's Lotus Notes and other key systems, such as its matter management and IT management systems. HP's dominance in the ECM market didn't hurt either.
"I know [Autonomy] will play nice with all of those companies because of market share," he said.
The ground beneath enterprise content management software is undergoing tectonic shifts.
Integration with other systems was also important to New-York-based ROM Reinsurance Co. Inc., which handles workers' compensation claims. ROM president and CEO Marianne Petillo said the company chose Hyland Software because it could integrate with ROM's claims system. The net result eliminates manual re-entry of data between the claims system and the document management system. Now the information from one can be fed to the other through the unique identifier of the claim record number.
Petillo said it minimizes human error from keystrokes and mistakes while also creating data consistency between systems.
"Sometimes if the system is down [and] staff didn't get a chance to enter into the imaging system, a contract might be in claims, but not the ECM or vice versa," she said. "But if the system is pulling it in, then you don't have that problem."
At InterContinental Hotels Group (IHG) in Atlanta, integration has also been a serious concern -- and one of the key purchasing criteria for its choice of Alfresco One software, which the company brought into production in April 2011.
At the time, the company had a gaggle of systems, including SharePoint, Hummingbird, SpringCM and more to house its company documents.
"We were migrating away from proprietary products, like LifeRay," said David Simpson, the director of application development and integration at IHG.
In addition to the company's need for cloud-based software to enable third parties to access some of its content, Alfresco One was particularly appealing given its open-source-based code and robust application programming interfaces (APIs). Now, the company can provide interfaces to Alfresco from numerous back-end systems.
The company, for example, uses Salesforce's Force.com to schedule site visits to properties. With an API from Force.com to Alfresco, the application can store documents associated with a property visit, and those documents are then also stored in Alfresco. Sharing information among systems is "hugely important," Simpson emphasized.
When disaster strikes
Physical disaster can threaten company data, but cloud-based ECM has become a real antidote to risks of on-premises data loss.
"Having lived through 9/11 and then Hurricane Sandy, we were concerned that this could happen again, said ROM Reinsurance's Petillo. ROM's cloud-based ECM software enables staff to work off-site during a disaster and provides critical business continuity for data residing in the enterprise content management system.
In 2012, ROM was devastated by Sandy, with its office buried under 13 feet of water. Displaced for more than five weeks, ROM's staff needed access to its claim files and other data. Nearly 90% of ROM's business-critical data resided on one in-house physical server, in Hyland Software's OnBase on-premises enterprise content management system.
After the storm hit, work ground to a halt for three days. The goal was to restore business functions to displaced staff quickly. ROM shipped the server hard drive to Hyland Software and tried out Hyland's OnBase Cloud software.
Petillo said that the security in having backups and data off-site and accessible in the event of disaster was "an additional insurance policy." Further, she said, costs are offset by eliminating the up-front hardware costs and management and maintenance costs of maintaining the OnBase server in-house.
"It was a bit higher than what we were paying monthly, but we felt the security was worth the difference," Petillo said.