Mathias Rosenthal - Fotolia
A step-by-step guide to SharePoint 2016 migration
If you're considering a SharePoint 2016 upgrade or migration, here is a step-by-step guide and a migration tool to make the transition as seamless as possible.
Organizations have to decide whether a SharePoint 2016 migration or upgrade is worth the necessary time and investment....
Continue Reading This Article
Enjoy this article as well as all of our content, including E-Guides, news, tips and more.
Once that call has been made, navigating the switch involves a little research and planning.
Here, we outline the necessary requirements to make the shift to SharePoint 2016, as well as explain the various options and steps needed for a successful SharePoint 2016 migration or upgrade.
SharePoint 2016 features
These upgrades and migrations, of course, assume that companies are not moving wholesale to Office 365, which includes SharePoint Online, the cloud-based version of SharePoint. But the reality is that many users are still operating in an on-premises world.
Before going through all the work of moving from one system to another, it is important to understand the benefits a SharePoint 2016 migration might offer your organization. The most common reasons to move to SharePoint 2016 include:
it offers infrastructure and performance improvements, including increased resiliency with no downtime patching;
the ability for Office 365 and SharePoint 2016 search integration;
it has a new Compliance Center where users can build their own custom policies; and
it comes with a touch-friendly interface and new Site folders for a better mobile and collaboration experience.
System requirements
There are several system requirements that are necessary for SharePoint 2016 to run successfully. For hardware, web front-end application servers need to have 12-16 GB RAM and four 64-bit cores to power small environments.
For software, Windows Server 2012 R2 or Windows Server 2016 Standard or Datacenter versions are required, as well as .NET Framework 4.5.2 or higher.
Database requirements are Microsoft SQL Server 2014 or Microsoft SQL Server 2016.
SharePoint upgrade vs. migration
Once system requirements are assessed and an organization is ready to make the switch, the first step is understanding the difference between an upgrade and a migration. An upgrade involves a complete transfer of SharePoint databases from one version to the next. Those databases are then upgraded to the new versions schemas.
Migration, on the other hand, involves moving entire SharePoint farms and their data from one database to another, and it typically requires a SharePoint migration tool.
Upgrading to SharePoint 2016
During an upgrade, SharePoint 2016 can be installed directly on top of an existing SharePoint 2013 installation using natively available tools. An upgrade from anything older than SharePoint 2013 is not possible.
This means organizations that have older versions of SharePoint, such as SharePoint 2010, will not be able to perform a leapfrog SharePoint upgrade. In other words, an organization would have to upgrade from SharePoint 2010 to SharePoint 2013, and then from SharePoint 2013 to SharePoint 2016. Note that as you transition from SharePoint 2010 to SharePoint 2013, you will have to upgrade the content database and your site collections before you can migrate to SharePoint 2016.
Migrating to SharePoint 2016
If you are currently using something other than SharePoint, such as Documentum, or are using SharePoint 2010 or older, then a SharePoint 2016 migration might make more sense than an upgrade.
There are three types of migration that can be utilized: manual, scripting and third-party migration.
1. Manual migration
A manual SharePoint 2016 migration makes the most sense for organizations that don't need a lot of content carried over, or if the content comes from platforms other than SharePoint.
Manual migration can be tedious and comes with several pitfalls. Those include controlling the length of the migration, needing to train all your users, a high likelihood of having to use both versions simultaneously due to the length of migration time, and a high risk of losing previous editions of files, metadata and permissions.
However, if manual migration is the path you choose, here are the steps that need to be taken:
an administrator installs SharePoint 2016 on separate hardware;
a new farm is created and configured; and
users are then trained on how to transfer their data and manually move content over, one piece at a time.
2. Scripted migration
A scripted migration is best for highly customized environments or when a manual or third-party migration is not an option. A scripted migration can seemingly be quick, and it enables a thorough transfer of customized configurations. The custom script integrates with the legacy repository to allow for a complete migration, and it preserves all the necessary configurations and metadata.
However, be aware that a scripted migration involves hiring a developer skilled in SharePoint development, APIs and PowerShell. It also needs a higher degree of testing for the custom scripts, and sometimes several versions have to be written. This can take several months, and it can potentially become costly.
If this method suits your organization best, the following steps need to be taken:
hire a developer familiar with SharePoint development and skilled with APIs and PowerShell; and
have the developer write a custom script to perform an automated migration.
3. Third-party migration
A third-party migration is the best of both manual and scripted migration, and it is similar to that of an upgrade. The steps for this are as follows:
have an administrator build a generic SharePoint 2016 farm on separate hardware;
install third-party migration software;
map all permissions, customizations and configurations from legacy repositories;
perform a trial migration;
validate the migration to ensure a proper transfer;
adjust the migration settings to your liking and retest; and
iteratively perform the migration on live content per a predetermined migration schedule.
Helpful migration tool
The SharePoint Central Administration tool provides limited help with the upgrade or migration processes. As Figure 1 indicates, this tool includes an Upgrade and Migration section. Unfortunately, this section does not include a migration wizard.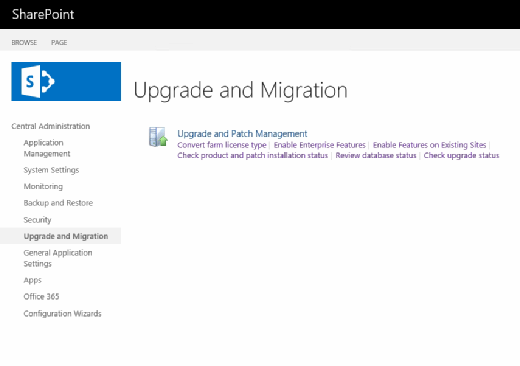 The Upgrade and Migration portion of the Central Administration tool is geared toward those who need to make the transition to an enterprise-grade SharePoint deployment. As such, the tool contains options for converting the farm license type, enabling enterprise features and enabling features on existing sites -- which is useful to those who have recently migrated legacy SharePoint sites to SharePoint 2016.
The Central Administration Tool's Upgrade and Migration section also has a few other useful options. For starters, there is an option to check product and patch installation status. Clicking on this option will indicate which version of SharePoint you have and which patches have been installed.
There is also an option to review the database status. This option is especially beneficial for those who have attached legacy content databases to SharePoint 2016 because administrators can see exactly which databases SharePoint 2016 uses and whether any need to be upgraded. For example, Figure 2 indicates that one out of the three databases that are being used needs to be upgraded. Finally, the check upgrade status option displays any current upgrade sessions, so you can view the upgrade details.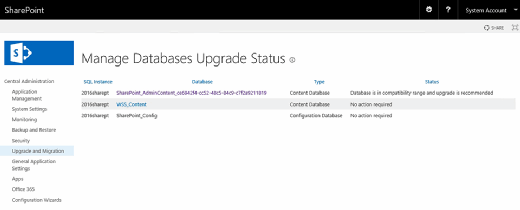 There are also commercial third-party SharePoint migration tools from software companies, including Metalogix, Sharegate and others, that companies can evaluate and invest in to simplify their move.
Note: Article originally published in 2015 with updates written by staff in 2017
Next Steps
Learn how SharePoint 2016 versions differ
SharePoint 2016 focuses on content management
Three questions to ask SharePoint developer job candidates